Ted Cruz's Ridiculous Bacon Cooking Technique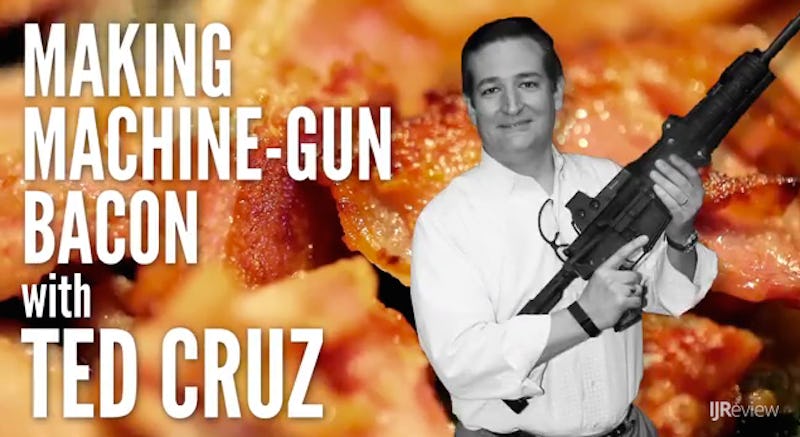 There isn't much debate when it comes to the ultimate breakfast meat. It's bacon, obviously. But when it comes to cooking it, there is more room for conversation. There's the skillet for those who like to hear the oily sizzle, the oven for the true roasting perfectionists, and the microwave for the lazy Sunday-morning types. A video of how Ted Cruz cooks bacon adds another method to the list, but odds are you probably won't be adapting it any time soon. In a video posted to the Independent Journal Review, the Texas senator and Republican presidential hopeful revealed his secret weapon for cooking bacon: a machine gun.
"There are few things I enjoy more than on weekends cooking breakfast with the family," he says, introducing the video. Because machine guns are oh-so family friendly. Yes, I know that the very idea of Ted Cruz with a machine gun is unsettling — not to mention using it to deface such a sacred breakfast meat. But maybe the video will help him recruit the bacon enthusiast vote. It's a vital demographic Republicans are fighting for.
Cruz's video is part of a lighthearted series by the Independent Journal Review. Others feature Sen. Lindsey Graham destroying a cell phone and Dr. Ben Carson playing Operation. Here's an breakdown of Cruz's ridiculous machine gun bacon video.
"Of course, in Texas, we cook bacon a little differently than most folks." Sort of an understatement. Note the ominously-lit shooting range behind him ...
Yup, I know that at first glance, the title screen looks like a meme. Give it 24 hours, and this is sure to have some hilarious spinoffs.
Cruz stocks up on the essentials. Probably the healthiest grocery cart I've seen in awhile. Very South Beach diet.
This is where things take a turn for the weird. Yes, that's Cruz holding a piece of uncooked meat over a gun.
Cruz proceeds to wrap the bacon around the gun barrel.
If you squint your eyes, it could look normal ... but then you remember that it's a foil-covered piece of bacon wrapped around a machine gun.
Cruz vies for the title of America's Next Top Model. Smize, Cruz! Smize!
Fire away!
"There's grease on the ground," Cruz notes.
The finished product. Surprisingly crispy-looking bacon.
Cruz turns to the camera and says, "Mhm, machine gun bacon."
Bonus! Wondering if the bacon was any good? This guy at the gun range vouches for Cruz's cooking skills. He says it's crispy.
If you want to perfect this technique for your own Sunday brunch, watch the video in its entirety below.
Images: YouTube/IJReview (12)