25 Coffee Themed Tattoos For True Caffeine Addicts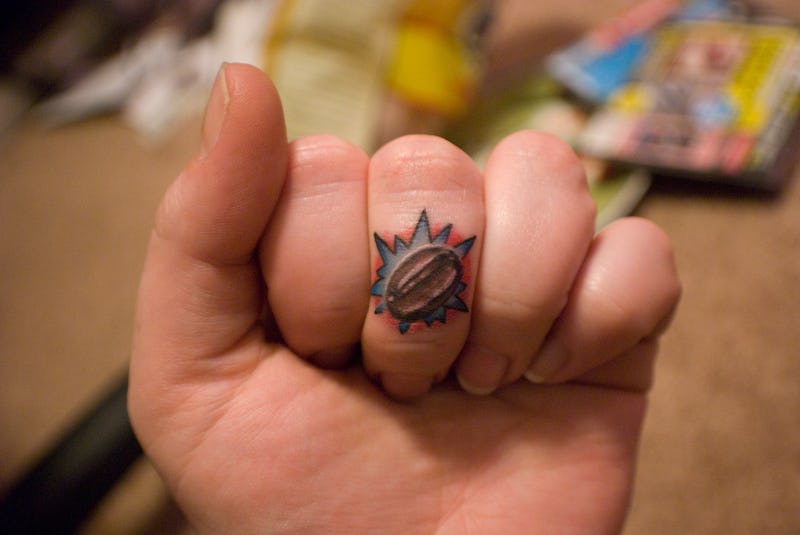 If you can't start the day without finishing your first cup of coffee and truly believe that coffee is better than people, you might be a perfect candidate for a coffee tattoo. I myself am a self-identified caffeine addict who runs on a three cups a day habit, so it really shouldn't have been a surprise to me that there are others whose devotion to coffee extends to the ink on their arms.
There are lots of ways to show your love for coffee, but few will last as long as getting a tattoo of your favorite beverage. Here's your friendly reminder that tattoos are permanent, but so is your coffee addiction. Coffee is there every morning when you wake up, and the caffeine keeps you company as you try to fall asleep at night. There's a calming power that comes with a good cup of joe, even as you get a huge jolt of energy once you've drained the mug.
If you're ready to take the plunge, like a French press after six long minutes of brewing, here are 25 coffee-inspired tattoos for the caffeine freak in your life (even if it's you, because I promise that being addicted to coffee is nothing to be ashamed of).
1. Chill Iced Coffee
It doesn't get much chiller than an iced coffee on a hot day, except maybe this tattoo.
2. Latte Art
This seemingly abstract design is actually latte art, making it a perfect choice for someone who wants something a little bit subtle.
3. Bear Mug
Because why wouldn't a bear be holding a purple mug of coffee?
4. Coffee Pot
This steaming pot of hot coffee is framed with branches from a coffee plant.
5. French Press
Real coffee aficionados have strong feelings about coffee made in a French press. Some hate it while others won't have their coffee any other way. This person is clearly in the second camp.
6. Disassembled Portafilter
Any barista, and anyone who watches baristas often, will recognize this gadget. (It's part of the espresso machine.) This tattoo is a delicate, almost textbook-like breakdown of the tool.
7. Moka Pot
If you like making espresso at home and don't have a fancy machine, chances are you own one of these moka pots.
8. Espresso Tamper
This is another tool used when pulling a shot of espresso from a machine, utilized to tamp down the grounds into the portafilter and create a small, tightly packed puck.
9. Coffee Bean
You can't have coffee without that little bean, so pay homage to the source. The size is also ideal for a more discreet tattoo.
10. Caffeine Molecule
You could also just cut right to the chase with a tattoo of a caffeine molecule, because what good is coffee without the buzz?
11. "One More Cup Of Coffee"
This comes from a song Bob Dylan wrote about grabbing one more cup of coffee for the road before leaving his love. It's a very sad song, but the coffee reference makes it delicious.
12. Lipstick Stained Mug
One of the reasons I don't wear much lipstick is because I always stain coffee cups and mugs, but there's something charming about it when it's in tattoo form.
13. Your Regular Order
Thirty creams and 30 sugars might be a little bit of overkill for the average coffee drinker, but there's something to be said about getting your regular order tattooed on your arm. You'll never have to speak to your barista in the morning ever again.
14. Coffee Stain
For all of coffee's benefits, there's one clear downside, especially for the clumsy among us. Coffee stains clothes and teeth and tables and anything else it spills on. If you drink a lot of coffee, chances are you've stained a lot of white T-shirts, so why not just permanently stain your skin, too?
15. Coffee Plant
Coffee doesn't come from thin air, and this tattoo is a nice reminder of the drink's natural roots. Though the coffee plant is indigenous to southern Africa and tropical Asia, you can now find coffee plants all around the world.
16. "Damn Fine Cup Of Coffee"
Dale Cooper in Twin Peaks would be nothing without his slice of cherry pie and his piping hot cup of coffee. It's really the perfect order at any roadside diner.
17. Tiny Coffee Cup
Even if you always order an extra large cup in real life, a tiny cup of coffee makes for an adorable tattoo design. Besides, finger tattoos are trending, so might as well get one of something you really love.
18. "Sugar, Mr. Poon?"
In the 1985 movie Fletch, Chevy Chase's character is offered sugar for his coffee, to which he responds, "No, never, never." Hence, this tattoo.
19. Donuts And Coffee
There are few pairings more iconic or delicious than donuts and coffee.
20. "Perk Up Buttercup"
Few things put me in as good a mood as a nice cup of coffee and this positive, colorful image is the tattoo equivalent of taking that first perfect sip in the morning.
21. Starbucks Tattoo
Some people don't like coffee all that much, but they love Starbucks. If pumpkin spice season is your favorite time of year, this might be the perfect coffee-inspired tattoo for you.
22. Dunkin' Donuts Logo
If you're from New England, chances are your love for Dunkie's runs deep, so declare that love to the world with a tattoo of the Dunkin' Donuts logo.
23. "I Need You"
In an alternate pocket universe, I imagine that Lorelai Gilmore, TV's ultimate caffeine addict, has this tattoo on her lower back.
24. "Give Me Coffee Or Give Me Death"
This tattoo definitely cuts to the chase, and it's not for the faint of heart.
25. "Death Before Decaf"
It really doesn't get more serious than this tattoo, but it rings true because every real coffee drinker knows that decaf is pointless.
So what are you waiting for? Go chug a cup of coffee and get that coffee-inspired tattoo you've been dreaming of.
Images: MezLove/Flickr