7 Things I Learned From Kim's Makeup Masterclass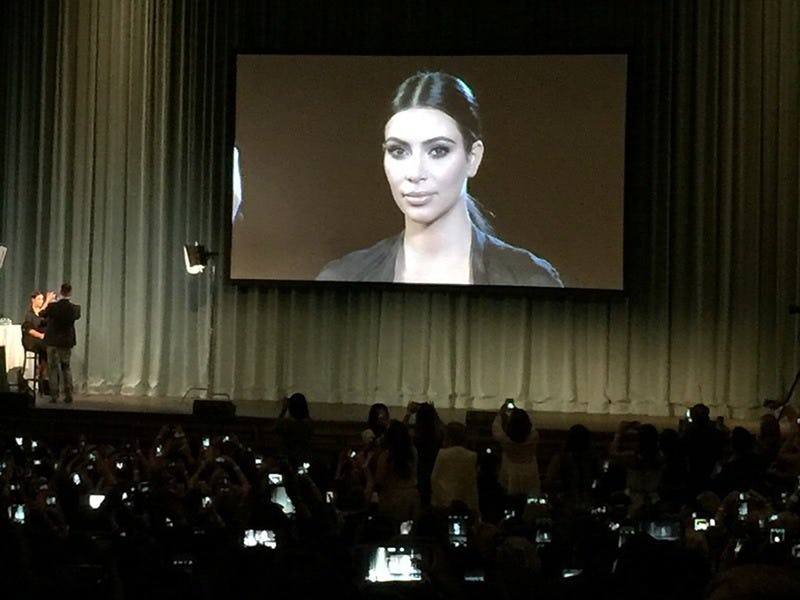 After watching a full-on, four-hour-long makeup session, I can confidently say that there were many things I learned from Mario Dedivanovic and Kim Kardashian's masterclass. Other than discovering the items that Kim and Mario swear by, I learned many different ways of applying makeup. It was seriously life-changing.
I'll be the first to admit: I pretty much got used to my regular makeup routine: a little concealer, some blush, a few dabs of bronzer, and of course, my winged eyeliner. But after attending the masterclass, I realized there were so many different options for me to choose and experiment with.
Now, I love all things beauty, and I've always enjoyed reading about the newest trends and techniques everyone is obsessed with, but hearing tips and advice straight from Kim and Mario themselves, without any filters, was surreal. It definitely inspired me to step outside of the box and apply makeup differently from what I've normally done.
I mean, I can't begin to tell you how cool it was to hear Mario explain his techniques and the products he used. But I guess I can start off by revealing some amazing tips that I now definitely try to incorporate in my makeup routine.
Here are the 7 things I learned from Kim and Mario.
1. Use moisturizer instead of primer
Mario wasn't completely against primer, but he explained that using moisturizer worked way better for him. He described primer as a barrier between makeup and the skin. So next time you think about priming your skin, perhaps try Kiehl's Ultra Facial Moisturizer instead. (Ultra Facial Moisturizer, kiehls.com, $38)
2. Stroke upwards on your neck when applying foundation
This was probably the funniest and most interesting piece of advice I took away from the masterclass. Kim explained she did NOT want any wrinkles on her neck, so she was super serious about Mario stroking upwards when applying foundation on that part of her body. And well hey, if it keeps the wrinkles away, I'm all for it.
3. Apply foundation everywhere
What I forget to realize is that foundation needs to match all of your skin, not just your chin to forehead. Not only did Mario apply foundation on Kim's neck but he also applied it to her shoulders, chest bone, and her ears. Yes, her ears! I never really thought about doing that, but it definitely makes sense to keep that in mind. A really great stick foundation to invest in is the Bobbi Brown Stick Foundation which Mario used on Kim during the masterclass. (Bobbi Brown Skin Foundation Stick, Sephora.com, $44)
4. Blend, blend, and blend some more
I really don't know how I got through my makeup routine without an original beauty blender, for real. Mario explained that it was extremely important to blend, blend and blend some more. When it comes to contouring or even just evening out your foundation, it's always really important to remember to blend evenly and smoothly. (The Original Beauty Blender, Sephora.com, $20)
5. Use loose powder after cream foundation
Usually, I'll just apply a liquid foundation and let it be. I've noticed that because of my oily T-zone, I'll get shiny rather quickly in those areas. The solution? Loose powder, duh. For a more matte look and finish, Mario consistently applies loose powder over concealer, foundation, and pretty much anywhere that gets super shiny. He used the Bobbi Brown Loose Powder for Kim at the masterclass. (Bobbi Brown Loose Powder, bobbibrowncosmetics.com, $38.00)
6. Use your fingertip to block mascara smears when applying it
This was a pretty cool piece of advice. When applying mascara to either your lower or upper lashes, put your finger tip beneath your lashes and use it as a guard from your mascara brush hitting your skin. This way you won't have those pesky mascara smudges on the eyeshadow and eyeliner you spent an hour applying on.
7. Apply multiple types of eyeliner
Last but definitely not least, you can always use more than one type of eyeliner. Mario used pencil, gel, and liquid eye liner on Kim's gorgeous eyes. He really intensified her upper lids and kept it subtle and smoky on her lower lids. All in all, her eyeliner was literally flawless and he was able to use all three eyeliners in an efficient way I could definitely learn from. Just remember after applying gel liner, lock it in with liquid eyeliner on top! Mario used MAC liquid eyeliner in boot black. (MAC Liquid Eyeliner in Boot Black, maccosmetics.com, $21)
Thank you Mario and Kim, for taking my makeup routine to the next level.
Image: Author's Own; Courtesy Of Brands