16 Essentials Your Dorm Room Needs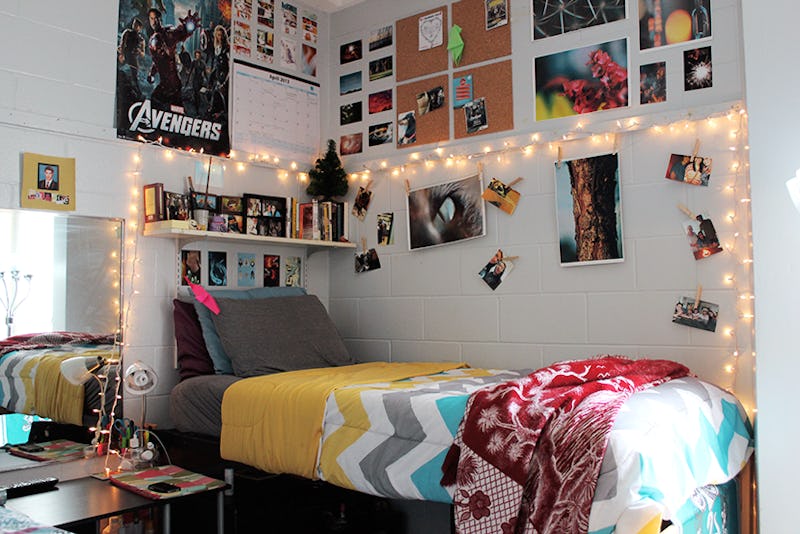 Just as soon as you were getting into the groove of summer, back-to-school ads began popping up all over the place. School won't be starting for another month, but you're already trying to figure out what dorm room supplies you need to make this year the best year possible. It's important to strategize. You know that not only will you have to fight the seventh graders for notebooks in the back-to-school section of stores, you'll be fighting everyone else in the bedroom, kitchen, and bathroom aisles. If you haven't begun shopping now, get to it — this list has everything you need before it disappears to the masses.
Back-to-school shopping when you're in college can be stressful and expensive. Not only are you buying school supplies and dorm room essentials, you're also paying for tuition, student fees, and textbooks. If there is one thing you can get ahead on, it's shopping for your dorm room in advance. The last thing you want to be doing is making multiple trips to the store during the first week because you forgot to buy x, y, and z.
So whether this is your first year or your last year in college, bring this list with you the next time you go shopping, and pick up a couple of items. And if you need help figuring out what back-to-school tech essentials you'll be needing, well, we've got that too. Let your shopping sprees commence!
1. Bedding
The good ones are always the first to go. Make the bedding aisle your first stop, or else you'll have the same multi-colored bed-in-a-bag set as every other girl on your floor. Whether you purchase a bed set or pieces individually, make sure you buy fitted sheets, a sham or two, a comforter, and flat sheets.
Xhilaration™ Star Reversible Comforter Set, $33.24 - $42.74, target.com
2. Desk Lamp
A desk lamp will be essential when your roommate is asleep, and you still need to study and don't want to leave the comfort of your own room. Life saver.
Desk Lamp, $39.99, www.marshallsonline.com
3. Hangers
Utilize your small storage and closet space by purchasing a couple packages of non-slip hangers. Fun colors optional.
Shirt and Pant Hangers, $11.99 each, www.tjmaxx.com
4. Drawer Organizers
When you're running late for your 8 a.m. class that's across campus, the last thing you want to do is start flinging clothes from your drawer left and right, because you can't find a beige bra to go under the white shirt you picked out. Get your undergarments, t-shirts, tanks, and socks organized.
Drawer Organizers, $2.99, www.tjmaxx.com
5. Futon
A splurge yes, but when your friends are visiting, you will thank your lucky stars that you saved up to purchase one. Twin-sized beds are not meant for two people.
Kebo Futon Sofa Bed, $87.00, walmart.com
6. Rug
Chances are, your dorm room floor will be made of linoleum or tile — not exactly comforting when you wake up on a January morning. Rugs come in handy not only to make your dorm room a little more cozy, but a lot more colorful.
3x5 Juniper Medallion Rug, $29.99, www.tjmaxx.com
7. Mini-Fridge
There will be days when you just can't stomach another salad bar or grill line at your school's dining hall. A mini-fridge comes in handy when you need to make your own meals, or want to refrigerate leftovers.
Haier 2.7 cu ft Refrigerator, $79.00, walmart.com
8. Personal Fan
Many multi-story residence halls have pre-set temperatures. Heat rises, and if you live on a higher floor, you'll want to purchase a fan to keep you cool for the rest of the summer.
Honeywell TurboForce Air Circulator, $12.79, target.com
9. Laundry Hamper
Unless you're going home every weekend, you will be doing laundry at some point. Make sure to purchase a mesh laundry hamper with handles, which will be easy and light-weight to carry.
Pop-Up Flip™ Hamper, $12.99, bedbathandbeyond.com
10. Storage Ottoman
Because you can never have too many places to put things. This ottoman is just as cute as it is sneaky.
Collapsible Storage Ottoman, $16.84, walmart.com
11. Steamer
At some point, you will come out of your track shorts and leggings, and actually put on a decent piece of clothing. Don't bother with irons and an ironing board — get yourself a portable steamer.
Conair Handheld Fabric Steamer, $15.99, target.com
12. Shoe Organizer
Divide your closet at home by half; that will be the size of your dorm's closet. Pick up an over-the-door pocket shoe organizer that will free up valuable closet space.
Over-the-Door 24 Pocket Canvas Shoe Organizer, $14.99, bedbathandbeyond.com
13. Shower Caddy
You will forget to pick this up when you go to buy towels, flip flops, and every other toiletry you'll need, so purchase this now, and save yourself multiple trips back and forth from the bathroom, because you forgot your shampoo, razor, and washcloth.
Mesh Shower Tote, $12.99, bedbathandbeyond.com
14. Mattress Pad
You won't think you'll need this until you discover that your twin XL is about as comfortable as sleeping on a hardwood floor. A mattress pad won't solve all your problems, but it will provide a more comfortable sleeping surface and a little warmth.
Bedding Essentials® Mattress Pad, $19.99, bedbathandbeyond.com
15. Patterned Boxes
Dorm rooms are notoriously tight on space — place your stuff in cute patterned storage boxes that double as decor.
Patterned Boxes, $7.99, $12.99, $14.99, www.marshallsonline.com
16. Saucer Chair
You're going to want a little extra sitting room when you're hosting one of those late-night study parties. This ultra-sleek chair does the trick.
Mainstay Microsuede Saucer Chair, $34.88, walmart.com
Image: Nataly A/Flickr