Ben H.'s Net Worth Is More Than Just Money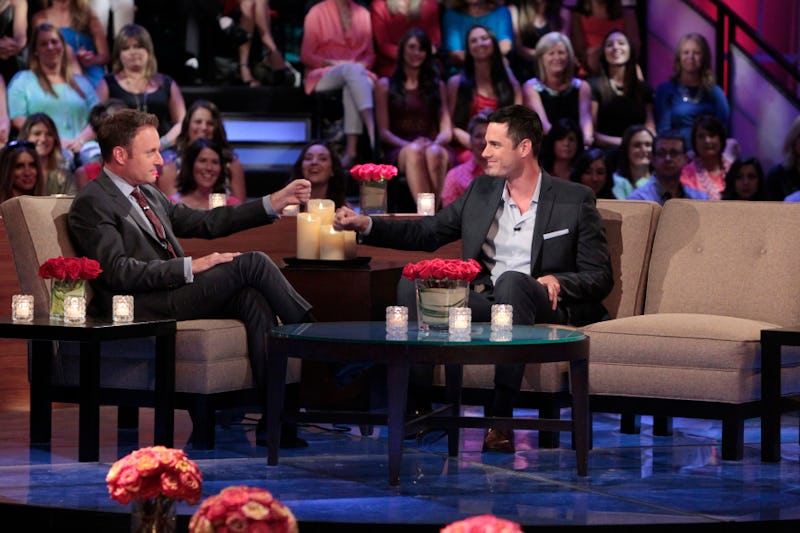 Lately it must be tough to be The Bachelorette's Ben Higgins. First, E!Online broke the news that he was the next Bachelor, but then that news was proved unconfirmed and he was downgraded to one of several 2016 Bachelor possibilities. But, if there's a chance that he's being considered for ABC's highest honor, more information, like what is Ben H's net worth, will come to light in the next few weeks. Because even though he was charming on The Bachelorette, there's still a lot that fans don't know about this guy. His career isn't as weird as the spiritual healer, he didn't have an alma mater that got mentioned as often as Princeton, and, of course, he didn't wind up winning Kaitlyn's heart. It's time to crack some of the mysteries surrounding our potential next leading man.
With a combination of his career, where he lives, and what he's like, Ben probably has a worth around $100,000, though that's an estimate — he doesn't frequently brag about his earnings or what he owns. But, Ben's worth isn't just monetary. After Chris Soules' season, I think it became pretty obvious that being the Bachelor requires a lot more than just good looks and financial success. Sometimes those by-the-book things add up to a completely boring Bach, and Ben H. has to prove that he's got the chops to make it work. So, let's see what he's bringing to the table.
He Works As A Business Analyst
Ben's LinkedIn describes his career as a "business analyst" for Talysis, a financial services software company in Denver. Talysis was "developed specifically for advisors servicing high net worth clients," according to their mission statement, so he probably makes more than the average business analyst salary of $65,000. And, looks like from that pic he's always had a appreciation for dressing like a businessman.
He's A Recent Grad
Also via his LinkedIn, Ben graduated from Indiana University in 2012 — so he's a millennial who's managed to become a successful professional in less than five years. He's young and on the rise — that must help his chances for getting picked as the Bachelor.
But That Could Mean He Won't Want To Settle Down
26 can be pretty young to get married. Even though he seemed to fall in love with Kaitlyn this season, who knows if he's ready to settle down permanently.
But, He's Already Pretty Settled
Contrasting the stereotype of a young businessman, Ben isn't out partying every night. Plus, he already owns his own house in Denver, something that not many single 26-year-olds have in this day and age. And, as he said on the show, he's a Christian, which also adds to his overall conservatism.
He's Close To His Family
That's a plus for those hometown dates — I know they've been tweaking with the formula of the hometown visits on the last seasons of The Bachelorette and Bachelor, but a cute relationship with parents, siblings, or baby cousins can go a long way in humanizing a Bachelor.
He Stuck Up For Kaitlyn
Did that add to his bank account? No, but it definitely added to why I like Ben. When he gave that speech on the "Men Tell All" special, it should have added like a million humanity dollars to his net worth.
Ben Higgins remains a great candidate for the next Bachelor. Not only does he make a good salary and probably has a net worth in the low six figures already at 26 years old, he's also the right type of guy for the show, too. He's handsome, seems to have a good relationship with his family, and stuck up for the girl he fell in love with. Sounds like a winner to me.
Image: Rick Rowell, Clodagh Kilcoyne/ABC; Giphy