Finding The Perfect Socks To Wear With Your Boots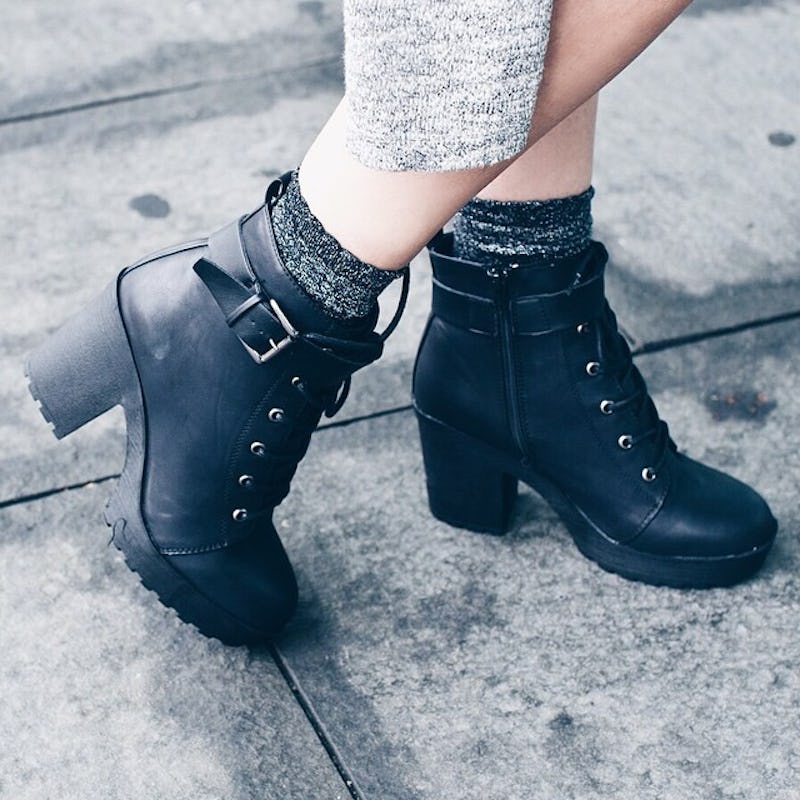 Boot season is fast approaching. It's that time of year when every woman pulls her babies (aka her boot collection) out of the back of the closet and sifting through her drawers in search of the best socks for boots to make her feet comfortable and her outfit pop.
I'm assuming you already know how to find hiking socks. So if you came here in search of moisture-wicking wear for your mountain climbing shoes—I do apologize for the bait and switch. But if you're here for darling socks to wear in every (other) possible boot scenario—then you're in the right place. Whether you're wearing classic ankle boots, lace up combat boots, cowgirl kickers, quirky boots, sleek zip ups, pull-on harness boots, or sexy cut-out booties like Kendall Jenner, I've got the socks for you.
Read on to ramp up for boot season with socks geared towards so many scenarios in the modern girl's life. Personally, I have socks for friend encounters, learning institutions, romantic escapades, the right socks for climbing the career ladder...even socks to buy more socks in!
Each category below offers a low sock and high sock option to suit your fashionable lifestyle. Honestly, consider yourself covered.
1. Brunch With Friends
Half Stripe Sock , $12, Happy Socks
See Similar: Happy Socks Navy Half Stripe, $12, Amazon
Sunset Over the Knee Sock , $18, Divvy Up Socks
See Similar: Bohemian Knit Over the Knee, $11, Amazon
Brunch with friends is all about fun. You can be super laid back (see option #1), or get wild with bold choices (a la option #2). Either way, you know your friends will love you in whatever you wear to eat avocado toast with them.
Afternoon Delight
Heart Lace Socks, $5, Amazon
Dupont Patterned Over the Knee Sock , $28, Free People
See Similar: Space Dyed Over the Knee Sock, $16, Amazon
Day dates are the best. You plan to look utterly charming—but without having seemed to have tried at all. You know, natural like. These two romantic options can be girly-ed up with a sweet dress and long, layered necklaces—or made a bit edgier with a worn jean jacket and bold lipstick.
School Daze
Japanese Mori Girl Lace Socks , $3, Ali Express
See Similar: Rugby Ruffle Ankle Socks, $14, Free People
Kate Spade 2-Pack Knee Socks , $24, Zappos
See Similar: Kate Spade Deco Rose Knee Socks, $18, Amazon
If you're returning to school after a break, you already know that you are able to retain more information when your feet look terrific. If you're just embarking on the higher education journey, know that it all starts with the perfect pair of boot socks.
Museum Adventure
The Kelsey , $10, S ock101
See Similar: Women's Crew Socks, $8, Amazon
Green And Turquoise Argyle Socks , $10, Sock It To Me
Cultural activities are made so much more meaningful when experienced through the lens of fabulous socks. And that's just thinking of you. In regards to the general public, who are you to deny them the opportunity to see your colorful crew socks?
Work Event
Unisex Ankle, $15, Thorlo
See Similar: Drymax Run Hyper Socks, $10, Amazon
Desi Classic Ribbed Knee Socks, $20, Absolute Socks
See Similar: Muk Luk Knee Socks, $25, Amazon
Err on the side of professional for work. If you have sleek ankle boots, opt for well-made comfort socks that hold you up without peeking out the top. For high boots, keep your sock style classic so the focus is on your big brain, not your risqué style.
Evening Encounters
Polka Dot Crew Socks , $4, Forever21
See Similar: Polka Dot Knee Highs, $10, Amazon
Knee Boots
LOVE Sick Pointelle Knit Over the Knee , $6, Hot Topic
See Similar: White Crochet Over the Knee, $10, Amazon
If you have a hot date with an adorable someone, you absolutely have to have the perfect boot socks. Because maybe your boots will come off and you will get an over the sock foot rub. Or maybe, your socks will be peeled off and gently admired for their beauty and grace. Whatever may come. You need to be prepared.
Backyard Bonfire Party
Gingham Roll-Cuff Socks, $15, J.Crew
See similar: Navy Striped Socks, $10, Amazon
Knee Boots
Eagle Boot Sock , $24, Urban Outfitters
Similar: Ostrich Boot Socks, $12, Amazon
Keep warm and look darling with some autumn-is-coming socksy footwear. Roll top striped socks looks darling with cuffed jeans and your brown ankle booties. And woven eagle socks? Well, those clearly look awesome at any time.
Shopping (For More Socks)
Betsey Johnson Ruffle Shorties, $36, Zappos
5 Pair Crew Ruffle Socks, $11, Amazon
Over the Knee Tipped Socks , $10, ASOS
See Similar: Over the Knee Triple Stripe, $20, Amazon
You may as well wear cute socks to find more cute socks while on the shopping prowl.
Images: @newyorkeronline/Instagram, Product pages (16)