'Diary' Director Talks Tearing Down The Patriarchy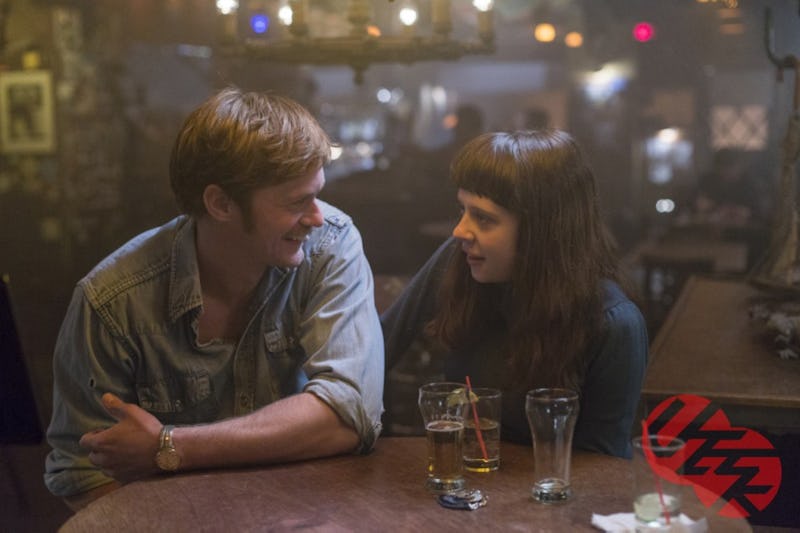 When it came to setting up the plot of her coming-of-age film, The Diary of a Teenage Girl , writer/director Marielle Heller didn't waste much time. Or any, for that matter.
"In more of a traditional film model, it'd be around the 30-minute mark when she would embark on her sexual journey," Heller says, speaking with Bustle. "I think for my movie, it's in about the 30-second mark."
It's a bold move for a movie about a teenager having sex, and an unthinkable one for a movie about a teenage girl having sex. But when making Diary, Heller knew that doing anything less than presenting her heroine in all her youthful, sex-loving glory right off the bat was simply not an option.
"I just wasn't interested in trying to make this story more palatable for an audience," she says. "That wasn't the purpose."
The actual purpose? Creating a film in which teenage girls are allowed to think about, talk about, and actually have sex, and they're not "sluts" or "whores" or jokes; they're real human beings, just as capable of exploring their identities and pursuing their desires as on-screen boys have been doing for years.
"For whatever reason, we've decided male sexuality is fine, and boys will be boys, and they can masturbate and tell jokes about it and have sex and try to lose their virginity," Heller says. "But if girls do the same, then we feel really uncomfortable. It's just a perpetuation of a patriarchal society, just trying to keep girls in their place."
Yet Diary proves there is no one "place" for young girls — they can be loud, and vibrant, and silly, and brusque, and just as wonderfully, frustratingly flawed as anyone else. The movie's women — Minnie (Bel Powley), a 15-year-old having an affair with her mother's boyfriend; Charlotte (Kristen Wiig), the hard-partying mother in question; and, of course, Heller and Phoebe Gloeckner, the author of the graphic novel on which the film is based — don't fit neatly into any box, nor do they want to. The movie is about accepting one's self completely, regardless of mistakes made or confidence lost or, in Minnie's case, amount of time spent exploring her sexuality.
"This wasn't my story," Heller explains. "I didn't have sex with my mother's boyfriend or anything like that when I was in high school. But I was a teenage girl who thought about sex and had always felt that something was weird, like I was a bit of a freak, that something was wrong with me, because I never saw that reality depicted anywhere."
Heller discovered Gloeckner's semi-autobiographical story nearly a decade ago, and said it immediately made her feel that she "wasn't alone." She adapted the book into a play, in which she starred as Minnie, and after seeing its success, she began the process of adapting it for screen.
"I always knew the importance of Phoebe's book... and how much I wanted to do right by it," she says. "I was just compelled by that feeling of, girls need to be represented. Our stories need to be told, just like boys, so that we don't feel like something's wrong with us."
A bit too old to play Minnie (Heller is 35) in the film, the director cast British actress Bel Powley in the role. Mostly unknown in the U.S., Powley, 21 at the time of filming, immediately fit the part, says Heller.
"As soon as Bel came on board, she just was Minnie," the filmmaker says. "It was so clear. She understood her in her bones."
Powley shared Heller's love for the material, but more than that, she deeply felt the director's need to tell Minnie's story. When, recently, the film was unexpectedly given an "18" rating in the U.K. (the equivalent of NC-17 in the U.S.), both women were distraught; Heller says that the news was "a huge disappointment," and that while she expected to possibly face ratings issues in the U.S. due to the film's sexual content, she'd expected the U.K. to be more open.
"It was shocking that we got such a strict rating there," she says, although she points out that the vote was made by "an all male board who are deciding what young women can see."
Continues the director, "I just hope as many young women as they can can sneak into the movie."
Powley echoes her sentiment, saying, "I think the people who decided that completely missed the point of this film... I I feel like I should get fake IDs printed and hand them out on the street."
The only silver lining to the decision? More attention being given to the movie; Diary has made quite a splash since its stateside premiere at Sundance in January, and in recent weeks, critics have been showering praise upon the film for its bold subject matter and fantastic 15-year-old narrator.
"We keep saying how frustrating it is that the movie didn't exist for us when we were teenagers," says Heller. "This isn't an after-school special or a morality tale, but just, hopefully, an honest portrayal of what it feels like be a teenage girl."
Because, she adds, "The truth of the matter is that most teenage girls are having sex."
Heller credits mentors like Nicole Holofcener (Enough Said) and Lisa Cholodenko (The Kids Are All Right) with supporting her story from the beginning.
"It just meant so much to me to have female writer-directors who had made films that I loved to read this script and tell me that it was worth making," says Heller, who worked with both women at the Sundance Writers and Directors Labs during the creation of Diary.
Their support, along with Heller's knowledge that there was a major lack of feminist films out there (her next project is a Ruth Bader Ginsburg biopic starring Natalie Portman), strengthened her resolve to tell Minnie's story, regardless of what potential reactions there might be.
Says Heller, "As a society, we're afraid of teenage girls. We want to pretend that they don't exist. We want them to be little girls, and then be grown women, and we don't want to think about them in this period of life."
But, she adds, "The purpose of [Diary] was to just tell this honest story... never was there a moment when I doubted it."
Diary of a Teenage Girl will be released on Friday, Aug. 7. You can watch the trailer below:
Images: Sony Pictures Classics (4)