This Is What A Snuggle Party Actually Looks Like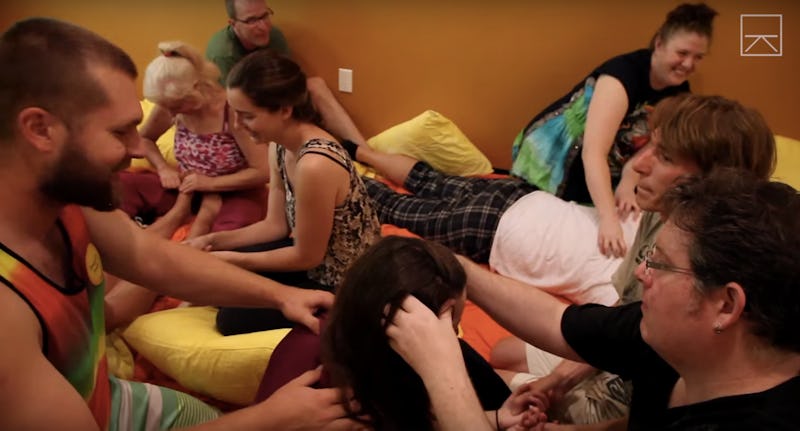 Hold the phone, internet, because I didn't even know this was a thing. Seeker Stories recently posted a video about what it's like to go to a Snuggle party, and my mind is kind of blown. I had no idea there were humans in the world who met up at people's houses just to get their cuddle on. If you haven't heard of Snuggle parties either, I just saved you a Google search — apparently they are gatherings were people go to feel connected through platonic and safe cuddling with strangers.
"My belief about snuggling is that we could heal a lot of our interpersonal wounds if we were more connected," said Snuggle Facilitator Shanya Luther. "In a culture that says you have to be in a romantic relationship to get touched, that leaves a lot of people out."
Adrianna is our guide as she takes us through her very first experience with a Snuggle party. She describes the intense vulnerability she feels even hugging people she cares about, and wonders how she will reconcile that while initiating all this intimacy with strangers — and I have to say, I fully agree with her. Don't get me wrong. I love humans and I love cuddling. But I also hate humans and I don't want them to touch me ever. I'm basically a cat pretending to be a 24-year-old woman. Anyway, here is our Snuggle heroine:
And here are a few of the people she met along the way:
If there are any doubts to how effective the Snuggle Party magic is, just take a look at these blissed out humans.
Including Adrianna herself:
To see how all the Snuggles went down, watch the full video here:
Images: YouTube(7)