Alba + Hayek + Brosnan = Love Triangle? — VIDEO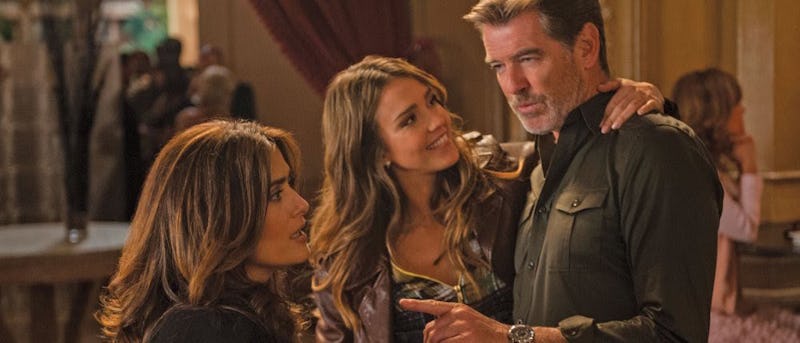 Oh, what it must be like to be an attractive older man with two much younger, gorgeous women falling at your feet! Such is life for Pierce Brosnan in Some Kind Of Beautiful . The story follows Richard (Brosnan), a successful college professor who gives up a habit of one-night stands with his graduate students for life as a father after finding out his girlfriend Kate (Jessica Alba), who is also much younger than him, is pregnant. Fast forward three years and Kate has moved on from Richard, finding herself in love with someone else and moving out of their home together. She sends her sister Olivia (Salma Hayek) to make sure her ex is properly looking after their son, and before she knows it, she may start to develop feelings for the seemingly eternal bachelor herself.
In this exclusive clip from the film, we see the three beautiful people at dinner, having an argument over the worthwhileness of Richard as a partner for Kate. Sure, he's handsome and funny, but as Olivia prods, is he more than the self-centered and womanizing man he appears to be?
Some Kind of Beautiful will hit theaters and On Demand Aug. 21. Watch an exclusive clip from the film below:
Images: Lionsgate