Your Guide To Multimasking By Skin Type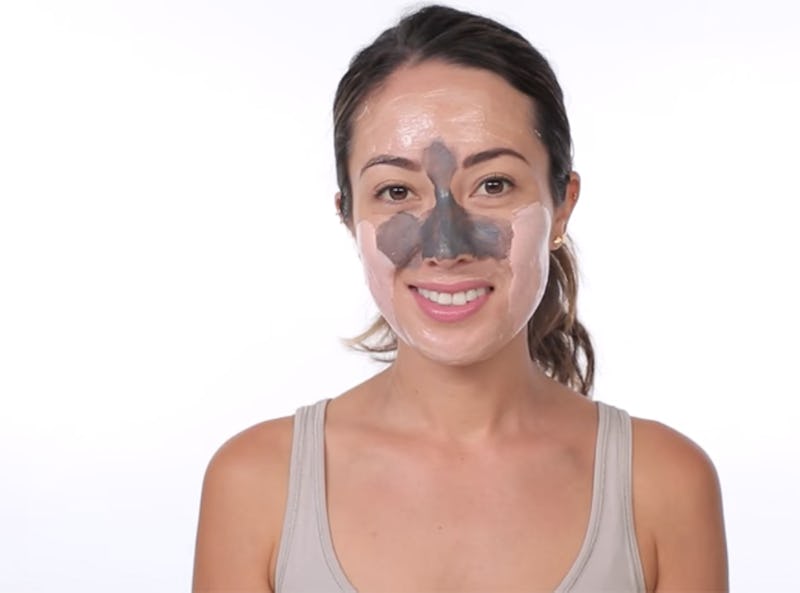 If there was ever such a thing as bespoke skincare, it's in multimasking. If you're unfamiliar with the Insta-friendly trend, multimasking is all about mixing and matching a few skincare masks for your ultimate facial. Even though different masks are made to suit different skin needs, the skin on our faces is not all the same. So even if one mask can target a main skin concern, it might leave others unaddressed. The solution? Use multiple masks at once.
You might be thinking this sounds like a trend specifically for those with combination skin. And while multimasking can definitely help target and treat both oily and dry skin at the same time, having just dry or oily skin doesn't mean that you only need a clarifying or hydrating mask. Because, unfortunately, different skin types can lend themselves to a variety of concerns. At least making these skin-cocktails of sorts can be fun. (I'll take two parts detoxifying, one part hydrating, thank you.) So if you want to try multimasking, but aren't quite sure what would be best for your skin, here are some combinations to try, broken down by skin type. And yes, it might look a little crazy...
...But just have fun with it!
Dry
Besides the fact that dry skin obviously needs moisture boosts, it can also lead to a dull complexion and even premature aging. To combat these concerns, try using a mask that hydrates and adds radiance or exfoliates to the nose, cheeks, and chin. Then, use a mask that has anti-aging properties on the forehead and perimeter of the face. Finish off your multimasking with hydrating eye gels.
From left: Mario Badescu Enzyme Revitalizing Mask, $20, ulta.com; Peter Thomas Roth Rose Stem Cell Bio-Repair Gel Mask, $45, sephora.com; Tony Moly Ferment Snail Eye Mask, $8, ulta.com
Normal
To enhance a normal complexion, try an exfoliating mask on areas of the face that might be more congested, like the T-zone. Then add a purifying and radiance-boosting mask on the cheeks so skin stays clear and hydrated. Cooling eye gels will help de-puff and tone a tired eye area.
From left: Philosophy Purity Made Simple Mask, $25, sephora.com; Ole Henriksen Blue/Black Berry Enzyme Mask, $36, sephora.com; Skyn Iceland Hydro Cool Firming Eye Gels, $30, ulta.com
Combination
Especially if you have combination skin, multimasking is one of the best ways to treat all of your skin concerns at once. Try a charcoal mask that will help to draw out impurities along the T-zone, and a hydrating mask that will seal in moisture on the cheeks and perimeter of the face. Top it all off with eye masks that will brighten, firm, and hydrate.
From left: Origins Clear Improvement, $25, origins.com; Erborian Bamboo Waterlock Mask, $43, sephora.com; Boscia Sake Brightening Hydrogel Eye Masks, $15, boscia.com
Oily
Clarifying, detoxifying, and purifying are oily-skinned girls' beauty buzzwords. So to really clear out pores, try a peel-off mask on the nose to draw out blackheads and control oil, and a mud mask on the rest of the face to draw out other impurities and combat acne. And don't forget a toning and revitalizing eye mask.
From left: GLAMGLOW Supermud Clearing Treatment, $69, sephora.com; Boscia Luminizing Black Mask, $34, boscia.com; SEPHORA COLLECTION Eye Mask, $5, sephora.com
Here's to getting the clearest, most comfortable skin you've ever had.