7 Reasons You Should See '10 Years'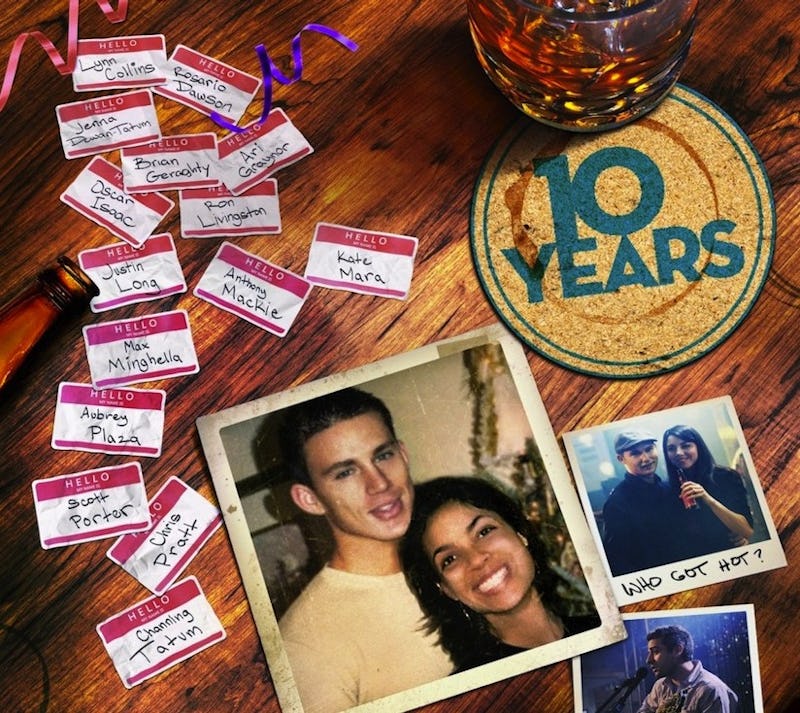 The Oscar race is heating up, and one of its biggest competitors is Inside Llewyn Davis , a drama from the Coen Brothers about a struggling folk musician in '60s New York. Besides featuring an all-star ensemble and a gorgeous soundtrack, Llewyn is gaining buzz for introducing the world to an actor on the rise – its star, Oscar Isaac. Isaac, who plays the film's title character, is not new to Hollywood, having appeared in Drive, W.E., and The Bourne Legacy, among over a dozen other films, but Llewyn is by far his most widely-seen role. Now, he's earning talk of Oscar and signing contracts with major studio movies. Isaac's career has never been better, and so it's perfect time to remind the public of some of his past acting highlights – including 10 Years, a wonderful, criminally underrated film from 2011.
Directed by Jamie Linden (the writer of We Are Marshall, Dear John), 10 Years is a lovely little movie about a 10-year high school reunion. It flew under the radar when it was released two years ago, thanks to its indie status and lack of promotion. Those lucky enough to see it, though, knew that the film was something special. Hopefully now that Isaac's a star, maybe more people will seek out his past roles and discover the treasure that is 10 Years; here are seven reasons it's worth your time.
1. The Cast is Fantastic
Think the only place you can see all your favorite funny people in a room together is a Judd Apatow movie? Think again, because 10 Years' fantastic ensemble includes comedy all-stars Channing Tatum, Justin Long, Chris Pratt, Aubrey Plaza, and Ari Graynor, as well as Rosario Dawson, Kate Mara, Jenna Dewan-Tatum, Scott Porter, and, of course Oscar Isaac. It's an incredible group of actors and comedians, and despite the size of the cast, each person gives an affecting, stand-out performance.
2. Channing Tatum
Oh, did we forget to mention that Channing Tatum is both the star and producer of 10 Years? Oops. Besides the obvious eye-candy benefits of seeing a Channing Tatum movie, 10 Years features the actor in the most natural, likable performance of his career. This, not 21 Jump Street or Magic Mike, was the real start of the Channing Tatum Hollywood Renaissance.
3. It's The Perfect Dramedy
One of the reasons that 10 Years didn't get a ton of promotion back in 2011 was that it's a hard movie to categorize. It's too funny to be a drama, but too poignant to be a comedy. Yet that in-betweenness is exactly why the movie is so good; it perfectly captures all the odd, honest little moments that people experience, and it understands that real life doesn't have to fall under a label.
4. The Marketing was Small but Amazing
To promote 10 Years, the marketing people over at Anchor Bay Films decided to forgo major interviews and flashy trailers, and instead, focus on the movie's cast – by releasing photos of them from high school. Sure, this probably wasn't the smartest move in terms of getting the movie seen, but it did make for some quality entertainment. Side note: 35-year-old Justin Long looks exactly the same as he did at age 18. That's not normal.
5. It's a Reunion Movie
It may be a familiar concept, but the "reunion movie" never gets old. From The Big Chill to Romy and Michele, films about groups of friends coming together to revisit old memories and stir up new drama consistently provide great entertainment, and 10 Years is no exception. The characters' reunion feels real and relatable, never falling into melodrama territory or relying too heavily on cliché. Whether it's Jake (Tatum) reconnecting with his high school sweetheart (Dawson), ex-bully Cully (Pratt) attempting to make amends with his former victims, or man-children Marty (Long) and A.J. (Max Minghella) realizing they're the only ones who haven't grown up, 10 Years never strays too far from its honest, emotional center.
6. It Features the Most Gorgeous Song
It's a good thing Oscar Isaac is getting the chance to show off his musical chops in Inside Llewyn Davis, because the multi-talented actor has one gorgeous voice. In 10 Years, Reeves (Isaac), a popular musician, is goaded by his former classmates into performing his biggest hit, an achingly beautiful song called "Never Had." It'd be lovely enough on its own, but when it's implied that the song was written about a girl Reeves secretly loved in high school (and who's there at the reunion), we can't help but swoon. Watch Isaac perform "Never Had" below:
7. It's a Win for Little Movies
The best thing about 10 Years is that it knows exactly what it is, and it and it doesn't try to be anything different. A tiny, low-budget movie about a group of friends, even with an A-list star in the cast, isn't going to be a blockbuster, but unlike a lot of indie movies, 10 Years is perfectly happy within its limits. Its ambitions are small and its plot simple; every moment feels natural and real, like you're watching your own friends reconnect before your eyes. 10 Years doesn't want to be huge, and when the movie's as good as it is, it doesn't need to be.
Image: Anchor Bay Films