Why The Rainbow Trend Is Really Bad For Your Hair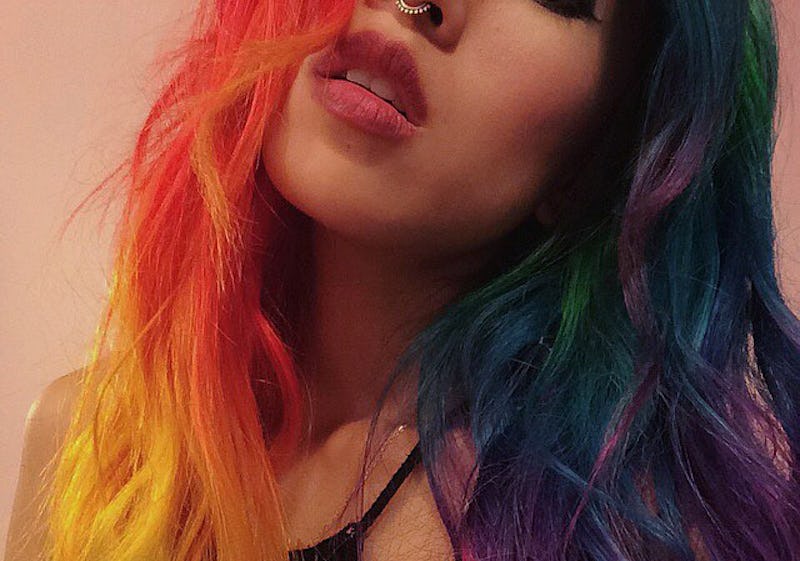 Well folks, although it may be fun to dye your hair five different colors, it turns out that the rainbow trend is actually really bad for your hair. Shocking, I know. My hopes and dreams of becoming a full-time unicorn have completely deteriorated. I'm being dramatic, but it's only for good reason. Have you seen how gorgeous the colombre trend is?
The truth is that having rainbow hair causes your hair to become weaker and more damaged because of the amount of chemicals put into your follicles. Obviously, whenever hair is dyed, it becomes damaged no matter what. But since having more vibrant colors takes a longer process and requires your hair to be bleached multiple times, this can seriously affect your hair negatively.
So here's what happens: Dr. Robert Dorin from True & Dorin explained to Cambio that bleaching your hair will, "ultimately really dry out and damage strands. These vibrant hair colors are even more damaging because it typically involves this two-step dying process." Ugh, so tragic.
Dying the color of your hair also allows the cuticles to be exposed and lifted in order to grab the dye being applied.
Dr. Dorin explains, "The cuticle is not meant to be lifted, but instead it is supposed to lay flat and smooth, protecting our hair shafts. Once the cuticle of the hair is raised to allow the dye in, the peroxide agent in hair dyes work to break down the original color pigment. Peroxide is also very drying and damaging for the hair."
So basically, having rainbow hair may be fun and all, but it may not be the nicest thing to do to your tresses.
However, if you do decide to still rock a spectrum of colors or have your hair colored at all, here are some products to help you achieve that.
Shea Moisture Yucca & Plantain Anti-Breakage Strengthening Masque, $6, Target
This mask is super great for keeping your hair looking shiny and healthy. Packed with organic ingredients, the baobab oil and cilantro extract will help revive your hair when it's at its breaking point.
Bumble and Bumble Color Minded Shampoo, $31, Sephora
Personally, I really enjoy using Bumble and bumble products. This shampoo also helps colored hair keep the tones in and vibrant.
Joico Moisture Recovery Conditioner, $16, Ulta
It's extremely important to get a great conditioner especially when you have colored hair. You need a conditioner to repair damage of course. This Joico formula claims to, "detangle your dry hair to reduce breakage by 55% as it hydrates and strengthens." Sounds great to me!
Images: hieucow/Instagram