7 Ethical Undies That Also Look Great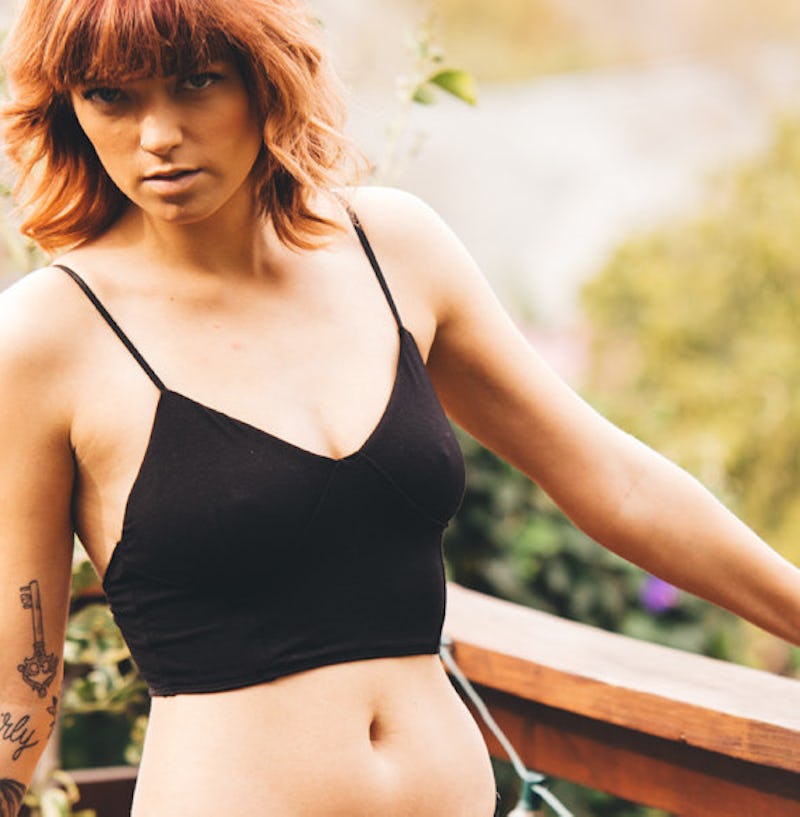 From bikini cuts to thongs, boy shorts to granny panties, one of life's near guarantees (beyond death and taxes) is that you're pretty likely to continue buying undergarments, so you may as well opt for ethically made underwear. What you put on your booty is pretty personal business, of course. Most of us grow fairly attached to our favorite lingerie and undergarment brands or designers, and I know I personally have a tendency to be pretty picky about both the cut and construction of my knickers. So when it comes to making the choice to explore new options and potentially forsake lingerie loyalty, it's not a suggestion I make lightly.
If you want stylish underwear that is also the product of fairly paid labor and/or an environmentally conscious supply, there are a handful of websites to help you check out your favorite brand, to see how it measures up in terms of human rights, ethics, and sustainability. But if you'd like a few new suggestions without having to do a lot of legwork, I've compiled a list of retailers that offer lovely undergarments and lingerie. They boast a variety of ethical upsides, so you can choose the company best suited to your concerns and style needs.
1. Clare Bare
Native Hipster Panty, $34, Clare Bare
Committed to creating fashion forward, eco-friendly lingerie, Clare Bare is a Los Angeles based designer whose pieces are made locally with sustainable design practices. Not only are her designs created from bamboo jersey and raw, organic, or vintage fabrics, but she employs hand dyeing and collaborates with local dyers so each piece is one of a kind. Since she's both designer and owner, Clare has creative liberty, which clearly results in some stunning lingerie.
2. Blue Canoe
Bamboo Thong, $34, Amazon
Want to shop local? Blue Canoe offers 100 percent American made undies created from natural fibers, including organic cotton and bamboo. It also makes a point of using non-toxic dyes. Plus, it's a women-owned company, which is always nice considering women who make undergarments tend to have a good sense of what's comfortable.
3. Naja
Carmen Hi-Waisted Swinging London, $28, naja.co (SOLD OUT)
Consider: Naja's Martina Low Rise Black, $25, Amazon
Want your underwear to empower other women and look lovely? Naja's commitment to employing single or head of house mothers and supporting an entrepreneurial sewing program is sure to fulfill that longing. In addition to providing employment and marketable skills to women through the Underwear for Hope program, Naja uses luxurious Peruvian Pima cotton and soft nylon lace. It also features bras with memory foam cups and a line of eco-friendly undergarments made of recycled plastic bottles that happen to wick sweat and boast antimicrobial properties.
4. Pact
Hipster Pantie, $23, Amazon
You might not think about fertilizer, pesticides, and organic material when it comes to undergarments, but Pact, the fair-trade, eco-friendly apparel company, definitely considers them all. Its undergarments begin with non-GMO cotton seeds and are grown and harvested at farmer-run cooperatives. They are manufactured in factories that are Global Organic Textile Standard certified (and often powered by wind) by people who are well paid and well treated. Even Pact's packaging is green. Sounds like a positive panty to me!
5. Between The Sheets
Come Out & Play Bikini Dusk & Midnight, $19, btslingerie.com (SOLD OUT)
Consider: Between The Sheets Women's Basic Play Modal Bikini, $36, Amazon
Focused on operating with the three pillars of sustainability (economy, society, and environment) in mind, Between The Sheets is a U.S. based company that currently sources modal fibers (harvested through sustainable practices from beech trees) and other cellulose based fibers from reputable manufacturers in Austria. The benefit of these fibers over cotton is twofold: They utilize a closed loop chemical process that does not pollute the environment, and use less water for the process overall.
6. Do You Green Paris
Tanga With French White Lace, $30, Organic-Lingerie
How does entirely eco-friendly French lingerie sound? How about eco-friendly French lingerie made of pine needles? Well, thanks to former architect and designer Sophie Young, Do You Green provides just that. The reportedly exceptionally soft fabric is designed and made entirely in France, has Oeko-Tex Standard 100 rating, which ensures that the dyes used are carcinogenic azo compound free, and uses 70 percent of profits to protect the employment of its workers.
7. DaDa
Trunk/Polka-Cyan, $27, Dadaunderwear
For the gentlemen reading (or the ladies who prefer more traditionally male cut underwear), DaDa offers sustainable fabrics from natural fibers. It's also developing fabrics from coffee grinds and wood pulp. As far as its manufacturing practices go, DaDa uses plants that maintain a Garments Without Guilt certification, ensures its workers are paid a living wage, and provides them with meals and transportation each day. DaDa also donates 10 percent of profits annually to the DaDa Foundation, which then passes them on to charities intent on helping people create sustainable futures.
See, change isn't so difficult, is it? With all of those lovely options, I know I'm feeling rather inspired to seek out something new for my underwear drawer.
Images: Courtesy Brands