'Veronica Mars' Movie Clip Is Here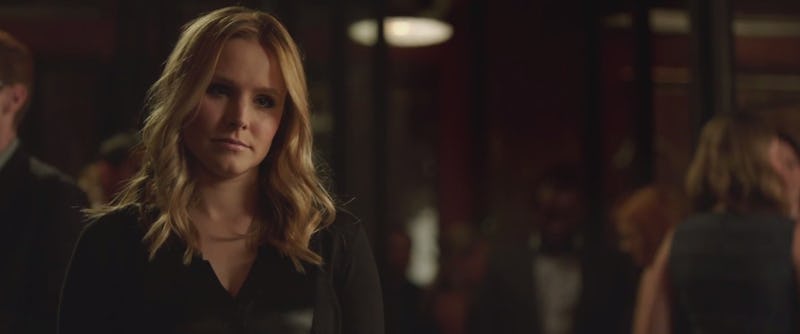 GUYS DID YOU KNOW THE VERONICA MARS MOVIE IS ALMOST HERE? DID YOU? BECAUSE IT IS AND VERONICA IS PERFECT AND AHHH. Sorry, but it's hard to calm down and function like a normal human being when VERONICA MARS is set to hit theaters nationwide as soon as March, AND THAT'S ONLY THREE MONTHS AWAY. THAT'S SO CLOSE that Warner Bros. has even released a new clip from the Veronica Mars movie, featuring old favorites like Mac, Wallace, and even, whaaaaat, Madison Sinclair.
Most importantly, though: Veronica's voiceover is back! Her withering stare! This movie is going to be amazing.
The clip — if you haven't already mashed play on the clip a million times and cursed YouTube for not loading faster — takes place at Neptune High School's tenth reunion, which makes sense considering the majority of the movie will be set there. We see Veronica, all grown up and, in Wallace's words, "a big shot New York City lawyer," standing on a stairwell looking down at their old classmates mingling below them. Veronica questions why they even came, and Wallace says it's to rub her success in everyone's faces — then heads off to hook up with an old flame, in total Wallace form. Veronica then heads over to the check-in desk to get her nametag, and runs into Madison Sinclair, who is, of course, one of the reunion's organizers. It's a sweet little exchange, obviously.
As series creator and film writer/director Rob Thomas told EW recently, the film will be released nationwide on March 14, and it will remain in theaters for as long as there's a substantial audience. "We're not going to dribble it out there," he said.
You can check out the clip below. AHH IT'S ALMOST HERE, MARSHMALLOWS.
Images: Warner Bros. Television, Tumblr