Peeps Are, Like, So Ready For Fall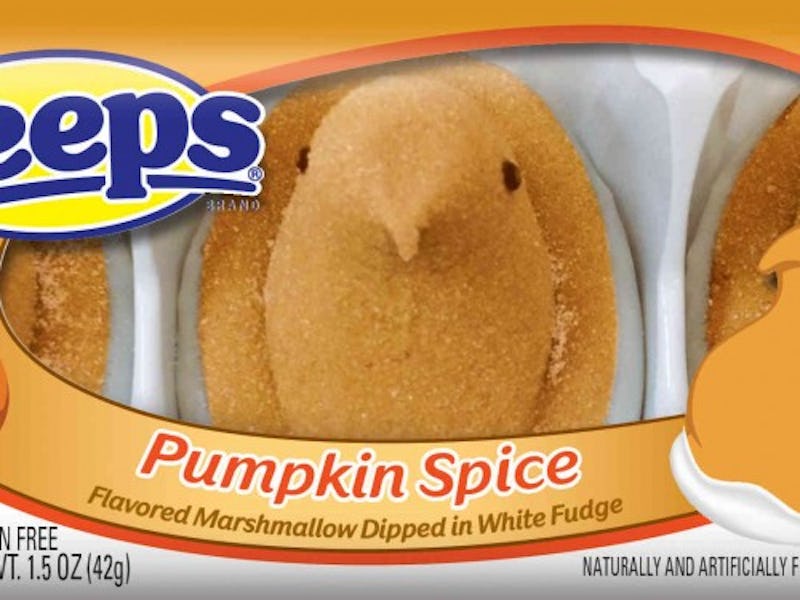 Nothing says summertime quite like basking on the beach, chilling poolside at a BBQ, and munching on pumpkin spice Peeps... Yes, you read that right. A little sugar-coated birdie told me that autumn is coming sooner than expected this August, because Peeps just announced its release of limited-edition pumpkin spice Peeps, along with two other scrumptious fall-flavored chicks.
That's right — beginning Aug. 31, you can fill that seasonal void in your life, and stock up on these spongy confections, available at retailers and online. The three new fall-themed flavors, pumpkin spice, caramel apple, and candy corn, are partially coated in a hardened candy shell (white chocolate for pumpkin spice and candy corn, and caramel for caramel apple), and packaged into counts of three. If you're completely sick of this brutally hot summer weather, get ready, because these yummy dipped sweets will help you fast-forward to all the cozy comforts of fall. Just think: gourmet s'mores, gooey fluff fillings, extra oomph in your latte, and just plain deliciousness. Once these bad boys hit the shelves, the possibilities are endless.
Ultimately, you're the one who is going to have to decide whether you're on board for these popular fall flavors or not. I, for one, can't resist pumpkin spice-flavored anything; the mere thought of it draws me in like a magnetic urge. And if you're like me, these festive Peeps are calling — ahem, chirping — you in.
This isn't the first time the candy company has surprised the world with well-liked favorites and holiday specialties, though. Throughout the years, Peeps has introduced fruity, caky, and wacky decorative treats, but here are four other times Peeps blew me away with creativity.
1. Sweet Lemonade
Tart and tangy aren't the first tastes that come to mind when I think of these soft, chewy snacks, but they sure do look refreshing.
2. Red Velvet
These cream-dipped, cocoa-rich fluffers are as regal as the decadent cake they were named after.
3. Gingerbread
Not only are these cute Peeps shaped like gingerbread men, but they pack as much fragrant spice as their cookie counterpart.
4. Mystery
What a tease! Who could resist solving a mystery? Speculate on your own, or check out this spoiler if you're itching to know.
Image: Just Born