9 Books Every Shopaholic Will Love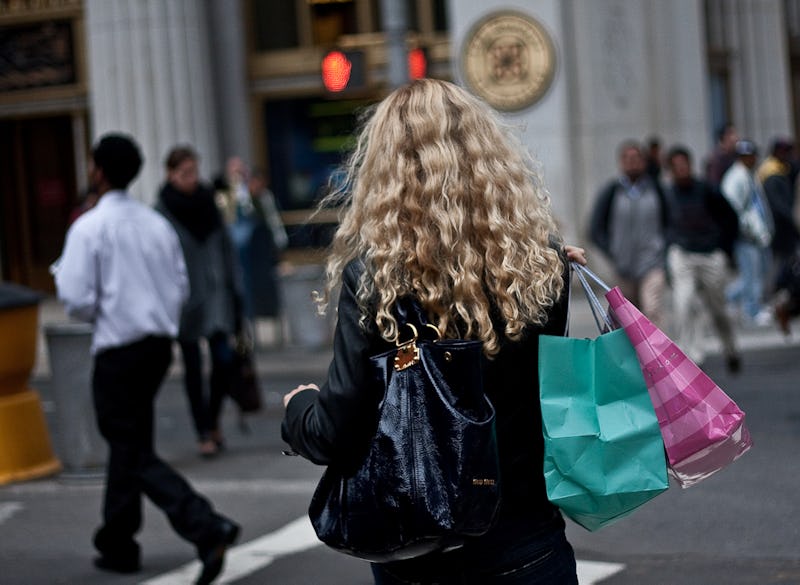 There was a time when I knew my local mall better than my own backyard, when every Saturday afternoon was spent strolling those familiar corridors, tracking new arrivals with the ferocity and killer instincts of a natural-born consumer. These days, I'm strictly an outdoor shopper; I revel in the warmth of sunshine on my shoulders almost as much as I relish the weight of a shopping bag in my hand. From weekends at the mall to warm afternoons wandering through narrow alleys, one thing has never changed — summer is still my favorite time to shop. Whether you take refuge in the air-conditioned paradise of a modern shopping palace or spill out onto the streets to indulge with other vacationers, there's something truly magical shopping when the sun is out, the days are long, and there are no bulky sweaters to change in and out of.
So, for all you shopaholics out there looking to recharge your battery in between exercising your hard-earned disposable income, why not take a moment to indulge on the page before making your next purchase. These nine tales dedicated to the art, the joy, the drama, and the sheer love of shopping are the perfect way for every shopaholic to relax between trips to the local mall or the heart of downtown. Here are nine books every shopaholic will love.
Sophie Kinsella is the undisputed queen of fashion fiction, and not without good reason. Confessions of a Shopaholic is a warm, witty, melodramatic masterpiece that navigates the trials, tribulations, and triumphs of fashion with nuance, subtly, and no small amount of humor. You'll laugh, you'll cry, you'll find yourself repeatedly reaching for your purse and yet unable to put down this near-perfect novel. So sit back, relax, and let the shopping come to you for a change.
Sister Carrie has been touted by scholars as one of the first novels to truly capture the modern commercial experience, which makes this early-20th-century masterpiece of American fiction pretty much a historical must for any self-respecting shopaholic. I'll admit, I was skeptical when I first picked up the slim volume, but after wandering with Carrie through a department store and hearing the lurid items literally speaking to her, I was entirely hooked.
Catherine O'Flynn's sharp, scintillating novel follows Kate Meaney throughout her work as a "junior detective" at the Green Oaks shopping mall until her untimely disappearance stirs up new suspicions and old mysteries that have simmered dormant for too long in this small town. For a rich, dazzling mystery set in the heart of shopaholic territory at the local mall, you simply cannot do better than What Was Lost.
Anyone who's ever stayed just a few minutes past closing time will know that when the lights go off and the security doors come down the mall can be a terrifying place — but trust me when I say that until you read S.L. Grey's The Mall, you cannot even begin to imagine true shopping terror. Grey's thriller might just be the perfect way to unwind after a long day in the fashion trenches, but shoppers beware — you may never see the mall the same way again.
As one of American literature's undisputed classics, The Great Gatsby attracts readers of all sorts, but what they won't tell you on your English lit syllabus is that this jazz age gem is not only a romance for the ages, but also the perfect choice for the modern shopaholic. Fitzgerald offers readers a long close look at Daisy Buchanan's daring sartorial choices and a sneak peek inside the wardrobe and interior design work of the one and only Jay Gatsby, which makes this beloved novel nothing short of inspirational for the modern shopper.
From that oh-so-memorable scene in Pretty Woman to Kylie Kardashian's Instagram page, nothing says "shopping" quite like a single woman on the streets of the big city with a credit card in hand. So, if you like your shoppers young, reckless, and bathed in bright lights, pick up Jacqueline Susann's beloved Valley of the Dolls and let the sartorial games begin.
Like many a modern shopaholic, I've worked retail myself and I find the literary portrayals of the world of the shop girl largely at odds with reality. Of all the books I've ever read with retail sales associates at the heart of the action, Martin's charming, witty, warm, and strange romance Shopgirl is the only story I've come across that perfectly captures the essence of life behind the counter. For anyone who's ever wondered how the other half of the shopping experience live, Martin's intoxicating novella offers the perfect peek behind the scenes.
I like to think every shopaholic imagines herself as a 19th century woman about town at least once in her life. When the fluorescent glare of the big box store and the 20 minute wait for a cramped changing room becomes simply too much to bear, why not travel back in time to Edith Wharton's The House of Mirth . Forget your modern shopping woes with a few days in the life of Lily Bart — she may have to beg, borrow, and steal to pay the bills, but girlfriend knowss how to pull together an outfit, old-school style.
As every true shopaholic knows, half the fun of browsing and buying are the characters you come across along the way. For a hefty dose of people-watching without breaking out gas money to make it all the way to the mall, Mark Ravenhill's play Shopping & F***ing may just be the next best thing. Dark, tumultuous, and steeped in the darker side of shopping life, Ravenhill's highly regarded drama might not reflect your shopping experience, but it will surely stoke your imagination and fire up those basic shopping instincts.
Image: John Fraissinet / Flickr