The Jewelery Brand Employing Homeless Individuals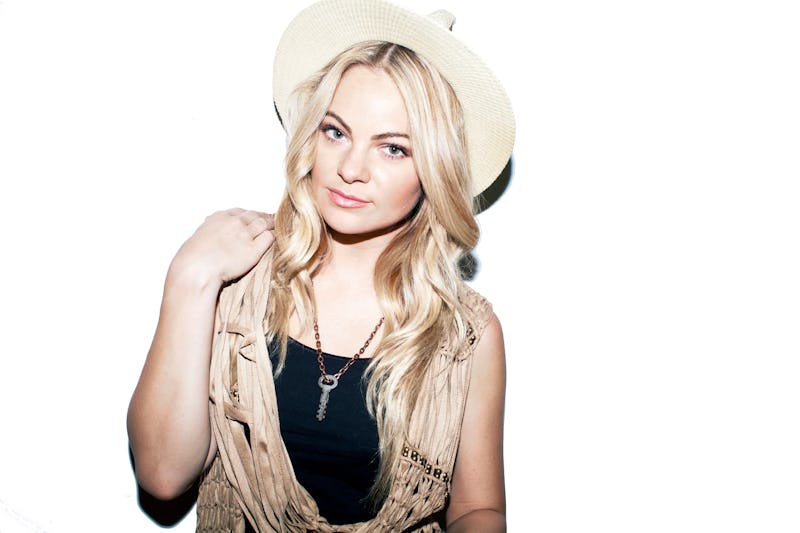 It's a simple concept: A necklace shaped like an old key inscribed with a word of encouragement. You then wear it until you find someone else who needs the message more than you do. What started out as a personal style choice for actress and singer Caitlin Crosby seven years ago has since become The Giving Keys. Based in the arts district in Crosby's hometown of Los Angeles, the necklace company has been inspiring folks ever since.
"I wasn't trying to start a business," Crosby tells me over the phone. "I just liked the old hotel key I had, so I put in on my necklace. When I got several compliments on it, I started making them as a side project to sell at my merchandise table at my shows."
Then, of course, the concept blew up. Crosby tells me how after meeting a homeless couple named Rob and Cera on the streets of Los Angeles, she invited them to dinner. She found out that Cera made jewelry, and the initial premise of the key necklaces partnered with Cera's talent became the link that Crosby needed to turn her jewelry business into the humanitarian endeavor she had longed for. Rob and Cera became Crosby's business partners, and little by little, they were able to get themselves out of homelessness. Crosby turned out to have a full-fledged business endeavor on her hands, which she has since worked hard to get into stores.
By 2015, The Giving Keys has helped 30 people in the Los Angeles area transition out of homelessness by employing them in the various production processes of the unique jewelry business. The necklaces are currently sold in over 1200 stores in the States, including Nordstrom, Fred Segal, and Kitson, as well as internationally.
Crosby was only 24 when she started the project, and The Giving Keys now employs over 50 people. "It is really overwhelming to be so young and be the boss of so many people," she says with a laugh.
But with her team of employees and her positive attitude, it's not hard to see how the company has grown so much. Crosby's love for others exudes from her work. Even as I call her up for an interview, she asks me about myself before we begin chatting. "I'm more interested in hearing other people's stories than my own," she adds.
Stories are certainly a major aspect of the whole initiative at The Giving Keys. Once a wearer gives their necklace to someone they know or meet who's in need, they are encouraged to send in the story to the The Giving Keys website, where hundreds of other collected tales can currently be read.
Not only are thousands of people wearing Crosby's designs — she designs most of the pieces herself — but many celebrities have gotten on board with the project as well. Stars like Ashley Benson, Taylor Swift, Selena Gomez, and Ryan Gosling are amongst those spotted wearing the necklaces, Crosby tells me. Anne Hathaway even Instagrammed one of her designs.
On the subject of proud moments for the company, Crosby notes that being featured in O Magazine tops the list. "I love Oprah so much and want to be her best friend," she admits.
Despite the success that The Giving Keys has already had, Crosby still has a lot of goals for the company. The holiday line will include handmade diamond earrings in the shape of a key, for instance. "I have to hold myself back, because I want to get into everything, but we're trying to mostly focus on growing our jewelry business, and then we'll get into other products," Crosby explains.
Even though she is still signed to a record deal, Crosby says the popularity of The Giving Keys has kept her from devoting as much time to writing new songs. But a compilation album by The Giving Keys is in the works, which will likely feature some of her own songs for release in 2016.
Dainty Necklace, $45, thegivingkeys.com
If there were no limits as to what The Giving Keys could accomplish, Crosby says opening a restuarant with her husband in downtown LA would be the ultimate dream. She would also want to employ people transitioning out of homelessness at the restaurant. "My favorite thing to do in life is go to restaurants and eat and talk with friends," she says.
Throughout it all, it's clear that Crosby hasn't forgotten where the project began. The concept of a necklace by The Giving Keys is about more than just the inscribed word on the key. Just like an old key is one of a kind despite often being deemed flawed, the wearer is also completely unique — so-called flaws included. In fact, Crosby's passion for encouraging people — and especially young women — to love and embrace their "flaws" is intrinsically linked to her efforts.
"The Giving Keys was really birthed from the loving your flaws concept and my record Flawz. I still want to put more time and energy into that movement," she explains.
If you see someone who needs help and want to do something about it, Crosby has the following advice:
"Try to come up with a creative, innovative way to tackle a major issue," she says. "Start there first. The rest will come naturally."
Images: Courtesy Cailtlin Crosby