9 Fashion Brands That Are Making A Difference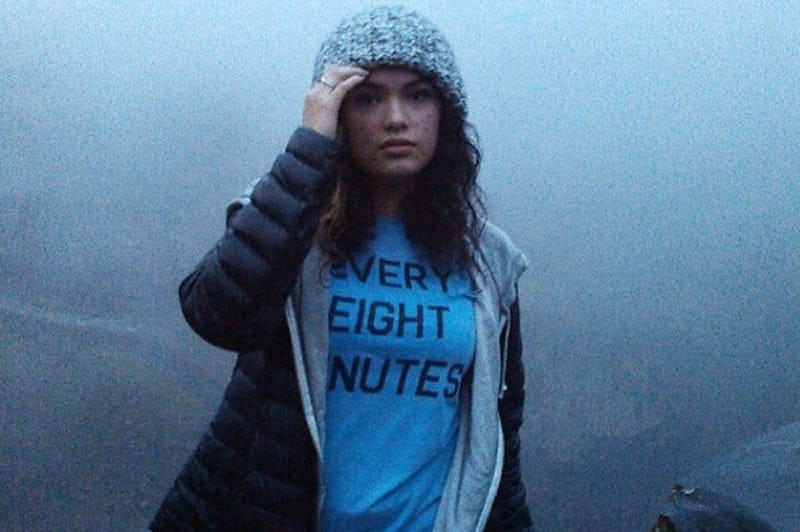 It's easy to get self-absorbed when it comes to fashion — after all, the industry is all about the clothes we put on our own bodies. However, retail offers a unique opportunity when it comes to fashion that raises awareness of world issues. When major global retailer H&M launched their Conscious collection in 2013, for instance, the world took note that fashion can actually stand for something bigger. While H&M's commitment to sustainable fashion focuses on the ethical production of their garments, other startup brands commit to supporting and raising funds for a variety of issues throughout the world.
One of the most noted brands to do this and a pioneer in the market of conscious fashion is the shoe company TOMS, that gives a pair of free shoes to an impoverished child each time a pair of TOMS is purchased. (The retailer has since branched out into other products and charities.) Another popular brand with a cause is Sevenly, the company that partners with a new non-profit organization each week, giving $7 of each product's sale to that charity.
Though both these companies are amazing at their chosen model of giving back, they aren't the only ones out there. With 91 percent of global consumers being likely to switch to brands that are associated with a good cause, it's no wonder we're seeing dozens of Millennials starting up brands and companies that care. So here are nine retailers and designers that you might not have heard of before, but that you definitely need to know now:
1. The Parative Project
This Ohio-based company makes t-shirts that are meant to start a conversation. In the tee shown above, the "every eight minutes" is referring to children who are taken in South East Asia for human trafficking, every eight minutes. A portion of the proceeds of these shirts is given to organizations that help stop human trafficking.
Every Eight Minutes, $25, theparativeproject.com
2. The Giving Keys
Based out of L.A., these necklaces are made from re-purposed keys with your choice of several inspirational words engraved on them. The idea is to keep the necklace until you come across someone who needs the message of the key more than you. Then, you send in your story on the The Giving Key's website. The company is also partnered with an organization called Chrysalis, which helps homeless people transition off the streets. The Giving Keys has also employed 19 people experiencing homelessness to date, aiding them in their journey to permanent housing.
XL Pendant, $45, thegivingkeys.com
3. Taaluma Totes
Taaluma Totes takes wool and cotton from all around the world and brings it back to the U.S. where disabled adults are employed to craft each tote. The purchase of each tote then goes back into the country where the fabric is from as a micro-loan to farmers and small business owners there. Whenever they can, they pay the loan back and the repayment funds the purchase of more fabrics, creating an economic flow in that country.
Mali Tote, $65, carryacountry.com
4. Magdalena Concepts
Magdalena Concepts is based in Brooklyn, N.Y. producing in-house quality shirts and fashions influenced by history and current global concerns. They have donated bundles of shirts to Brazil, preparing for another such donation soon. Also, 10 percent of select designs will go towards a charity they partner with.
Frida's Magical Eyebrow Dress, $39, magdalenasconcepts.com
5. Gandy's Flip Flops
Two brothers from the U.K. formed this company after their family was devastated by the 2004 tsunami off the Indian Ocean. Their family of six was traveling in Sri Lanka when the tsunami hit and killed their parents. After becoming orphans themselves at ages 15 and 17, they set out to create a product and brand that would help other parentless children in the world, specifically orphans affected by the tsunami. The company has already helped fund and build orphanages in India and Sri Lanka.
Women's Flip Flops Globe Patter, $33, gandysflipflops.com
6. Humanity Unified
20 percent of funds from purchases of Humanity Unified's products go to helping empower vulnerable women and children in developing nations to rise above poverty. The company was spawned out of a trip to Rwanda by its founders. They have partnered with Aspire, an organization that helps women and children affected by the Rwandan genocide.
DBAC On/Off Shoulder Long Sleeve Flowy, $35, humanityunified.org
7. Liberated People
Liberated People produce merchandise that features the liberation dates of nations around the world. The company also partners with various non-profits that work toward improving the quality of life of the people these non-profits serve. They are based in L.A. and Atlanta, Georgia.
Liberated People Tank Top, $40, weareliberated.com
8. TVP Market
The Vanity Project (TVP) Market is a company that has partnered with over 40 non-profit organizations in the U.S. to design, produce, and sell merchandise for them in order to raise funds for these organizations. The tank pictured above supports the Ian Somerhalder Foundation (ISF), which is an environmental organization that aims to impact the planet positively.
ISF Sunrise Ladies Flowy Black Marbled Tank, $30, tvpmarket.com
9. Raven + Lily
Raven + Lily employs over 1,500 women in Pakistan, India, Ethiopia, Cambodia, Kenya, and Peru to make clothing and jewelry by hand, following fair trade guidelines in order to help these women break the cycle of poverty in their families.
Cinta Fringe Top, $92, ravenandlily.com
Images: The Parative Project, The Giving Keys, Taaluma Totes, Magdalena Concepts, Gandy's Flip Flops, Humanity Unified, Liberated People, TVP Market, Raven + Lily