9 Mind-Blowing Ways To Re-Use Your Household Junk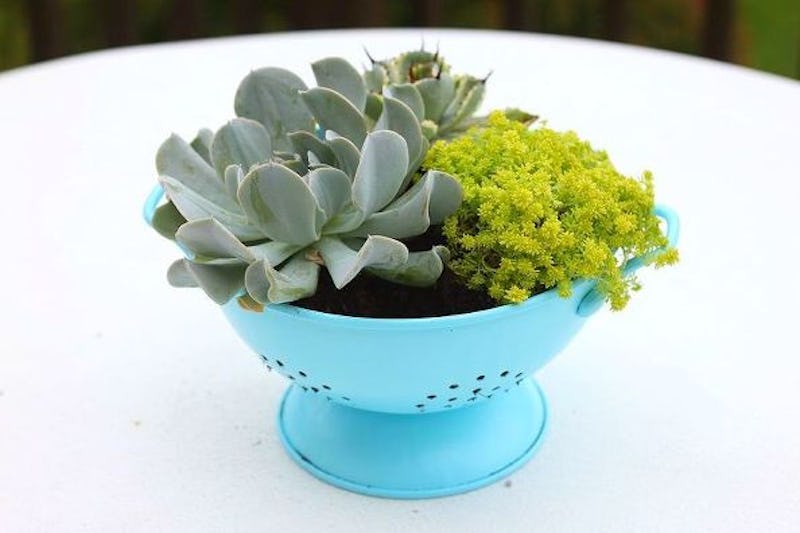 Isn't it kind of amazing how much clutter can amass in your home without you even realizing it? Instead of tossing all your unwanted stuff in a giant garbage bag, Hometalk has compiled nine creative ways to re-use your household junk that aren't just fun upcycling projects — they also can legit take up your decor game a notch. So save those old casserole dishes, oatmeal canisters, bandanas, picture frames, and more. You have some DIY-ing to do.
When was the last time you tossed out a serving dish you never use? How about an empty picture frame, or an old pair of jeans? We tend to hold on to clutter, even if there's no chance we're ever going to use it. Well, we're challenging you to stop the hoarding madness — not by getting rid of your junk, but by turning those items into gems!
Here are nine items to pull out of the storage or bring down from the attic, and make into useful items for your home and garden. If you see an idea you love, but don't have the junk to make it, no worries — you can easily find most of these upcycle-able items at your local thrift store.
1. Turn casserole dishes into bird feeders
If you've got too many casserole dish tops to use, here's an easy and inexpensive upcycle that will bring feather friends to your summer garden (win-win)!
Project via Sarah @Sadie Seasongoods
2. Turn a thrift store colander into a succulent planter
Free some space in your kitchen cabinet by turning that old colander you never use into a cute succulent planter with plenty of built-in drainage!
Project via April @House by Hoff
3. Turn a plastic watering can into a door hanger
If you've got a cheap plastic watering can lying around, here's a great door hanger design to give your home a pop of pretty.
Project via Lisa @Concord Cottage
4. Turn your bandanas into bowl covers
There's not a house in the world that doesn't have a bandana stowed away somewhere — turn yours into easy bowl covers, perfect for summer picnics and outdoor fun.
Project via Sarah @Sadie Seasongoods
5. Turn an old ladder into a bookcase
If your ladder is looking ready for retirement, turn it into a rustic shelf, perfect for books, board games, or sweet knick-knacks.
Project via Dami
6. Turn an oatmeal container into chic storage
Dump whatever's left of your uncooked oatmeal into a sandwich bag, and turn that conveniently tall container into a surprisingly classy accessory organizer.
Project via Bethany @Southern Couture
7. Turn extra picture frames into an herb drying rack
If you like to keep a little herb garden, this clever picture frame hack will help you dry those leaves out so you can add them to your pantry. Talk about gourmet on a budget!
Project via Lisa @Fresh Eggs Daily
8. Turn a tea set into a charming lamp
Turn a collection of delicate teacups into sweet tabletop lighting that your guests will marvel at. If you don't have a set of your own to tinker with, check your local thrift store.
Project via Lacey @Feathering My Nest
9. Turn worn-out jeans into a closet organizer
OK, so you're obviously not still wearing those worn-out jeans, but instead of just keeping them tucked away for sentimental reasons, turn them into a closet organizer that will actually help you get a handle on some of your bedroom clutter.
Project via Amy @Stow & Tell U
For more awesome upcycles, check out the repurposing and upcycling page on Hometalk!