This Designer Seriously Nails Upcycled Style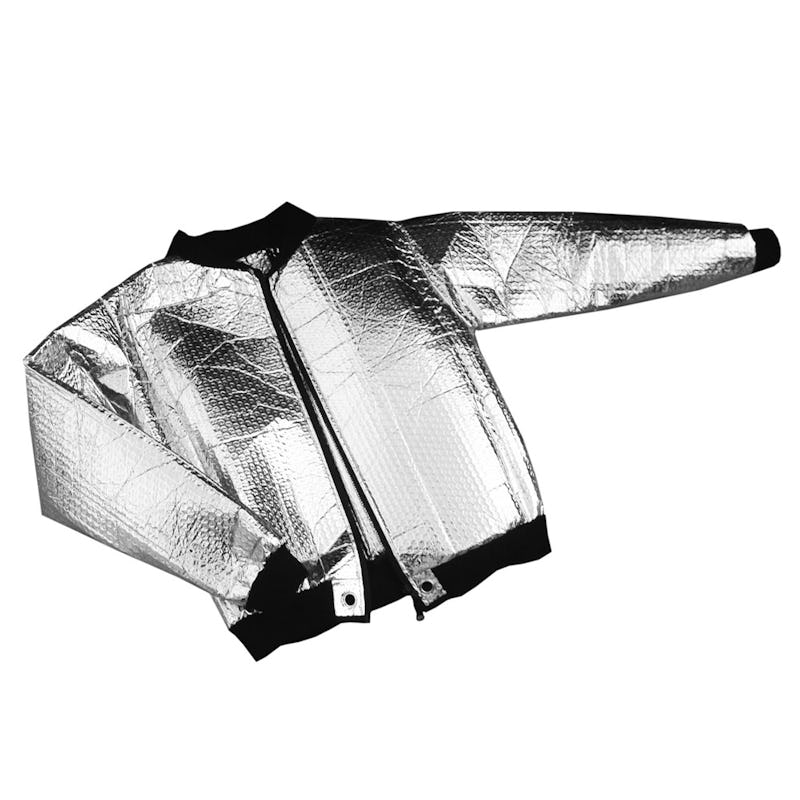 Most fashion designers head to the fabric store for material for new collections, but this Australian designer creates chic upcycled pieces that are more "conceptual fashion" than "Etsy". Alexandra Hackett, the designer behind the Melbourne-based menswear label ALCH, finds new purposes for everyday industrial-esque materials like bubble wrap, silica gel pouches, and packing peanuts.
According to Hackett the line, which centers on clothing, accessories, and even shoes, is "based on the exploration of found materials and the subversion of the notion of function and practicality." In other words, these pieces will blow your mind.
Hackett, who makes most of the collection by hand, has already caught the eye of editors from the US, China and beyond. The line has been featured in editorials in Bullett, the London-based Schön! Magazine, and Numero China, to name a few. Although they're primarily menswear, most of it can definitely be considered unisex; if you're going to wear a hoodie made from a car cover, chances are you don't care in which section of the store you've got to cop it.
This tee made from a sun shade ($110) is my personal favorite, which would look great under this bomber jacket ($340) made from a windshield protector.
Here are seven awe-inspiring times Hackett made stunning fashions from totally unexpected materials.
1.) The times she made a tracksuit from a car cover....
...and it actually made perfect sense: If it's good enough to protect your car from the elements, imagine what it can do for your bod. Consider weather-related hair frizzies a thing of the past.
2.) Or when she went inside the car, borrowing a car seat cover to make a boss bomber.
She's an equal opportunity car-parts enthusiast.
3.) Nothing really compares to the time she made a puffer jacket filled with packing peanuts.
Because you can never be too careful on crowded subway cars.
4.) Except maybe when she made a "faux fur" coat out of actual plastic price tags.
You know the ones that somehow always get lost inside the back of your already itchy wool sweater? This use for them is much better.
5.) Or the bubble-wrap windbreaker.
Once you pop, the fun don't stop. But no, seriously, don't pop these.
6.) Then there's the time she made hats out of those super-durable Ikea bags (you know, the ones you always decline paying extra for and then have to carry your stuff out to the car using that wok you randomly bought as a sort of carryall?)
Normally, I wouldn't endorse a bucket hat, but these are too incredible not to share!
7.) And who can forget the time she gave Celine a run for its money with these sandals that ditch fur in favor of repurposed welcome mats.
As Hackett puts it, "for that 'Welcome Home' feeling all day long"
Image: ALCH