Ellen & Portia Do Kimye For the Holidays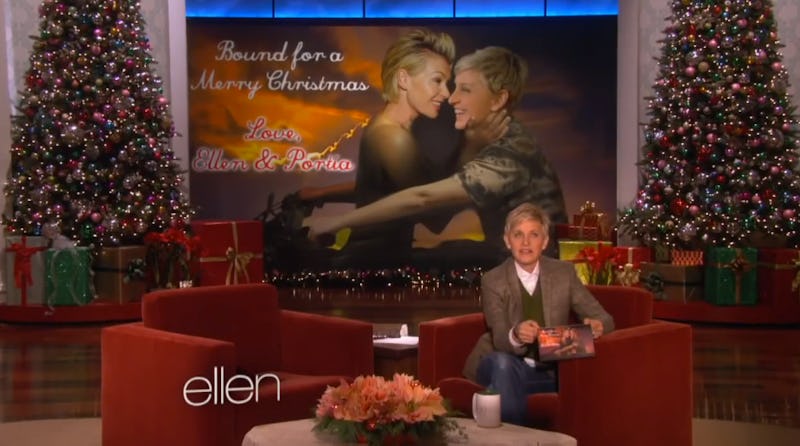 There was a pretty big reaction when Kanye West went on Ellen to premiere his most recent music video, the Kim Kardashian-featuring "Bound 2." Now Ellen DeGeneres's taking on "Bound 2" as her own — in a Christmas card with her in the West role and Portia de Rossi in Kardashian's. And it's actually pretty sweet. "Bound 2," of course, drew tons of attention and a notable parody by James Franco and Seth Rogen — a parody which Kardashian (and, by extension, West) put her stamp of approval on. Now Degeneres is hopping on the "Bound 2" train and calling back to the fact that the video premiered on her show.
DeGeneres premiered the Christmas card on Ellen, naturally, while discussing the Kardashian's extremely notable holiday card ("I've been staring at it all day, I still haven't found Waldo"). Degeneres' card reads "Bound for a Merry Christmas, Love, Ellen & Portia" and features those two on a motorcycle West-Kardashian style, Portia topless as the latter.
In terms of parodies this one's actually more of a sweet homage more than anything else. Plus it gives us another excuse to remind everyone of the time that DeGeneres (allegedly) hid in a cabinet for a long time in an attempt to scare de Rossi. Because marriage, that's why.
May their love live forever and ever amen.
Image: NBC