15 Items Every Girl Needs In Her Closet By 25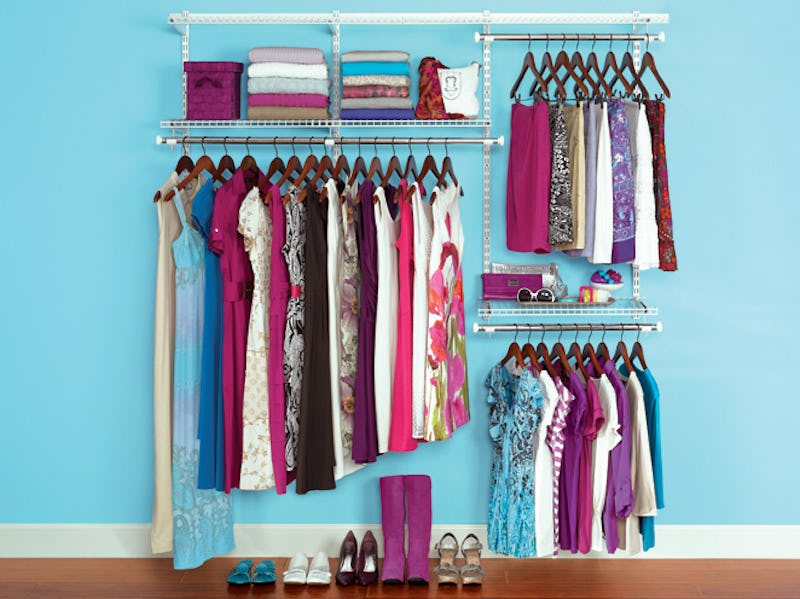 No matter what sense of style you rock, there are some clothes that every young woman should own by the time she's 25 years old. Trends are fun to play around with, but the classic items are the ones that, together, build a basic wardrobe that will make getting dressed every day just a little bit easier.
I'm definitely not trying to stop you from stocking up on lacy crop tops, comfy palazzo pants, or silky kimonos — I fully encourage shopping for what you want. But when buying these items, it's important to remember that one day, they won't be popular, and will probably be relegated to the back of your closet to live a dusty life of sadness. I'm not saying that you have to live and breathe by trends. I'm just saying that some items are more classic and timeless, while others are more temporary.
Building a basic wardrobe is essential for every young woman out there. If you have these 15 items in your closet, you can easily put together outfits for the situations you'll almost definitely be put in at some point — job interviews, bridal showers, birthday parties, fancy events, graduations, work functions, etc. Trust me, your life will be a whole lot easier if you don't have to run out to the store to shop for every single one of these events. And once you have these basics, you can spend the rest of your time shopping for more fun things!
One more note: I recommend purchasing these in good, sturdy fabrics. I mean, yeah, you could get a $9 blazer, but let's be real: It will probably rip in a few months. Spending extra money on something you want to keep for a long time is usually worth it. Here are 15 clothing items every girl needs before she turns 25.
Fitted Jacket, $20, H&M
A blazer is a power piece that I firmly believe every single woman should own. Different blazer trends go in and out of style, but a fitted blazer in a basic color will always be "in." I recommend a black blazer, since that's probably the most versatile. You can use a blazer to make an outfit look instantly more professional, even if you're pairing it over a graphic tee and jeans. Blazers are great for work, school functions, or even going out with friends.
ASOS Shift Dress, $19, ASOS
Surprise, surprise, I think every woman should own an LBD. Honestly, these are so important. I have a black dress that can be dressed up or down. I can wear it on its own with flats in the summer and stay casual, or I can add jewelry and heels and make it more fancy.
ASOS Curve Boyfriend Shirt, $26, ASOS
As someone who deals with a larger bra size, I know that button-down shirts can be annoying. But they're one of those items that can be worn in so many different situations, which is what makes them so great. You can make them casual with jeans and sandals, or dress them up with a skirt and heels.
Cotton Cardigan, $10, H&M
For every girl who plans on working in an office environment: Trust me, you need a cardigan in a basic color. Office buildings are notoriously freezing. A warm cardigan in a color like white or black will go with every outfit. If you opt for a fitted one, it keeps your outfit polished and keeps you warm.
Tomgirl Jeans, $50, American Eagle Outfitters
I feel like a lot of these items have been about the somewhat boring world of work dress codes, so it's time to switch it up. Every young woman deserves a pair of jeans that she absolutely loves. If you find jeans that make you feel good, fit perfectly, and look great, then buy them. Buy two of them, even. Jeans are the worst to shop for, but comfy pairs are so great to have.
Paper Dolls Petite Body-Conscious Dress, $23, ASOS
As you enter your early 20s, you may be thrust into a world of formal events that you never really asked for. This includes bridal showers, baby showers, weddings, engagement parties, rehearsal dinners, retirement parties, etc. You will need something to wear to these things, and that usually means a dress (unless you're the type of girl who knows how to rock a good pantsuit). I recommend getting something that will work for various formal occasions. It shouldn't be too fancy, but just nice enough that it's a step up from a sundress.
Suit Pants, $15, H&M
If you plan on working in a professional environment, dress pants are a definite essential. They're also great for job interviews, regardless of what field you're going into.
8. A Basic Skater Skirt
Lush Skater Skirt, $23, Nordstrom
There are tons of different skirt trends happening right now, and some of them will probably be out of style in a few months. But a skater skirt is not one of them. These are great because they can be casual or dressed-up. Again, going for a basic color is probably your best bet if you want to be able to wear it with a lot of different items.
Western Denim Shirt, $20, American Eagle
I get confused when I find people who don't own chambray shirts. They're so great! You can leave them open and wear them as a cardigan. You can tie them at the waist over a sundress. You can tuck them into skirts or jeans. You can wear them long over leggings. There are so many things you can do with them!
DKNY Trumpet Skirt, $90, Nordstrom
Every young woman should consider owning at least one A-line skirt. They're essential if you work in a more professional environment. This is another item that's great to keep around for job interviews or professional functions.
11. A Leather Jacket
Zippered Faux Leather Moto Jacket, $35, Forever 21
If you want to go out and drop a few hundred dollars on a real leather jacket, go for it. But keep in mind that there are tons of vegan leather jacket options that are just as (if not more) awesome. A cool leather (or faux-leather) jacket is so great. It toughens up any look, but looks chic at the same time. You can wear them in every season, too, which is rare for a jacket.
Washed Indigo Skinny Jeans, $98, Banana Republic
I'm lucky enough to work in a very casual office where I could wear jeans every day if I wanted to. I try not to show up in my destroyed boyfriend jeans (although sometimes they look great with heels), and instead wear nicer jeans. Fitted, dark denim bootcut jeans are good for work. Make sure they fit comfortably, as that's what's most important, especially if you're going to splurge.
Women's Plus Relaxed V-Neck Tee, $17, Old Navy
A white tee can literally be worn a hundred different ways. The best thing about them is that you don't need to spend a lot of money on them. I know girls who swear by Hanes, which are less than $20. Just find the kind you like and stock up!
Once Upon A Thyme Coat in Almond, $150, ModCloth
Puffy winter jackets are great for freezing cold days when you just want to hide from the weather. But they're not that great-looking over a fancy dress with heels. It's worth it to buy a nice winter coat in a pretty fabric. Unless you live in a place with perpetual sunshine and warm weather — in which case, please invite me out come January!
Utility Hooded Jacket, $80, The Gap
Get yourself a light jacket that can withstand the various elements of the weather. Find a utility jacket that can be worn in light rain or on days where it's more than a little chilly. A fall/spring jacket is a necessary item that a lot of people forget about.
Be sure to check sites for special sales and deals. Happy shopping!
Image: Rubbermaid/Flickr