18 Fun "Something Blue" Ideas For Your Wedding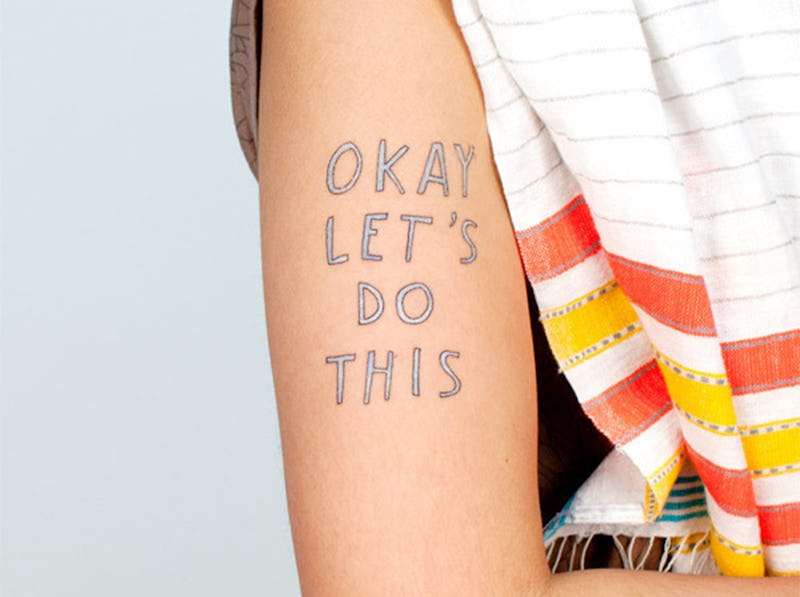 How does the famous wedding saying go again? "Something old, something new, something borrowed, something blue." But when it comes to "something blue" ideas, it's easy to feel, well, a little clueless. I know this tradition came from a very old British rhyme, and I know it's supposed to bring you good luck, but that's about it. Either way, picking your "something blue" is a beloved tradition that most brides choose to partake in. The only problem? Figuring out exactly what you want your "something blue" to be can be a challenge.
There are lots of options out there, whether it's footwear, jewelry, or even wearing a blue wedding gown (not for the faint of heart, or the uber traditional, obviously). Whatever you choose, keep in mind that this is supposed to be a fun, light-hearted part of your big day, and not something to stress over — which is exactly why I'm doing most of the work for you. If you're looking for something cute and fun to be your something blue, I've rounded up a list of contenders.
You can choose to go super subtle with something small and light blue, or you can be more in-your-face. It's totally up to you, but I definitely suggest checking out this list. It might give you ideas you never would have thought of on your own. Here are 18 cool "something blue" options to bring with you on your big day.
1. A Tote Bag
OK, so technically you don't wear a tote bag, but you can carry it around, which is almost the same thing. Fill up this adorable tote with items you'll need on your wedding day (or have a bridesmaid do it for you), then take it to the hotel or wherever you're getting ready. Bring it to the venue, and to the bridal suite afterwards.
Vintage New Borrowed Blue Tote, $158, Kate Spade
2. A Garter
In my opinion, this is the cutest thing to make your something blue. There are tons of options out there, but I love this simple, inexpensive one from Etsy.
Blue Lace Garter, $13, Etsy
3. Underwear
This is another adorably cheeky (no pun intended) option for your something blue. Blue underwear is a sexy little secret you can share with only your betrothed... unless you want to tell everyone. Hey, this thong is really cute. I wouldn't blame you.
Hanky Panky 'I Do' Swarovski Crystal Low Rise Thong, $31, Nordstrom
4. Tights
If you're planning on wearing tights under your dress, why not go for these? The blue is subtle, but so sweet.
Happily Ever After Tights, $36, Kate Spade
5. A Temporary Tattoo
Want to do something unique? As adult-friendly temporary tattoos become more and more popular, it's no surprise that wedding temp tattoos are a thing. There are a few options on Tattly, but this one is a personal favorite.
Okay Let's Do This Tattoo, $5, Tattly
6. Flats
Even if you buy comfortable heels, they're still going to hurt after hours wearing them. Make sure you have a pair of flats handy for all the moments when you can kick off your heels. These are perfect and comfy — a "something blue" that you'll appreciate.
Paradise Blue Tieks Shoe, $265, Tieks
7. Nail Polish
A lot of brides opt for subtle nail polish like light pink or nude, but if you want to do something a little more fun, blue is your best bet. This Essie color isn't from their bridal collection, but it's still so pretty.
Essie Barbados Blue Nail Polish, $8.50, Essie
8. Hair Accessories
If you want to use a headband or a pretty hair clip, you might want to considering using something blue — or at least something that has blue in it. This hair comb would be a beautiful addition to any hairstyle.
Bridal Rhinestone Hair Comb, $49, Etsy
9. Heels
This is a popular "something blue" option for a reason. Blue shoes really pop in photos and in person, especially if you're going the traditional white dress route. It's a fun way to add some color to your gown.
Kate Spade New York Sala Pump, $328, Nordstrom
10. Shoe Stickers
If you want to do something fun but subtle, get a pair of blue "I do" stickers, and put them on the soles of your heels. Not only does this guarantee some very Pinterest-worthy photos, it's also a fun way to do your "something blue."
Something Blue I Do Shoe Stickers, $3.49, Etsy
11. A Clutch
Don't forget that you'll need a little evening clutch for the essentials, like lipstick and your phone. A blue clutch like this one will pop against your dress in the best way.
Menbur Evening Envelope Clutch, $69, David's Bridal
12. Shoe Clips
Want to go the traditional route with heels, but also add on something a little extra? Try shoe clips like these. Blue ones are perfect.
Juliette Shoe Clips, $18.95, Absolutely Audrey
13. A Dress Label
Make a cute monogram dress label, and get it sewn into the inside of your dress. This is especially cute, because it will be there forever.
Flourish Border Monogram Wedding Dress Label, $19.95, The Wedding Outlet
14. A Sash
If you're wearing a very simple gown, a sash can be an easy way to make things more exciting. A blue one is a great choice. You can go for navy, light blue, dark blue... whatever works with your colors.
Wedding Sash, $45, Etsy
15. A Wrap or Shawl
If you're wearing something sleeveless or strapless, odds are that you'll get a little chilly at some point in the day or evening. Bring a pretty wrap with you that will look elegant in photos, and will also keep you warm.
Bernie of New York Silk Chiffon Wrap, $68, Nordstrom
16. Jewelry
A lot of women go the jewelry route when it comes to their blue piece. You can do a bracelet, necklace, earrings, or a ring. I like this bangle, because it's simple enough to wear on occasions that are less fancy than your wedding.
Alexis Bittar Lucite Skinny Tapered Bangle, $70, Nordstrom
17. Bobby Pins
Blue Swarovski bobby pins are a subtle way to keep your "something blue" on you all night long, while also keeping your beautiful hairstyle in place.
L. Ericksen Little Gem Swarovski Crystal Bobby Pins, $28, Nordstrom
18. A Flower Crown
If you're doing a boho look or theme, you can't go wrong with a flower crown. Pick one that has blue flowers, and you're set!
Blue Wedding Flower Crown, $48, Etsy