'The Man From U.N.C.L.E.': A History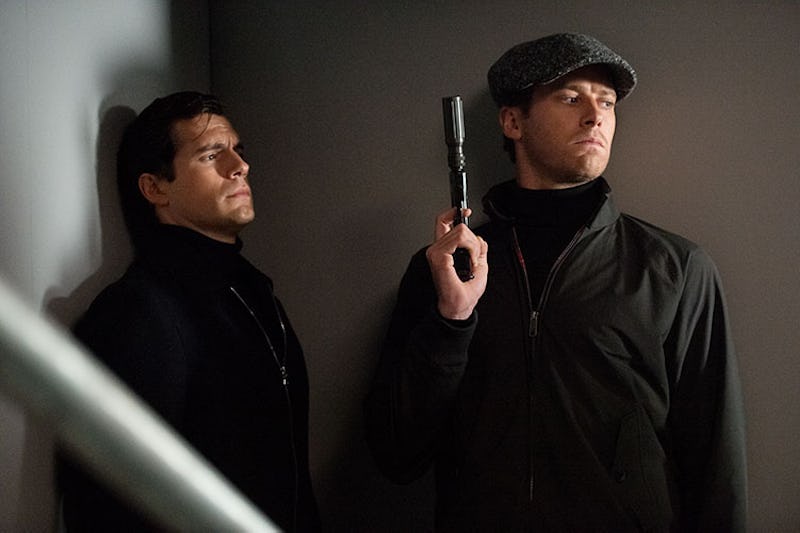 The Man From U.N.C.L.E. creates a world that looks too good to be true. A world where men that look like Henry Cavill and Armie Hammer are suave spies in the 1960s who want to seduce you and take you for a ride on their scooters. A world I want to live in. So understandably, I'm wondering, is The Man From U.N.C.L.E. based on a true story? There has so be some truth to this incredible universe, right?
Unfortunately, it's not even remotely based on reality (and my dreams are now crushed). Aug. 14's Guy Ritchie-directed thriller is based on the television series of the same name that aired from 1965-1968 about an American spy Napoleon Solo (Robert Vaughn) who teamed up with Russian spy Illya Kuryakin (David McCallum) to fight a villainous group known as THRUSH. The entire series was born out of a desire for more spy-related programing in the wake of the success of the 007 movies Dr. No and From Russia With Love. Ian Fleming, the author who created James Bond, was actually involved in the development of the series with executive producer Norman Felton. But how does one make a sexy spy movie better than James Bond? Add another hunk (Armie Hammer) and arm him with a gun, and of course!
Apart from playing into the obsession with the fantasy life of a super secret spy, The Man From U.N.C.L.E. also caught people's attention back in the '60s because it featured an American successfully working with a Russian during the Cold War. Solo and Kuryakin don't just work together in the series, their lives depend on each other. The show offered a scared and conflicted world a hopeful future, even if it was just two guys fighting fake crime.
The film adaptation of The Man From U.N.C.L.E imagines the origin story of this awkward duo, and, if the trailer is anything to go on, it wasn't always smooth sailings for the CIA-KGB duo. But, just like in the series, together they eventually come together working for 'U.N.C.L.E.' — the United Network Command for Law and Enforcement. Richie didn't just take inspiration from the original series or James Bond. The director told CinemaBlend that he was heavily inspired by the tone of Butch Cassidy and the Sundance Kid , and wanted to make a fun spy movie that was comedic, not just an action drama. What results is a posh, fantastical heightened reality of the '60s, complete with perfectly tailored suits and tiny fast cars.
The film also takes some liberties with regards to its female characters. Ritchie and his co-writer Lionel Wigram added in two new characters, Victoria (Elizabeth Debicki) and Gaby (Alicia Vikander), because, you know, women can be spies too. Just as long as they're dressed to kill.
So what if the U.N.C.L.E. universe isn't real? The movie's world is full of badass characters and heart-pounding stunts, and that's what makes the film such a must-see.
Images: Warner Bros. Pictures; Giphy (3)