'Man From U.N.C.L.E.'s Stars Really Want A Sequel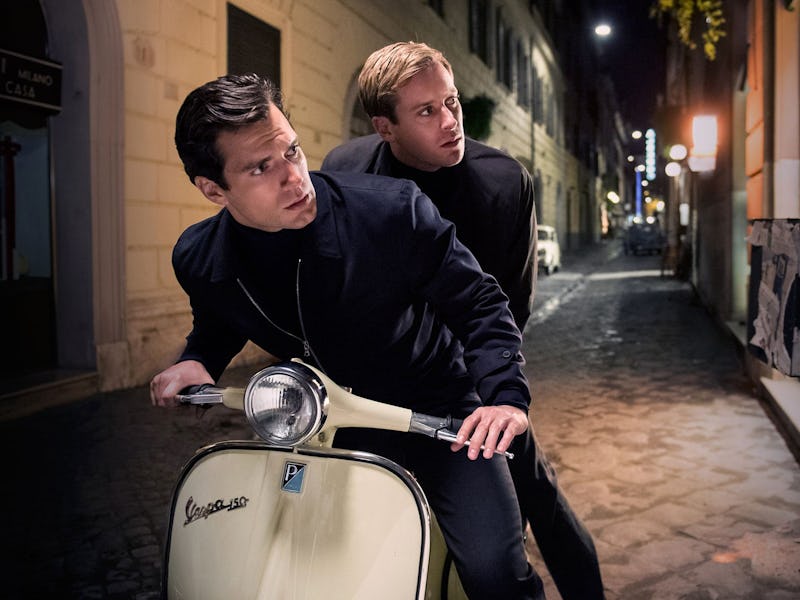 The new spy thriller The Man From U.N.C.L.E. revives the '60s television show about a secret law enforcement agency and the missions of its agents. The film stars Henry Cavill as Napoleon Solo and Armie Hammer as Illya Kuryakin, two agents of U.N.C.L.E — the United Network Command for Law and Enforcement. Although they have an adversarial relationship, the men pair up on a counter-espionage mission to stop a powerful crime organization. The resulting journey is filled with action, humor, and the sleek cinematography of a classic spy film. At the end, there seems to be definite potential for a follow-up film, but it's never said directly if that's the case — so will there be a Man From U.N.C.L.E sequel?
When asked this same question by Glamour, Cavill and Hammer pled ignorance but showed enthusiasm at the prospect of reprising their roles. Cavill said simply, "We haven't heard anything. We'd love to do it." He expressed similar sentiments during an interview at Cinemacon, saying "I certainly enjoyed playing Napoleon Solo so fingers crossed I get to do it again." Armie Hammer agreed, telling the reporter, "I'd love to make one of these again."
So if the stars are down for a sequel, that seems like a good sign, right? When actors are passionate about reprising their roles, it makes negotiations with the studio approximately 80 times easier. But there's another factor to be taken into consideration, and that is the power of the almighty dollar. Even if the creative team wants to make a sequel, the initial film first has to prove itself in theaters. It wouldn't be financially logical to create a sequel based off a box office flop, so movies have to show that they have revenue-generating power before a studio will commission a sequel. This is the case with The Man From Uncle, although it was known to have a small budget in comparison to other major action thrillers. If the film does well in theaters, it will be a step towards green-lighting the production of a sequel — likely one with a bigger budget, bigger salaries, and bigger action.
This being the case, as of right now, the forecast for a sequel is a bit uncertain. The film has a 64% rating on Rotten Tomatoes, with many reviewers praising the film for its style but saying that it lacks the "wow" factor to be a hit. Peter Debruge said in his review for Variety, "though the pic is solidly made, its elegant vintage flavor simply doesn't feel modern enough to cut through the tough summer competition." Chris Nashawaty was a bit more blunt in Entertainment Weekly, saying that the only fun part of the film is when a certain actor "shows up to set the table for a sequel that I predict will never happen." I appreciate the honesty, but I'd be lying if I didn't say that I hope he's wrong — if for no other reason than the fact that Hammer and Cavill look damn good in 60s-era suits.
Image: Warner Bros.