These 'Twin Peaks' Episodes Still Scare & Delight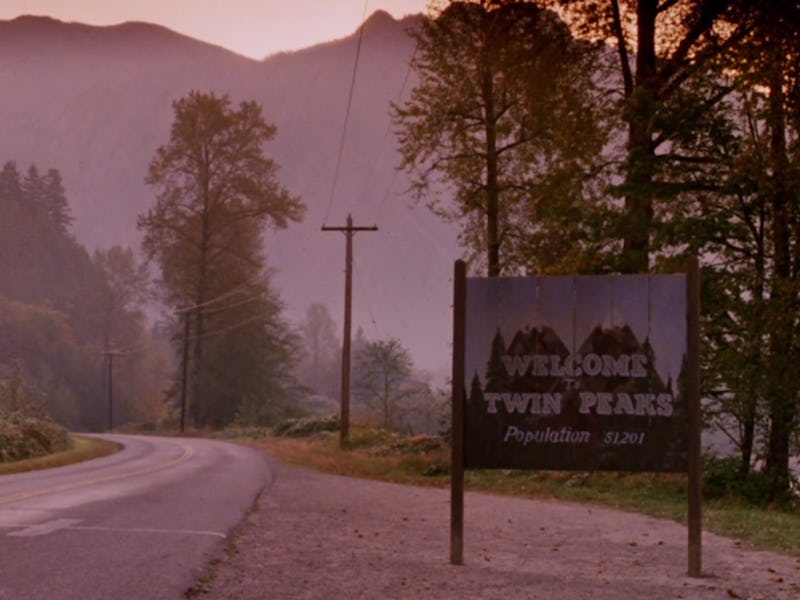 The King Of Weird, otherwise known as David Lynch, brings good news to the gloom and doom of your Tuesday: According to Deadline, the Twin Peaks reboot is about to start production. Like, it's no longer just an idea — we're moving from concept to realization, people! As Deadline reported on Tuesday, Showtime president David Nevins confirmed in an executive Q&A that the show — written by David Lynch and Mark Frost from the original series — is ready to start shooting, among some other thrilling news: "Lynch is set to direct all episodes. He and Frost actually wrote one long script. Lynch will shoot the series continuously as a movie, and later cut it into episodes. Originally envisioned as being [nine] episodes, the series will likely run longer but the exact number of episodes is still in flux and won't be known until after filming is completed."
Even more exciting is that, also according to Deadline, it's reportedly possible for the Twin Peaks reboot to have a late 2016 premiere date, which should delight fans whose hearts were broken when it was reported earlier this month that the series wouldn't come back to the land of the living until 2017. In other words: If you haven't already revisited Twin Peaks on Netflix, now is as good a time as any to view these choice episodes.
If you have the time and are mentally prepared enough, I definitely recommend settling in with some damn good coffee and cherry pie, and watching the entire series straight through so you get the most out of this dark, surreal soap opera, which, of course, follows Special Agent Dale Cooper trying to solve the murder of Laura Palmer in spooky, sinister Twin Peaks. But, if you don't have the time, these six episodes should satisfy you if you just want to dabble in the darkness: they've got the most disturbing and surreal moments the show has to offer, and they're just as haunting after 25 years.
Season 2, Episode 7: "Lonely Souls"
This is the trippiest episode of the trippiest TV show of all time. "Lonely Souls" is the seventh episode of the second season, and it has all the weirdness you could want from this show: plenty of Killer BOB (aka the evil spirit from the Black Lodge), Cooper slipping into visions of the Giant and Laura Palmer, One-Eyed Jacks, and the Log Lady and her log, who has something to say. It's perfect in each and every way.
Season 1, Episode 1: "Pilot"
The pilot episode of Twin Peaks is closest to my heart — also titled "Northwest Passage," still blows my mind every single time I watch it. In the episode, Twin Peaks is introduced as the haven for evil that it is, and we're introduced to the good-at-heart Special Agent Dale Cooper (Kyle McLachlan), whose world is about to be rocked by a cast of disturbed townsfolk, as well as the sultry and dangerous Audrey Horne. It will confuse you, freak you out, and make you want to go sweater shopping.
Season 1, Episode 8: "The Last Evening"
The finale of the first season of Twin Peaks ends with a bang that does justice to David Lynch's extreme television experiment. In "The Last Evening," things come to a head for Special Agent Dale Cooper as he is shot by a mysterious figure in his hotel room. That must have been an infuriating cliffhanger when the episode aired in 1990.
Season 2, Episode 1: "May The Giant Be With You"
This is the ninth episode of Twin Peaks overall and the first episode of the second season. It's largely amazing because any episode with The Giant is incredible — and in this episode, he makes his first appearance to Coop directly and utters those infamous Lynchian lines to a just-shot Dale Cooper laying in a haze on his hotel room floor: "The owls are not what they seem." WHAT!? This show is crazy.
Season 1, Episode 3: "Zen, Or The Skill To Catch A Killer"
This is the first episode where Cooper meets the one-armed man and The Man From Another Place, who speaks in the most uncanny, disturbing garble ever. Don't watch this episode before bedtime — or, if you must, watch something light afterwards like Bob's Burgers to cleanse your brain. I've had nightmares after watching this one.
Season 2, Episode 22: "Beyond Life And Death"
This is the final episode of Twin Peaks ever, and trust me: as a series finale, it did not disappoint. It's a wrenchingly dark episode, in which Cooper literally tries to sell his soul at the Black Lodge. Also, the final scene of "Beyond Life And Death" is SHATTERING, literally and metaphorically. Watch it with a friend, because it will scare your pants off.
I can't wait for this Twin Peaksreboot — and though I hope it does premiere next year, I'm with Showtime president Nevins who said: "I'll take it when it's ready."
Image: Lynch/Frost Productions; ABC