Bad News, 'Twin Peaks' Fans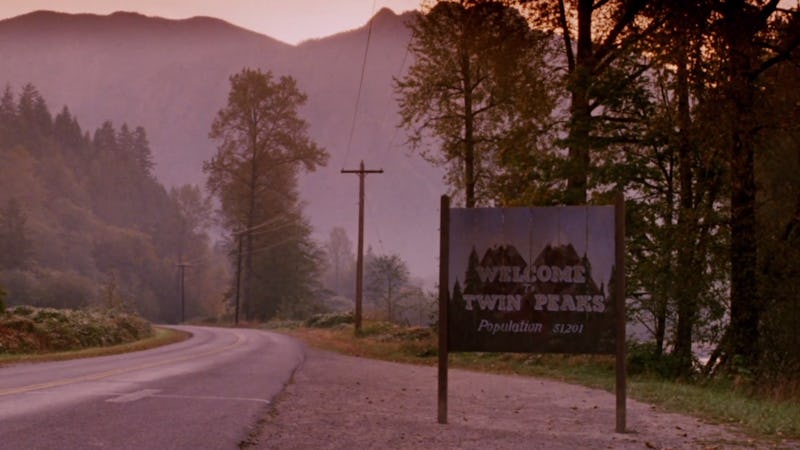 Bad news, guys: You might have to hold off on buying that plane ticket to Washington state, because it looks like our return trip to the sleepy town of Twin Peaks may have been delayed. Fans of ABC's prematurely-cancelled David Lynch drama have been ecstatic ever since Showtime announced they were resurrecting Twin Peaks in Oct. 2014, but things took a turn when Lynch departed the revival earlier this year; fortunately, he signed back onto the project in May, and everything appeared back on track. However, reports are now surfacing that Lynch's co-creator Mark Frost stated Twin Peaks might not be premiering until 2017, instead of the 2016 debut we were all expecting.
This unhappy revelation came to light when, according to baseballhall.org, Frost visited the National Baseball Hall of Fame and Museum in Cooperstown, NY, and reportedly told museum's library associate that:
We're coming back with Season 3 of Twin Peaks after a 25-year absence. We've finished the scripts, we start production in September, and that will be coming out on Showtime sometime in 2017.
Of course, it's always possible that Frost merely misspoke. In fact, he misspoke earlier in his visit when he mentioned that the first two seasons of Twin Peaks originally ran "back in 1991-'92." (They actually aired from 1990-'91.)
Bustle has reached out to Showtime for comment, but has not yet heard back. So while we cross our fingers and wait for some sort of official word from Showtime (on their website, the show is still listed with a 2016 premiere!), let's soothe our frayed nerves with all of the good news. Like...
1. David Lynch & Mark Frost Are Writing Every Episode
Although Lynch and Frost created and developed the show together, they tackled the original run of Twin Peaks like most television shows: with a writers room. The pair wrote the pilot and the following two episodes, as well as the Season 2 premiere, but everything else was written by the staff under their supervision. The revival will be a bit more of a passion project for them, since they are apparently singlehandedly (or double-handedly?) writing every episode themselves, like Nic Pizzolatto has done for both seasons of HBO's True Detective.
The revival will pick up 25 years after the events of Season 2, with Frost claiming that it will continue storylines "baked into the last episode. "Those followers of the show who felt bereft when the show ended where it did all those years ago are going to like where it goes from here," he said. "And we hope that a lot of people who haven't been to Twin Peaks yet are going to be equally interested in where the story goes from where we left off."
2. David Lynch Is Directing Every Episode
Lynch directed six of the show's 30 episodes, including both premieres and the Season 2 finale. The rest were helmed by guest directors, including Frost (who directed the Season 1 finale), and even Diane Keaton (who directed the Season 2 episode "Slaves And Masters"). This time, however, Showtime president David Nevins revealed that, "David will direct the whole thing" when he announced Lynch's return.
3. Angelo Badalamenti Will Return To Compose New Music
During a Twin Peaks panel at Crypticon in Seattle this past may, returning cast members Sherilynn Fenn and Sheryl Lee revealed that the 78-year-old composer, who partnered with Lynch on Twin Peaks as well as some of the director's feature films — Blue Velvet, The Straight Story, Mulholland Dr. — is also coming back to write a brand new soundtrack for the new season. (I'll be thrilled as long as his memorable Twin Peaks theme survives the update intact.)
4. The Double R Diner Is Coming Back
Home of the best cup of coffee and cherry pie in the Northwest, the Double R Diner is as integral to the world of Twin Peaks as Laura Palmer. The second of Fenn and Lee's major revelations at Crypticon involved the fact that Twede's Café in North Bend, WA will be transformed once again into the beloved fictional eatery that took over the café's interior when the series filmed on location in the small town over two decades ago.
5. There Will Be 18 Episodes
The final, and most exciting, tidbit that Fenn and Lee spilled last May was the fact that the episode order for Season 3 of Twin Peaks had doubled in size from the originally-intended nine to a whopping 18. These days, TV writers and fans generally tend to agree that less is more, with most acclaimed series — like The Americans, Fargo, Game Of Thrones, Hannibal, Penny Dreadful, and True Detective — clocking in anywhere from eight to 13 hours per season. 18 seems like a lot in today's climate, but if Lynch feels like his story demands the increased screen-time, who are we to argue?
6. Pretty Much The Entire Original Cast Is Returning
Other than some of the older cast members who have sadly passed away in the two-and-a-half decades since the show's original run, pretty much the entire cast will be reprising their roles. This includes Kyle MacLachlan as Agent Dale Cooper, Sherilyn Fenn as Audrey Horne, Dana Ashbrook as Bobby Briggs, Sheryl Lee as Laura Palmer, Lara Flynn Boyle as Donna Hayward, Michael Ontkean as Sheriff Harry S. Truman, Piper Laurie as Catherine Martell, Ray Wise as Leland Palmer, Grace Zabriskie as Sarah Palmer, Peggy Lipton as Norma Jennings, Chris Mulkey as Hank Jennings, Mädchen Amick as Shelly Johnson, Richard Beymer as Ben Horne, Michael Horse as Deputy Tommy Hill, and — yes — Catherine E. Coulson as The Log Lady.
Images: ABC (Screenshot); Giphy (6)