Alabama Senator's Bizarre Plan To Fix The Budget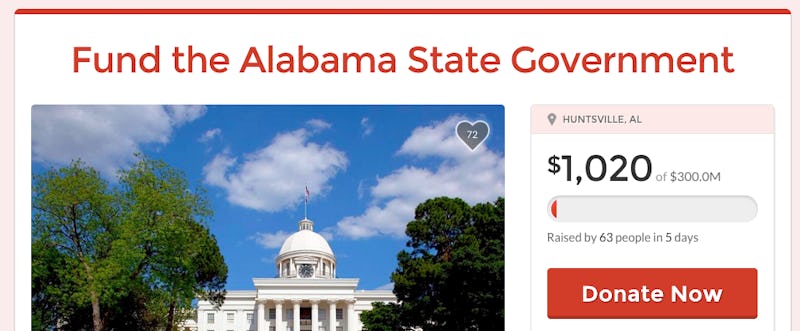 In a tongue-in-cheek move to fix his state's looming budget shortfall, an Alabama state senator has started a GoFundMe account to bring in revenue — to the tune of $300 million. State Sen. Paul Sanford from Huntsville, Alabama, said that he opened the campaign on the crowdsourced fundraising site on Aug. 6 to demonstrate that people don't want their taxes raised. So far, the effort has motivated more comments on its GoFundMe page than it has donations. Sanford has raised a little more than $1,000 from some 60-odd contributors in the past five days — nowhere near the windfall in revenue that the state needs to balance its budget without drastic cuts to social services, education, and healthcare. With Alabama's GOP supermajority assembly firmly divided on whether to raise taxes or to require devastating spending cuts, the budget stalemate looks to continue into the coming weeks.
The GoFundMe page calls upon Alabama citizens to help their state out as it faces a budget crisis. "The State of Alabama is experiencing tight financial times and needs your help. Legislators are debating possible financial solutions but are finding that Raising Taxes are not wanted by the citizens of Alabama," the campaign page reads. "Rather than have the Government come after your hard earned money you can now send an amount that fits your budget, even request where your money be used." Sanford has not yet responded to Bustle's request for comment.
The site also invites would-be supporters to include in their comments what their particular donations should be used for. Sanford wrote in his own comment that he began this effort to dramatize the paradox behind raising taxes: Everyone wants taxes raised on other people to fund government services, but not on themselves.
"I do appreciate the comments, but please realize this was to prove a point that most people do not want to pay more taxes but are for taxes when the other guy is to be taxed," Sanford wrote.
The GoFundMe page has sparked negative reactions from Alabama residents. "Although this may be in jest, the citizens of Alabama deserve better," wrote Michael Ramsay along with his $100 donation. "Support the healthcare of children by funding the Alabama Medicaid budget, the source of healthcare for 40 percent of Alabama's children and over 50 percent of infant deliveries."
Another resident was more blunt. "Don't like seeing your state government begging for money on a site created for people in real need?" Katerra Williams commented. "Next year, vote Democratic."
Other Alabama commenters noted that the state assembly was responsible for the current budget shortfalls, after years of mismanaging money and refusing to agree on potential new revenue streams. Alabama faced a similar shortfall three years ago, but asked voters if the state could borrow money from a fund that collected revenues from offshore oil and gas wells. Voters agreed, but the state has now emptied that fund of most of its money.
The first person to donate to the campaign was Hilary Gould, a staunch supporter of public education. Gould told Mashable that she saw this as an opportunity to make a political statement against the state legislature's priorities.
"When I saw it, I thought, 'ok you're being an ass. You're saying nobody wants to raise taxes so we'll just do this,'" she told Mashable's Jessica Egert. "It sort of turned into a sounding board for all the angry people like me." Gould donated $10, which she requested be put into the state's Education Trust Fund.
In turn, some donors saw an opportunity to use the page for cheekier purposes. "Please earmark this donation to be used for evil and nefarious deeds," Jordan Lipman commented with his $10 donation.
Alabama might be the only state with a GoFundMe page, but it certainly is not alone in its budgetary woes. The narrative has become a familiar one in state legislatures facing budget shortfalls across the country. Anti-tax conservatives square off against lawmakers who argue that deep cuts to state-funded programs like education and health care could do lasting harm to their constituencies.
This year, the Alabama state legislature has debated a number of ways to make up the estimated $300 million shortfall, including a soda tax, a cigarette tax, the setup of a lottery, and eliminating a state tax deduction on FICA taxes already paid. But tax increases have been a nonstarter for many in the Republican Party — a position that would instead force the state to make drastic cutbacks to social services.
Some Republicans, including Gov. Robert Bentley, have warned against the harm that cutting $300 million in operating revenue might do to the state. State Sen. Paul Bussman (R) decried a recent Senate version of the budget, which pulled money from Medicaid, as "devastating to the people of Alabama." The senator added that the proposed cuts to health services would likely force rural hospitals to close in his district in the northern part of the state. "And my gut feeling is that we know what we are doing is not right," Bussman told his colleagues.
Bentley, in turn, has threatened to veto any budget that does not come with $300 million in additional revenue to forestall the cuts. At a press conference Tuesday outside the state capitol, the governor lambasted the state senate and state house for failing to come to an agreement on a budget deal, and promised to call lawmakers back in the next few weeks for the start of a second session to address the problem.
"The Legislature was unable to do what their only job is and that is to pass a budget. That was the reason they were called in, and they have failed," Bentley said, according to The Times Daily. "It really boils down to, are we willing to make these drastic cuts and hurt the lives of the people of this state? Are we willing to close down state parks? Are we willing to close down hospitals? Are we willing to tell the children of this state that they can't get immunizations?"
In the mean time, Sanford's GoFundMe campaign continues.
Alabama resident Erin Byers had specific instructions for how Alabama should spend her $8 contribution: "Earmark this for a state official to take Budgeting 101."
Image: GoFundMe (1)