7 Emotional Stages Of Waiting For Your Delia's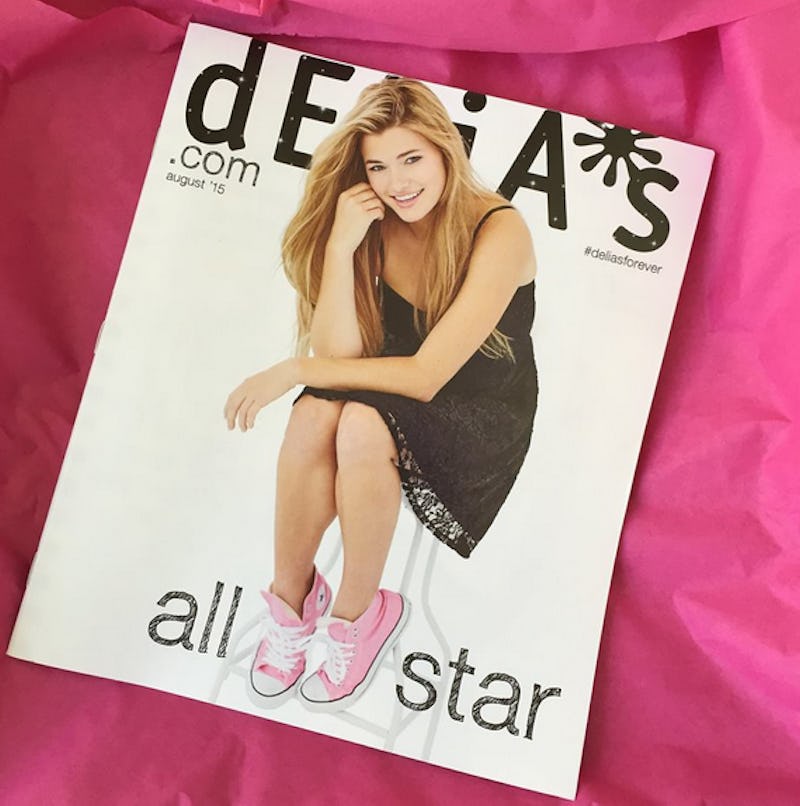 By now, you should be well aware that Delia's is making its comeback. The '90s and '00s-beloved teen brand shuttered its physical stores earlier this year, but Delia's has a new Instagram feed and will be selling clothes in an online-only capacity. The Delia's relaunch certainly stirred the early fashionista in me, since I truly believe that my initial shopping at Delia's helped foster my rabid interest in clothes.
This new incarnation is essentially a fully digital Delia's. No more retail stores. No more catalogs.
Oh, but those catalogs!
I admit that they were an eagerly awaited piece of mail in my life for many years, even as I drifted out of the desired demographic and switched to shopping at Delia's mall boutiques.The catalog always acted as a prime source of style inspiration for my early '00s self.
These were the seven emotional stages I suffered through — yes, suffered! — while waiting for my precious catalog to come in the mail.
Don't mock my pain. I was really honing, discovering, and building my fashion sense at that time and it was a huge deal. Being a Catholic school student who wore a uniform daily for 13 years, my Delia's period became an era of expression for me, and I couldn't be happier it's coming back.
1. The "Impatience + Anxiety" Phase
I used to call my mom from my after school job to ask her if I got any mail — aka the Delia's catalog and the Very Distribution music catalog, which sold CDs and rock tees for the underground bands I loved and could not purchase anywhere else.
I waited impatiently for my Delia's catalog so that I could scour it for items to pair with my concert tees. I would flip through the pages on the hunt for cute dresses to wear with chunky boots. Delia's was the only option.
2. The "What If My Catalog Gets Lost In The Mail?" Irrational Worry Stage
Even before the date it was supposed to arrive, I'd start to get paranoid about my precious catalog's whereabouts. I guess I was so stoked for the catalog's arrival that I had to prepare myself for the dreaded scenario in which it didn't. Perhaps I was trying to insulate myself from disappointment by imagining it. Jeez, what a mental fashion mess I was!
3. The "What If My BFF Gets Hers Before Me And Picks All The Stuff I Want?" Fear Stage
I used to deal with some fashion envy among friends. We admired each other's fashion choices, but didn't want to be complete copies of one another, either. So we tried to shop and own different pieces. I used to stress about any of my pals getting their catalog first and beating me to the punch by calling dibs on bellbottom jeans or graphic tees or chunky platforms.
4. The "Cover Curiosity" Stage
The cover girl was always cute and all-American. But I was more interested in what she would be wearing and looking for inspiration from her outfit.
5. The "Trend Anticipation" Stage
Before I made the permanent switch to skinnies, I loved me some bellbottoms in the '00s. I used to pair them with platform Volatile sneakers — not that it really matter what shoes I wore. The flares were so wide they completely hid my feet. I desperately wanted bells to remain in style forever but knew they wouldn't.
So, each month, I would cross my fingers that the pages of my Delia's would still be full of flares. Sure, there were other trends I cared about, but the thought of which denim cut would be in style is most vivid for me.
6. The "Writer-In-Me" Stage
As a writer since grade school, I actually looked forward to the cute lines of copy on the pages, which were always in that infamous mix of upper and lowercase letters — like the logo itself. I looked forward to the collage-like accompanying words as much as I did the actual clothes.
7. The "When Is The Next One Coming?" Anticipation Stage
Before I even whipped through the current catalog, since it didn't, you know, arrive yet, I'd find myself wondering when the next catalog would come. So much for being all carpe diem-like.