How Female Athletes Feel About Their Bodies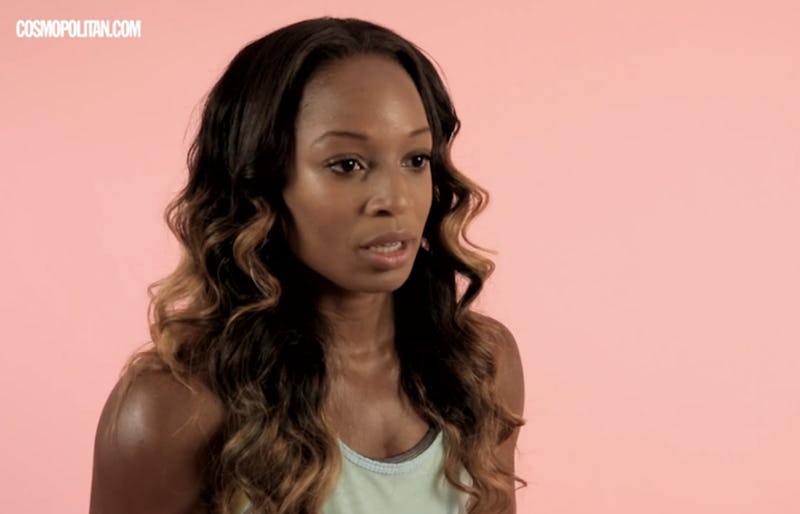 As much as we all try to show ourselves self-love and accept our bodies for being perfectly imperfect, every woman has experienced their fair share of body shame — be it from themselves, or from someone else. Cosmopolitan.com released a video exploring how top female athletes feel about their bodies, and their stories demonstrate just how universal the struggle of self-acceptance is among women, no matter their backgrounds or relationships to their bodies. They sat down with Olympic Gold medalists Sanya Richards-Ross and Natasha Hastings and, Instagram fitness guru Massy Arias, UFC fighter Jessica Eye, and Crossfit trainer and NASCAR pit team crew member Christmas Abbott, all of whom shared stories about body shame or the unrealistic standards society places on bodies.
What is so eye-opening about their experiences is that even women whose entire careers revolve around the brutal training of their bodies are criticized for that same strength. They all individually share not only the unjustified assumptions or expectations society places on women's bodies, but exactly how they learned to overcome them and not just accept their bodies, but celebrate them. Here are a few of their insights:
Sanya Richards-Ross, Olympic Gold Medalist In Track & Field
"Every time I ask my body to do something, it responds. It just reminds me of how powerful I am, sometimes way more than I think."
Massy "Mankofit" Arias, Fitness Trainer And Instagram Celebrity
"I think women are very underestimated, athletically ... Being that I'm Latina, you know, you're supposed to have the big hips and the curves. Women come in different shapes and forms, and we're all beautiful, and I'm beautiful. There's nothing I'm not able to do."
Watch the full video below with their insights here:
Images: Cosmopolitan(3)