12 Ways To Make The Most Of Your Last Beach Day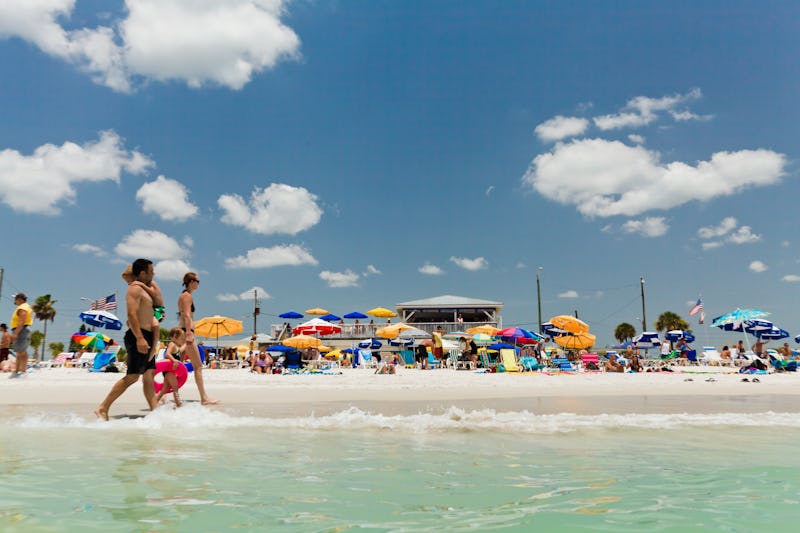 The end of the warm season is near, and Lana Del Rey isn't the only one who will be experiencing "Summertime Sadness." But instead of wallowing in self-pity thinking about how much you'll miss your lazy mornings spent binging on Friends marathons or hanging with your gal pals all day at the pool, say goodbye to summer with an adventure by the shore. There are ways to make the most of your last summer beach day so that you can enter autumn knowing you gave summer your all. Go ahead — bust out your favorite bathing suit, dip your toes in the sand, and relish in every last drop of sun you can get, because this is your last rendezvous in paradise for a while, and you need to make it count.
You'd be surprised what a little saltwater and a sun-kissed glow can do to reverse your seasonal sorrow, but don't settle for swimming and tanning alone. You should take advantage of all the beach has to offer, and I'm not just talking about people-watching — although the people-watching is pretty great. You don't need to act out a wild scene from Spring Breakers to make the most of your last day in the sun and sand, but if you go prepared and have a game plan, you'll have totally have a day that's memorable.
1. Plan a road trip somewhere
You don't have to go far, but maybe try beachin' it in an area you've never been before. The thrill of the unknown — or perhaps being able to confirm what you've heard about it — will keep things exciting. It's always fun to explore a new boardwalk, pier, or beachside bar.
2. Do one of your favorite childhood activities
When was the last time you built a sandcastle, went on a swing at the playground nearby, or buried your friend in the sand? The beach is a family-friendly place, and you don't have to be a kid to get a little playful. Do something you haven't done in a decade. It's therapeutic.
3. Play some ball on the beach
Play a leisurely game of football toss in the ocean, or kick a soccer ball around. Many beaches have volleyball and basketball courts, so bring your own for a quick sesh, or feel free to join an existing game. If you ask nicely, most people are happy to let you play with them, and the spontaneous rush you get from playing with strangers will feel great.
4. Try a water activity
You always see people on the beach doing stand-up paddle boarding, kayaking, jet skiing, and parasailing. But instead of watching in wonder, why not try an activity that's offered at your beach out for yourself?
5. Go surfing
This isn't for everyone, or every beach. But if you have a friend or service available to teach you, try shredding some gnarly waves for a superb workout and invigorating feeling. Even if you don't pick it up right away (it's harder than it looks), Johnny Tsunami would be proud.
6. Bring a snorkel
This is also dependent on your beach area, but sea critters like starfish, squids, and crabs could be all around you. The ocean is home to a whole world of marine life, so explore underwater for a bit to see what you can find.
7. Wear sunscreen
Protection from sun exposure is important, and you don't want to spend the next couple of weeks looking like a lobster. A healthy dose of vitamin D will make you happy, but there is such a thing as too much sun-induced happiness. It's called skin cancer, so lather up with a proper SPF to avoid it.
8. Pick a popular restaurant for lunch
Beach noms are the best. Whether you're in the mood for a burger or fish tacos, there's no better place to get it than a few feet away from the shore. And afterward, hit up an ice cream joint or a bar for one of those massive, iconic margaritas with two Coronas dunked in them. Go big or go home.
9. Have a picnic
If you don't want to hit the bar, bring the bar to you with a cooler and snacks. Keep local laws in mind when cracking the booze open in public, but packing your own sandwiches and drinks can be just as refreshing as the pricier options nearby.
10. Pump some jams
If you bring a speaker, you're probably going to be the most popular person on the beach. OK, maybe that's an exaggeration, but as long as your tunes aren't obnoxiously loud and disturbing your neighboring beachgoers, vibing to some music will get you feeling good.
11. Bring along a metal detector
I mean, hey — why not? Maybe you'll be that lucky person who finds a pirate's long-lost treasure chest, or a diamond ring deep down in the sand. You know you've always wanted to.
12. Catch a sunset
If you haven't passed out from exhaustion yet, stay on the beach until the sky turns pink. There's a reason a bajillion photos of beach sunsets are floating around on Instagram. They're beautiful, and some sort of magic happens when you watch the whole thing. It's rare that we do that, so you should make the effort to do so on your last beach day.
Images: Visit St. Pete/Clearwater/Flickr; Giphy (12)