The 10 Best Beaches In America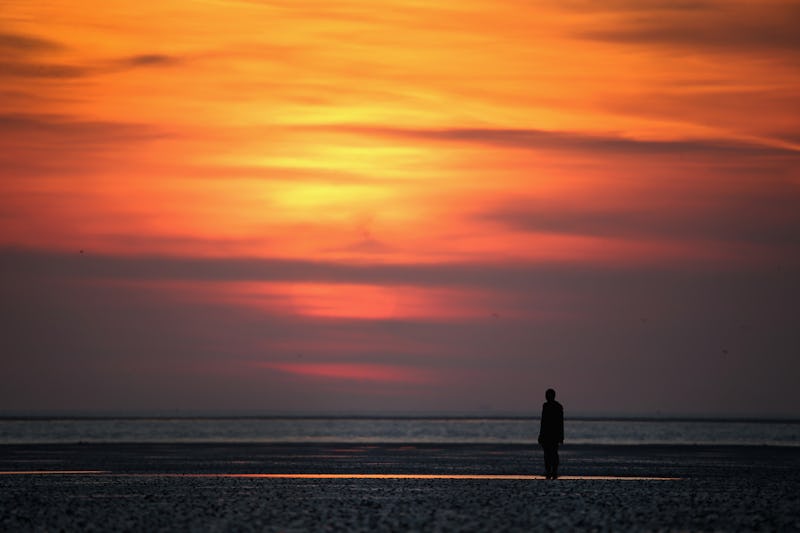 Christopher Furlong/Getty Images News/Getty Images
What image pops into your head when you hear the word "beach" probably says a lot about you. If you're under 25 (either actually or at heart), you probably think of scenes from Spring Breakers (the good ones, before all the weirdness begins). Beer funnels, bikinis, crammed beach houses, bodies. Bodies. For you, the beach = booze + sex.
If you're a nature person, and the words "shots" repeated three or more times puts you in the mind of murder, you might think of something else: A thin line of coast at the base of a mountain away from cell phones, hot dog carts, lifeguard whistles, and big families. Something Zen, but also rugged — like Thich Nhat Hanh and Cheryl Strayed getting each other's backs with the sunscreen.
If you're a combination of these two — you want your quiet and you want to drink your mai tai, too — you might think of one of those placid-looking beaches on the covers of Elin Hilderbrand novels. Comfortable, civilized, and peaceful, too.
Below, we've highlighted the 10 best beaches in the country, keeping in mind all the many definitions of word "beach." From a remote (and occasionally dangerous) slice of paradise in Hawaii, to a longtime staple of Southern summer culture, these shores will satisfy whatever vacation fantasy you have in mind. Here are the 10 best beaches in America.
10. Ocracoke, North Carolina
In addition to its grassy dunes, famous white lighthouse, and reserved, laid-back atmosphere, Ocracoke's beach in the Outer Banks of North Carolina has some seriously cool maritime history. During the 1700s, while much of the rest of the Eastern seaboard was being colonized and settled, Ocracoke became a pirate haven. A pirate haven! It's even the death site of the famous English pirate Blackbeard, who's thought to be the inspiration behind Jack Sparrow in the Pirates of the Caribbean movies.
9. Twelvemile Beach, Grand Marais, Michigan
During the summer, parts of normally-frigid Michigan turn into miniature seaside resorts. Twelvemile Beach, on the state's Upper Peninsula, is among the finest shores the Midwest has to offer. Long, remote, and backed by forest and camping grounds, the beach faces Lake Superior and (though you can't see it) Ontario, Canada on the other side — making it one of the northernmost beach destinations in the country.
8. South Padre Island, Texas
This large barrier island on the Gulf Coast of Texas is a spring breaker's dream: Booze, beach parties, and hangover-killing all-you-can-eat resorts abound. And as if that's not enough, the island even has its own water park, Schlitterbahn. With year-round south-Texas temperatures, and a geography seemingly designed for beachgoing (one long beach with no inland; views of the Gulf on each side), South Padre reigns supreme when it comes to summertime partying.
7. Cannon Beach, Oregon
Though Oregon doesn't seem like a beach-y state, its slice of the Pacific-Northwestern coastline contains some of the most stunning shores in the country. Among these is Cannon Beach, a coastal city at the northwestern tip of the state. In addition to a relaxed, quaint setting (read: one not overloaded by spring breakers or condo-dwelling winter-birds), the city's beach features large rock outcroppings that look something like the "sugarloaf" peaks along the coast of Rio de Janeiro, if not landforms from another planet. The area is in fact so visually distinct that it's been featured (along with nearby Ecola State Park) in a number of films, including Twilight and The Goonies.
6. Ditch Plains, Montauk, New York
Though Montauk has lost some of its rugged, common-man charm (these days, it's more Hamptons-y than the Hamptons) it's still a gorgeous and comparatively low-key beach community, and it happens to have one of the most famous beaches on the East Coast. Aside from the almost British-looking cliffs and the charming shingle-style architecture nearby, Ditch Plains is a notable surfing destination. Chef Marc Murphy even named his West Village restaurant after the beach. According to its site, the restaurant, a kind of upscale fish shack, "pays homage to Marc Murphy's first longboard triumph in Montauk."
5. Hanakapiai Beach, Kauai, Hawaii
Hawaii is in many ways a single giant beach, and it's hard to select just one. But Hanakapiai Beach, on the island of Kauai, is perhaps the most fantasy-like — the closest to the image we all have in mind when we think of the state's paradisiacal shore. If it seems untouched by the commercializing forces of the tourism industry, that's because it mostly is. The beach is located in a remote part of the island and can only be accessed by trail. Also, its sometimes-dangerous rip currents (a Hawaii-wide problem) have given the beach a reputation for being extreme and even dangerous, which is why it's more popular with adventure-seeking tourists than with families on the hunt for ice cones. More power to it!
4. Coast Guard Beach, Cape Cod, Massachusetts
While it doesn't have the prettiest or most evocative name, this stretch of shore in Cape Cod, Massachusetts is the definition of picturesque. How many book covers and greeting cards, one wonders, have borrowed from the beach's grassy banks, its footprint-speckled dunes, its rustic wooden handrails? When it comes to real-life versions of the classic New England beach fantasy, Coast Guard Beach is unrivaled.
3. Van Damme Beach, Little River, California
Van Damme beach and state park in the NorCal town of Little River takes the concept of "California beach" and flips it on its head. Away from the bikinis and Bacardi-and-cokes you'll find in places like San Diego and Del Mar, or the hobos/skateboarding maestros you'll find in Venice Beach, Van Damme offers a remote, rustic slice of untouched-seeming California wild. In addition to a sandy beach, a majestic mountainous backdrop, and reliably pleasant California weather, Van Damme features dramatic rock formations that add to the natural, defiantly undomesticated feel of the place.
2. Hilton Head, South Carolina
If global warming continues at its current pace, America could soon be a tropical country. Hilton Head Island, off the coast of South Carolina, gives a taste of that reality — and, bad as this may sound, it's not unpleasant. Quite the opposite: HH (as it's bumper-stickered) is a classic summertime destination, offering a mix of sleepy beach-town charm (marinas, lighthouses, the works), plenty of opportunities to party, and a touch of antebellum refinement (this is the South, after all). Book your tickets early, though: The area receives some 2.5 million tourists annually.
1. South Beach, Miami, Florida
There's a reason this iconic beach in Miami remains the end-all-be-all symbol of vacation. Bordered by a string of a luxury hotels, and featuring at any one time some of the most beautiful bodies you'll find in the (admittedly beautiful-body-lacking) United States, South Beach is simply the best chunk of coastline in America. Oddly, part of its appeal lies in its distinctly European flair. Despite its being a public beach, parts of South Beach have a reputedly lax attitude toward topless bathing — making it a popular destination for Continentals.