7 Ways To Save Money On Wedding Flowers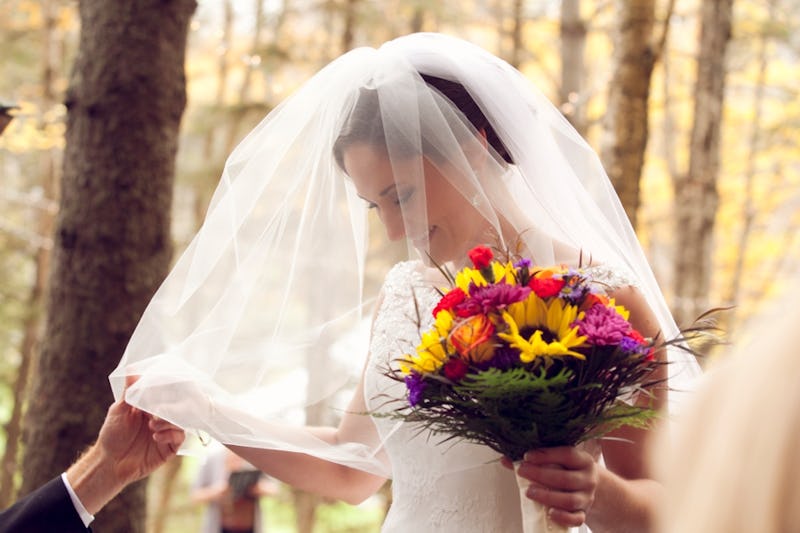 Anyone planning a wedding knows that wedding flowers can be ridiculously expensive — for that reason, I see a lot of couples searching for the best ways to save money on wedding flowers. Though the least expensive approach is to pick some wildflowers yourself before the wedding, a plan like that isn't always feasible, and can become more trouble than it's worth. It's wise to look at how you can reduce costs while planning a wedding, but I suggest doing it the smart way so that you're not setting yourself up to be seriously stressed in the days leading up to your nuptials.
So how do you save on your wedding flowers? Plan ahead with some tried-and-true tips. Here are seven strategies I've used with my DIY Wedding Mentor clients that pretty much anybody can do without causing themselves a bunch of additional work or unnecessary stress. (I've actually had couples grow their own flowers, but I won't ask you to do that if you don't want to.)
Generally, I think the best cost-saving, stress-saving route is to work with a florist in some capacity (even if it's just to provide the flowers), and then DIY the finishing touches from there. However, if you and your partner are a couple that happens to know a thing or two about flora, then I'm sure you can totally rock foraging wild flowers for all your floral needs. And if you have a serious green thumb, then growing flowers may be the best route for you. But if you're not a gardening gal, then these tips are for you.
1. Mix flowers of the same color
A great way to save money is to mix expensive and inexpensive flowers of the same color. This way, you end up with a very full floral bouquet or arrangement, and the expensive flowers actually stand out more than if it was an arrangement of all expensive flowers. In some cases you can save 30 percent or more by opting to mix and match expensive and inexpensive flowers that are similar in color.
2. Keep bridesmaid bouquets small
Bridesmaid bouquets are a great area to save money. You can have your friends carry long, single-stem flowers like gerbera daisies or sunflowers, or if you do choose to go the bouquet route, remember that they don't need to be as large as the bridal bouquet. By specifying that you want smaller bridesmaids bouquets, you'll be sure to reduce costs. After all, it's a simple budgeting maxim: fewer flowers equals less money.
3. Go wild for accents
I should say if there's one person I know who could forage flowers for an entire wedding, it would be Laura Demaria from Unfurled Vermont. I saw her foraging talents in action when we both did a tree house-inspired styled shoot earlier this summer. Laura bought the bulk of flowers she wanted to use from a florists' supply store, and then she walked around the property picking ferns, apple blossoms, and whatever else she could get her hands on. This photo is actually from the styled shoot, and you can see the apple blossoms and some of the wild flowers in the floral design.
Now when I coordinate a wedding that's a bit short on flowers, I take my shears to the woods or fields, and find a few stems to add some floral oomph wherever necessary. The key to keep in mind here is that wild flowers are great for accents.
4. Dress up plain vases
You can add just about anything to a plain old vase to jazz it up. In this picture, the couple who was getting married loved quotations, so they incorporated quotes about love throughout their wedding. All it took to really enhance a simple and inexpensive floral arrangement was a quote printed on a piece of paper, a hole punch, and a couple pieces of ribbon to tie the quote around the vase. You can keep it even simpler by just opting to tie a nice ribbon or a rustic piece of twine around a vase a few times. When it comes to decorating vases, the possibilities are truly endless.
5. Make single-stem vases your new best friend
One of my favorite tricks is to buy a pre-assembled bouquet, and then break it up and put the flowers in a bunch of single-stem vases. This way, I can spread one bouquet down an entire table while still keeping the wonderful mix of flowers all together. I've seen this done at a couple of weddings to great effect, and now anytime I have a dinner party with flowers, I always go right for my single-stem vases.
If you are buying flowers from a grocery store, make sure to work with the store beforehand so that it will have all the flowers you want available on the day of the wedding, and can put what you need aside so no one else purchases it. However, in my experience, working with a budget-friendly florist to buy your flowers ends up costing around the same amount as going through a chain store, and the service is much more personalized. For that reason, I always recommend going with a florist shop whenever possible.
6. ...Or don't buy vases at all
If you want to have matching vases, then your best bet is likely to go out and buy them (used or otherwise). However, if you're down with the organic or eclectic look, then there truly is no need to buy vases. Budget-stretching couples are using all sorts of alternatives to vases for weddings — everything from flower pots in their garden, to tea cups and coffee cans. Before you hit the store for vases, walk around your house, and see what could be re-purposed. You can also ask your family and friends what they have on hand. One of my personal favorite looks for centerpieces is a mix of all clear glass vases collected from various places. If you're going this route, it's generally a good idea to stick to all round vases, or all angular vases (such as squares and rectangles) so you still have a styled look.
7. Visit a flower farm
Flower farms are a great way to save money, because they often have amazingly beautiful and varied flowers at a reasonable cost. At a wedding we coordinated in June, the bride's aunt went to Stray Cat Flower Farm in Burlington, Vermont, and picked up a few buckets of stunning — and I mean truly jaw-dropping — flowers. Before the wedding, she arranged them in some simple vases, and the effect was absolutely incredible. What's also great about this was that the flowers were cut no more than a day before the wedding, so even though they were super delicate flowers, they lasted throughout the whole wedding day without a problem. This is a great way to get that wild flower look without all the last-minute stress.
So there you have it: some tried-and-true ways to cut costs on your wedding flowers. No doubt though that there are other areas where you can save money, so don't forget to look into hacks for wedding invitations, as well as wedding photo booth alternatives. No matter where you DIY, just make sure to plan ahead with some solid strategies — that's doing DIY the smart way.
Images: Somerby Jones Photography; Pixabay/kissgyongyi; Wonderbliss Photography; Somerby Jones Photography; Tim Rice Photo; Pixabay/Memory Catcher; Pixabay/Pezibear; Pixabay/Fotomanie