Why Did Steve Nominate Meg & Jackie On 'BB17'?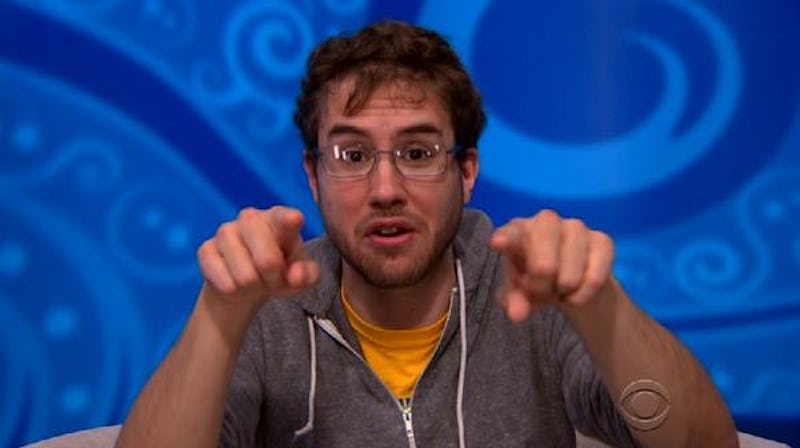 You may or may not still be recovering from Thursday night's trainwreck of a Big Brother double eviction. You also may or may not be asking why Steve nominated Meg and Jackie for eviction on Big Brother 17 . Here's the real question: Why does Steve do anything he does inside that house? One second, he's the leader of the pack to send Becky back to Colorado, and the next, he's nominating two people who he's probably never even spoken to inside the house. What's going on, Stevie? Where is all of this coming from? Help me, to help you.
Steve's nominations came completely out of left field. His mortal enemy inside the house — Becky — was unable to compete for the HOH title during the live eviction, which would have been the perfect opportunity to nominate her. But no, Steve wasn't interested. Then, Becky wasn't picked to play in the Veto competition, which would have been the perfect opportunity for him to backdoor Becky. But again, Steve wasn't interested, apparently telling Johnny Mac to keep the nominations the same, leading to Jackie's eviction. So what was the strategy of nominating Meg and Jackie? We tried to figure it out on Bustle's Big Brother podcast, The Diary Room, so you can check out our thoughts below.
Jackie gave us a little hint as to why Steve would nominate her and Meg. There was talk of a "miscommunication" before she was evicted, and during her chat with Julie Chen, we learned a little bit more about the mixup. According to Jackie, Steve was under the impression that she was going to go after him if she remained in the house. I'm not sure where she got that piece of information from, but it is ultimately the reason he nominated her and then asked Johnny Mac to leave the nominations the same.
Jackie never intended to go after Steve, which he is now aware of. She intended to go after Austin — bless her — and finally break up the crazy strong power of Liztin (because for some reason, no one is touching them). Basically, without even realizing it, Steve did Liz and Austin's dirty work for him. And they know it.
I hope you're happy with yourself, Stevie.
Image: CBS