115 Dogs From Movies That You Wish You Could Keep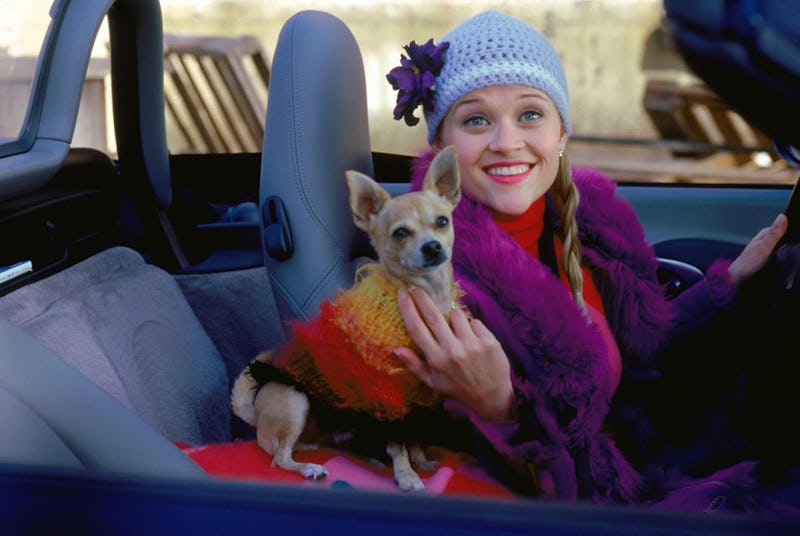 Dogs are known to be man's best friend, in real life, and in the movies. As someone who didn't have a pet growing up, except for a guinea pig named Checkers for only a few weeks, I would wistfully watch movies that feature dogs, wishing they were mine. Before I headed off to college, I wished I had a Bruiser by my side to keep me company before I made human friends in the new city. And, every time I travel, I wish I had a Toto in my basket so I can say, "Toto, I've a feeling we're not in New York City anymore." There are so many cute dogs in movies that, honestly, I can't even pick a favorite.
Watching dogs on screen is better than playing with friends' dogs, because, growing up, my friends often got territorial with their pets, and you never have to interact with on-screen dogs' poo. They are always at their cutest, and you don't have to take them to the vet.
Here are the 115 cutest dogs that have graced the big screen. Try not to reach toward your screen as if you could pick them up and cuddle them from sheer force of will.
115. Bruiser Woods, Legally Blonde
"I'm Elle Woods... and this is Bruiser Woods!" Bruiser was a great companion to Elle, through the good and the bad.
114. Toto, The Wizard of Oz
Arguably the most chill canine companion – he was able to stick by Dorothy when things got weird in Oz.
113. Buddy, Air Bud
It's a miracle. Buddy's the true MVP.
112. Baxter, Anchorman
Ron Burgundy's trusty companion, along with Steve Carell, Paul Rudd, and Co.
111. Brinkley, You've Got Mail
The scene itself might be cuter than the actual dog, but it's an all around celebration of cuteness.
110. Lassie, Lassie
More regal than she is "cute," per se, Lassie is a legend, and should be honored in any dog-related list.
109. Marley, Marley and Me
She's the dog who caused a million tears. RIP Marley.
108. Otis, The Adventures of Milo & Otis
"Nevertheless, Milo and Otis became best friends." The cutest inter-species relationship there is.
107-6. The Dalmatians, 101 Dalmatians
It's hard to choose just one, so I'm going with all 101.
5. Sandy, Annie
Energetic and fluffy, Sandy is Annie's sidekick and gets along with both the orphans and the Warbucks crew.
4. Nana, Snow Dogs
This border collie managed to upstage Oscar Winning Actor Cuba Gooding Junior.
3. Nana, Finding Neverland
Nana was J.M. Barrie's St. Bernard, who he insisted on writing into the play — which was slightly difficult to translate to the stage.
2. Shiloh, Shiloh
No, not Shiloh Jolie-Pitt, but the cutest beagle other than Snoopy.
1. Uggie, The Artist
Here's an incredible actor who took direction well. His physical cuteness is only heightened by his ability to do tricks and his chemistry with his costar, Jean Dujardin.
All these dogs are adorable, but pale in comparison to having a puppy in real life. Still, if you can't get one, then marathon watching all of these movies is almost the same thing.
Image: Metro-Goldwyn-Mayer