Are Justin Bieber & Ariana Grande Friends?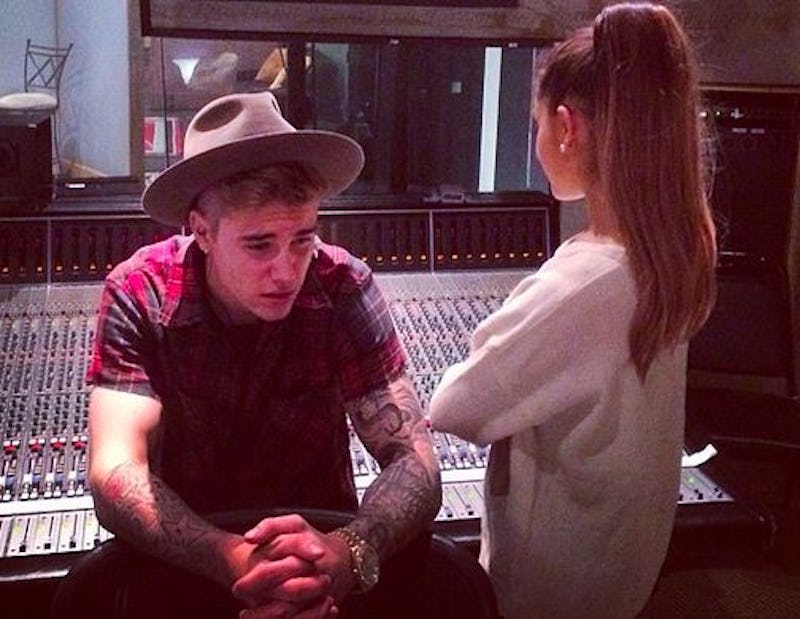 For Beliebers and Arianators out there wondering if Justin Bieber and Ariana Grande are friends, I'm not so sure the answer is a simple one. Sure, the pop stars both share a manager, Scooter Braun, and have also shared plenty of moments promoting each other's work, performing together and chattin' it up via social media. But are they actually friends friends? Let's take a look.
Back in 2013, Bieber and Grande shared the cheek kiss seen around the world. The two took a selfie together — a cozy pic that shows Bieber getting in real close and kissing the "Problem" singer on the cheek — and then Bieber pressured Grande into posting it, she revealed. The snap obviously got tons of attention from fans (OMG ARE THEY DATING?!?! #JARIANAFOREVER) and caused a whole lot of unnecessary drama.
"I went to meet and greet with my grandparents, because my nonna has a massive crush on Justin Bieber, so I went and our fans... I think they trended #JustinandArianaSelfie or something like that," Grande recalled of the meeting when speaking with MTV. "So I was like, 'We have to do this,' and Justin was like, 'Yeah, let's take a picture.' So, I took my phone and I went like this [gestures selfie] and I was just smiling, and he kissed me on the cheek. I didn't know what to do. I just walked out of the room. I got shy."
Only here's the thing: According to Grande, Bieber insisted that she share the picture on social media.
"Then Scooter [Braun] came after me and was like, 'Justin says you have to post that picture.' I was like, 'I will not.' And he was like, 'He says you have to post that picture.' And I said, 'I can't,' and he asked why not and I was like 'because I don't want the drama that's going to come with it,'" she remembered. "Then, Justin tweeted me, 'Post that pic.' So, I just did it, but everyone was like, 'Oh my gosh a kiss on the cheek. I'm like, can you not?' Come on!" Grande later deleted the pic.
Still, the pint-sized powerhouse had some of the kindest words I have ever heard anyone say about Bieber following his string of bad choices and January 2014 arrest. Grande showed heartbreaking, genuine concern for Bieber and expressed her thoughts on the situation.
"I think it's really serious. I've seen tweets of people making fun of the mugshot and all this stuff, and it's so ignorant," she said to radio station Mix 104 at the time. "It's gotten to a point where I just want him to be okay. It's this very serious thing. It's not just like a kid who's, you know screwing around, it's dangerous. It's very serious and upsetting."
"He is the most visible, yet most isolated human being I've ever met," she continued. "I just want him to be okay, that's all. I just think it's a serious thing. And I don't think it's something to make fun of anymore. I don't think it's funny anymore."
Later that year, Bieber shared a snap of the two in the studio, congratulating the singer on her number one hit and simultaneously using the hashtag, "#arianabieberduet?" Though this never came to fruition — Grande said in an interview posted by the Associate Press that they'll "finish it and put it out one day, but it just wasn't the right time" — 2015 saw the two duetting on several of their hits while on Ariana Grande's Honeymoon Tour. Of course, this caused its own drama (Bieber accidentally forgot the lyrics and got a little too up close and personal to Grande), but all was forgiven. And now, Grande is one of the many celebs promoting Bieber's upcoming new single, "What Do You Mean?"
At the end of the day, Justin Bieber and Ariana Grande may just be friends because they share a manager and are in the same industry. Sure, there have been some dramatic moments in the past, but at the end of the day, they support each other's projects and wish each other nothing but the best — whether that's in terms of career success or success in their personal lives. And really, isn't that what we all want from our friends? #JarianaForever is right... just in a strictly friends-only type of way.
Images: Justin Bieber/Instagram; Giphy