15 Shower Caddy Essentials College Students Need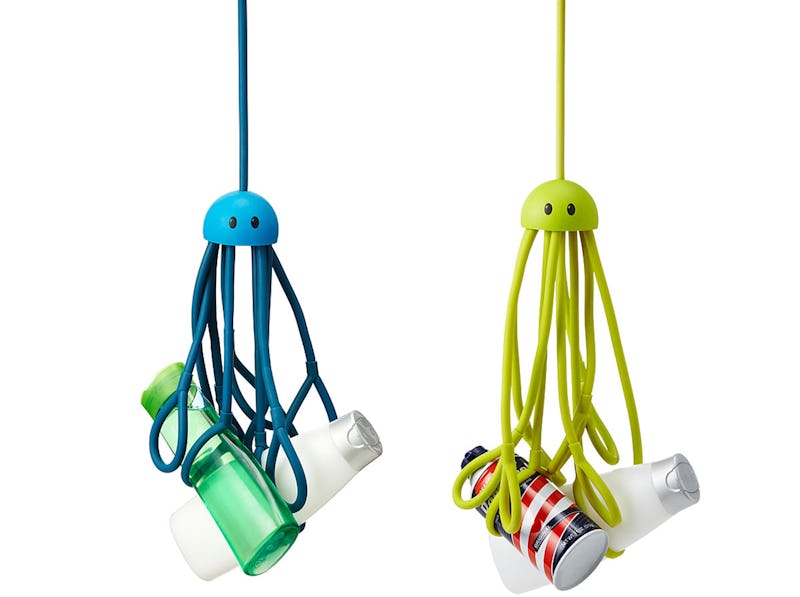 The toughest thing about getting ready to go away to college is remembering all of the little things you need to bring. Packing is really overwhelming, especially when you want to make sure that your dorm room is fully stocked. When focusing on the bigger things (like clothes, bedding, and books), it's easy to forget about the little things you'll need too, like college shower caddy essentials. Your shower caddy should, ideally, hold all of your bathroom necessities, and be easy to carry around so you're never at a loss.
You obviously know that your shower caddy essentials include shampoo, conditioner, body wash, shaving cream, a loofah, and maybe a mirror. But what about the little items that make your life easier that you're forgetting about, because you're too busy thinking about what shoes to bring? Missing something isn't the end of the world, since you can always run to the store to buy it, but isn't it better to be prepared?
Here is a checklist of 15 shower caddy essentials every girl needs for her college dorm room. These items will keep you feeling clean and smelling fresh — and they will make even a rushed shower with low water pressure feel a little nicer. Time to start shopping! Or, you know, just add these to the never-ending list I'm sure you already have.
1. Shower Flip Flops
Even if your dorm room has its own shower that you're sharing with one other roomie, you should still get yourself a pair of flip flops. Dorm showers are notoriously gross, and the last thing you want is an infection. These Showaflops are ideal, because the little stars are actually tiny holes that let water filter through.
Showaflops, $20, DormCo
2. Bath Supply Holders
Don't want to bring your shower caddy into the shower, but need a place to put some of your items? These shower squids are the absolute cutest, and they will hold your bottles.
Shower Squids, $36, Uncommon Goods
3. Bar Soap
You need bar soap to clean yourself off and to use when washing your hands, so why not get wine soap, you know?
Wine Soaps, $28, Uncommon Goods
4. A Razor
If you like to shave everything off and be bare, you need a razor. I love this Venus Snap razor. It's tiny and adorable, but gets the job done as well as a full-sized razor. This is ideal for travel because of its size, so it's also ideal for a small space like a dorm bathroom.
Venus Snap, $8, Amazon
5. Shaving Cream
Again, if you shave, you obviously need shaving cream. I know that $22 for shaving cream sounds crazy, but hear me out: this is the best shaving cream of all time, and it lasts forever. I got a tube of this a year ago, and I am still using it. You only need a very little bit, because it spreads easily. It keeps your skin so soft, and it works like a dream. Seriously, it's worth the money. If you buy one tube of this, you can probably go a whole semester without buying another one.
Shaveworks Pearl Souffle Luxurious Shave Cream, $22, Amazon
6. A Shower Cloth
Loofahs are fun to look at and use, but they harbor a ton of bacteria. I heard you should replace them every two weeks, which is kind of crazy and also expensive. Instead, get a shower cloth. They clean just as well, if not better, and this one by Cleanlogic is made with an antimicrobial additive that helps prevent bacteria.
Cleanlogic Stretch Bath and Shower Cloth, $7, Jet
7. A Self-Tanner
Not everyone enjoys a tan, but if you do, get yourself some self-tanner instead of basking in the sun. This St. Tropez in-shower self-tanner is brand new. I tried it, and I love the healthy glow it gives my skin. It's not super dark, and is kind of subtle, which is nice. You apply, then wait three minutes, and rinse it off. In that three minutes, I usually apply a hair mask.
St. Tropez In Shower Gradual Tan, $25, Sephora
8. A Shower Cap
It's not good for your hair to wash it every day. Get yourself a shower cap for the days you just want to wash your body off. This one is inexpensive and cute.
Shower Parlor Cap, $5, DormCo
9. A Hair Brush
If you've never tried the WetBrush, you're missing out. It's amazing. The WetBrush works on wet hair, obviously, and it's the best thing ever. It gets rid of all tangles and knots in a way no other brush ever has.
10. A Shower Speaker
Why not listen to your favorite music in the shower? Instead of potentially ruining your phone, get a small shower speaker that is waterproof and sticks onto the walls.
Bluetooth Shower Speaker, $20, Jet
11. A Drain Protector
Clogging the drain is pretty disgusting, but it can easily happen when a bunch of girls with long hair take regular showers. This one can be washed, so you can use it a lot without worrying about it getting gross.
Stop-A-Clog, $5, Bed Bath & Beyond
12. Poo-Pourri
Let's be real: you totally wait to poop until right before you take a shower so that no one hears or smells it. One spray of Poo-Pourri in the toilet before you go eliminates odors, and it actually smells good.
Deja'Poo, Poo-Pourri, $11, Poo-Pourri
13. A Face Sponge
A face sponge gives you a deeper clean that feels great. Just add your favorite soap, and you're good to go!
Eco Tools Pure Complexion Facial Sponge for Sensitive Skin, $6, Amazon
14. Body Scrub
Don't forget to bring an exfoliant! This bottle is easy to carry around and use, and it works great. Neutrogena is so good for sensitive skin.
Neutrogena Body Scrub, $10, Amazon
15. A Three-In-One Product
This Philosophy Cinnamon Buns product works as shampoo, shower gel, and bubble bath. You clearly won't be taking a bath, but it's still great to have a shampoo and body wash in one. Get it in a cinnamon bun scent, so that you can feel like you're right back at home.
Philosophy Cinnamon Buns 3-In-1 Shampoo, Shower Gel, and Bubble Bath, $22, Amazon
Image Source: Uncommon Goods