Will 'Fear The Walking Dead' Explain The Virus?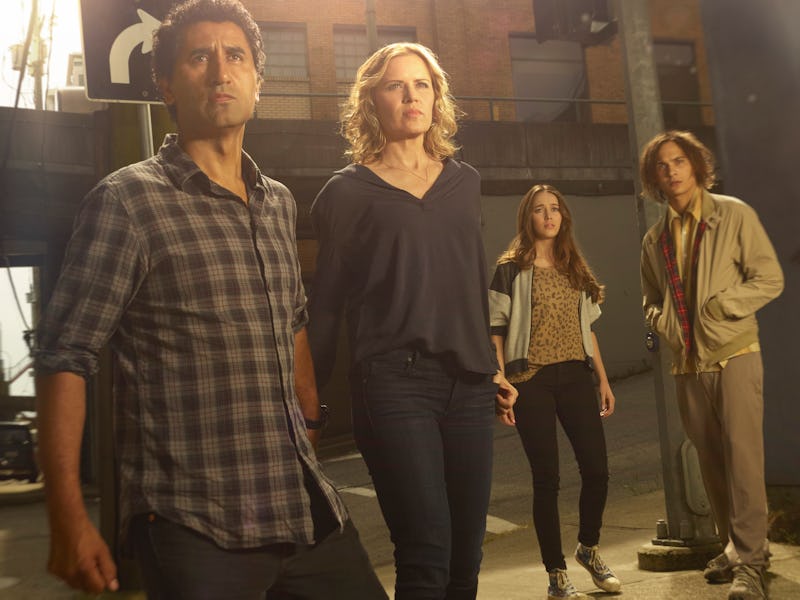 It's almost here, and it's going to be awesome. Fear The Walking Dead, the spinoff for AMC's hit series The Walking Dead premieres on Sunday night and follows a couple and their children in Los Angeles as they witness the beginning stages of the zombie apocalypse and struggle to deal with the coming catastrophe. It's a brand new story in the same world as The Walking Dead, but it does not follow any characters from The Walking Dead comic, which served as the source material for the original series. Nevertheless, the comic's creator and The Walking Dead's executive producer Robert Kirkman has created this spin-off, so hopefully Fear The Walking Dead will be just as amazing as its predecessor. As Fear The Walking Dead will take place earlier in the zombie apocalypse, there is one obvious question that's on my mind: will the series show us the origin of the zombie virus? Robert Kirkman has some bad news on that front at the moment.
At the NAB Show in Las Vegas back in April, Kirkman made it clear that showing the zombie virus origin was not in the cards right now for the series. "[Learning the origins] is not the priority in Walking Dead; that's not the priority in Fear The Walking Dead ," Kirkman said at the panel, according to Mashable. "Every other story deals with that stuff, and we're concerned about the heart."
Well, no offense to Kirkman, but while I may speak for just myself, I'm dying to find out the origin story. I love The Walking Dead and I've really enjoyed getting to know those characters and how they adapt to survive, sometimes in the worst ways. And I'm sure it'll be wonderful getting to know the characters of Fear The Walking Dead as well, but since we're already starting closer to the beginning of the zombie virus storyline with the new series, why not just rewind a little further back and give us some answers?
But there is a little hope. At the same NAB panel in April, Kirkman stated that he wasn't completely clueless about how he wanted this whole crazy, brilliant story to start. "I know the story, but I've never bothered to write it down. Let's hope I don't die," he said.
If we're not going to be getting the zombie virus origin for now in Fear The Walking Dead, perhaps we'll get enough of a glimpse into the past to theorize how it may have begun. Kirkman never stated that hints weren't a possibility, so I have hope that many people will have some brilliant guesses when the series begins Sunday night. There are probably already people clamoring with ideas after watching the first three minutes of the series, now online. Thank goodness for the Internet, amirite?
Images: Frank Ockenfels 3/AMC