13 Literary T-Shirts Perfect For Any Book Worm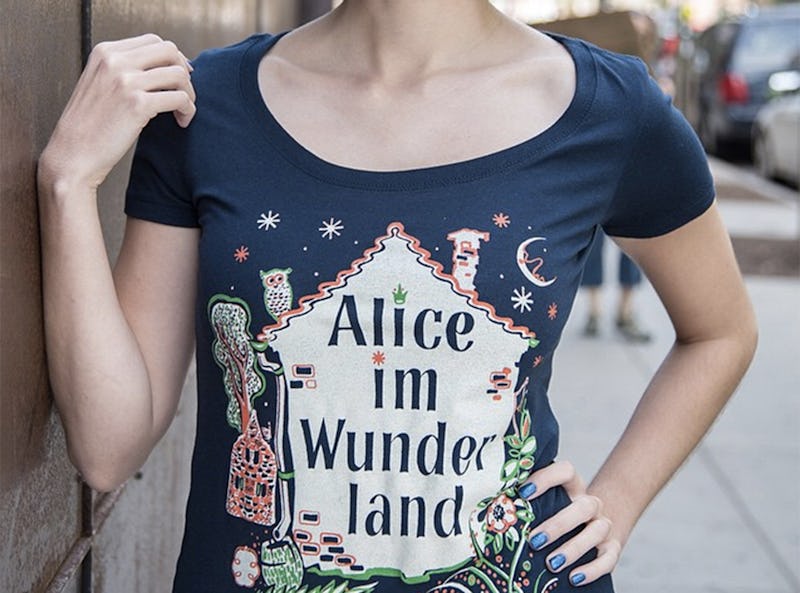 Heading back to school? Do it in style, but don't let your love of books go unnoticed this school year. Show off your love for all things literature with a cool literary T-shirt. What better way to tell the world that you're a well-read genius than by wearing your favorite book-inspired t-shirt? Forget regular graphic tee's. Literary shirts are most certainly the way to go.
Whether you're a Potterhead, a tribute, or a Twi-hard, there is a shirt out there that let's you show off your fandom. No longer does your love of literature have to be confined to your blog/diary/Tumblr page, because you can express it through your clothing instead. These shirts are even great conversation pieces. From pick-up lines to fangirling, there is a host of conversations to be had. Who knows? You may meet your (literary) soulmate. Star-crossed lovers who meet over a T-shirt? Now that's a book I'd like to read. Whether you pair it with jeans, a mini skirt, or a blazer, all 13 of these tees below are perfect for adding to your back to school wardrobe.
1. Le Petite Prince by Antoine de Saint-Exupéry
"For the travelers, the stars are guides. For others, they are nothing but tiny lights."
Le Petite Prince Shirt, $30, Modcloth
2. On The Road by Jack Kerouac
"There was nowhere to go, but everywhere. So just keep rolling on under the starts."
Kerouac Shirt, $22, Look Human
3. The Harry Potter Series by J.K. Rowling
"Mischief managed."
Harry Potter Shirt, $13, etsy
4. The Catcher In The Rye by J.D. Salinger
Don't be a phony.
Salinger Shirt, $15, etsy
5. Alice In Wonderland by Lewis Carroll
Everyone is a little mad.
Alice In Wonderland German Version, $28, Out of Print Clothing
6. The Lord Of The Rings by JRR Tolkien
"One ring to rule them all."
Tolkein shirt, $13, etsy
7. "The Raven" by Edgar Allan Poe
"Nevermore."
8. The Fault In Our Stars by John Green
Not the exact quote from the novel, but it's OK.
TFIOS shirt, $22, Look Human
9. Ernest Hemingway
Beard on fleek.
Hemingway shirt, $30, etsy.com
10. JRR Tolkien
Not all who wander are lost.
Tolkein Shirt, $15, etsy
11. Tom Sawyer by Mark Twain
Mark Twain Shirt, $30, Modcloth
12. The Great Gatsby by F. Scott Fitzgerald
A little party never hurt nobody.
Gatsby shirt, $45, Modcloth
13. Goodnight Moon by Margaret Wise Brown
"Goodnight stars, goodnight air, goodnight noises everywhere."
Goodnight moon shirt, $30, Modcloth
Images: @outofprint/Instagram