Aunt Viv From 'Fresh Prince' Was A Feminist Hero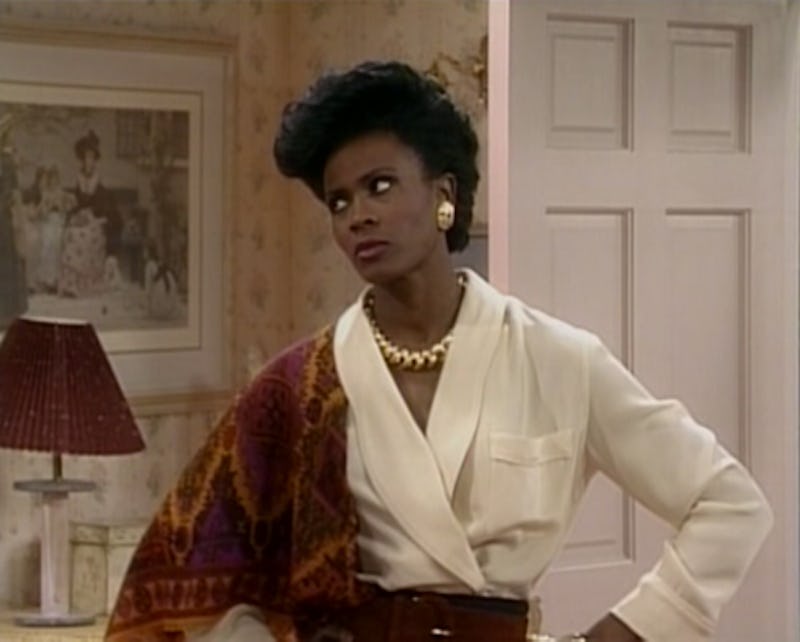 Oftentimes, supporting cast members in iconic sitcoms are not as revered as the main characters in the series. Fortunately, this is not the case for, The Fresh Prince of Bel-Air. Will Smith starred in the show as the a street-smart homeboy from West Philly, who moves to his Aunt and Uncle's posh Bel-Air estate for better opportunities. However, it was the Banks family who took the show to another level. Will and his cousins formed their own sibling-like relationships, and it was Will's Uncle Phil and Aunt Viv who helped shape him into the man that he was always meant to be. While Uncle Phil was quick to give Will words of advice and touch love, Aunt Vivian on Fresh Prince was a feminist hero whose regality and brilliance showed Will, and all of us, what it meant to be a bad-ass woman who could succeed in both her career and her family life.
Will had a terrible habit of seeing women solely as objects of desire, and Aunt Viv was there to counter his sometimes narrow minded notions. She stood up not only for herself but also for her loved ones, attacking ageism, sexism, and racism along the way. The iconic character was played by two different actresses, originally Janet Hubert and then Daphne Maxwell Reid, who took on the role during the third season of the series. However, it was Hubert's portrayal that has always stuck with me.
Here are seven reasons Aunt Viv was a feminist hero.
1. She Could Not Be Intimidated
Aunt Viv could not be intimidated, especially if the safety of her children was in question. No matter who she was up against, she always voiced her opinions. It was nice that she had Uncle Phil as a partner, but she certainly didn't need him fighting her battles.
2. She Stood Up For Herself
Aunt Viv knew exactly who she was, and she never let anyone take that from her. When Will and Carlton were falsely accused of theft, Aunt Viv wasn't afraid to stand up to the racist police officers, even when she was told to be silent. Like Cookie Lyon from Empire, she never allowed anyone to tell her to shut up.
3. She Was Body Positive
One of the worst things that women deal with is the constant attacks on our bodies. Unfortunately, as we age, women must also deal with ageism in a youth-centric society. Aunt Viv was having none of that. Approaching her birthday, she was growing concerned about her age, but, instead of wallowing in it, she decided to treat herself to some dance lessons. Though the younger women in the class were skeptical about her abilities, Aunt Viv showed up and showed off.
4. Her Knowledge & Education Was Unparalleled
Not only was Aunt Viv's career a vital component of Fresh Prince, she also taught Will how important education was. She showed her nephew and children that they could do anything they wanted as long as they had the knowledge to back it up.
5. She Was Unashamed Of Her Sexuality
It's rare in sitcoms for older women to talk about their sexuality and sex lives so openly. Aunt Viv helped shatter this mold. She had a happy and fulfilled sex life, and she wasn't afraid to say so.
6. She Had Hobbies
Too often, women are defined by either their families or careers. Hobbies, indulgences, and guilty pleasures are often looked over. However, Aunt Viv was more than a mother and professor. She had other things that she was good at, and Fresh Prince did a wonderful job of showcasing them.
7. She Knew What She Deserved
Women are often told what they can and cannot do. Aunt Viv wasn't going to let anyone tell her where she did and did not belong. She worked extremely hard for her career, and she refused to let anyone make her feel as if she was undeserving of all that she had.
Aunt Vivian was powerful and unparalleled, the kind of women that young girls like myself hoped that they would grow into. I hope that the reboot of the series makes the character just as feminist and iconic as she was in the '90s.Images: Warner Bros. Television (1); 90skindofworld/Tumblr (1)