'Grandma' Was Written Just For Lily Tomlin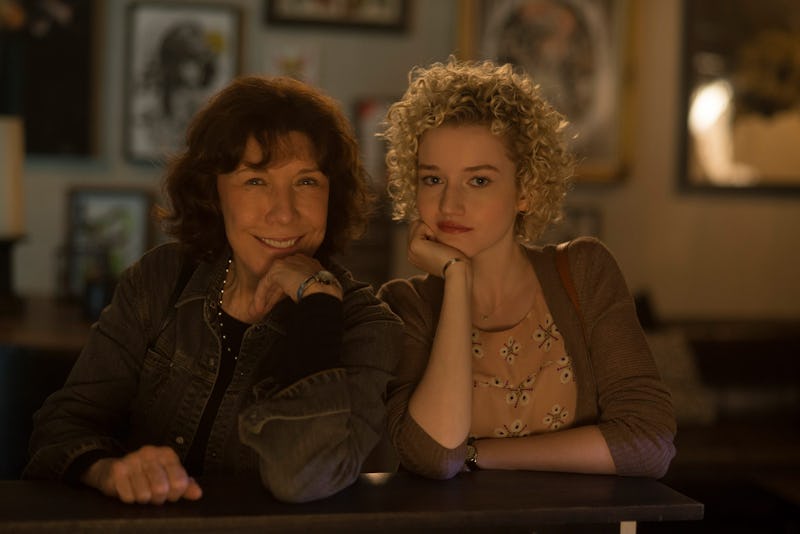 In Paul Weitz's upcoming film, Grandma, Lily Tomlin plays an opinionated, fiercely feminist, lesbian grandmother. The drama, written, directed and produced by Weitz, follows Elle (Tomlin) and her granddaughter Sage (Julia Garner) as they embark on a road trip to raise money to pay for Sage's abortion. It's such a realistic, honest tale, that it almost feels like Grandma is based on a true story — but is it? Not quite: although the indie film may come off as a fictional retelling of a true story — the film was extremely low budget, and Tomlin actually wore her own clothes and drove her own car in the film — it was actually written by Weitz as a ploy to work with Tomlin. Weitz had previously directed her in 2013's Admission, in which Tomlin played Tina Fey's mother in a supporting role, and apparently, he loved working with Tomlin.
"I did a film called Admission where Lily played Tina Fey's mother. It was a supporting role and I wanted to come up with an excuse for hanging out more with Lily Tomlin. So I figured if I wrote a script where she's in every scene, I could get some quality time with Lily Tomlin," Weitz joked while presenting the film at the LA Film Festival in June.Weitz approached Tomlin with the script, and the rest, as they say, is history. The actress told Vulture, "About a month after we premiered Admission , we went out for coffee and he told me that he'd written this script for me. It was going to be very low-budget. It was just a very good fit."
Grandma was shot in less than 20 days, so there wasn't much time for Tomlin to bond with her younger co-star, Julia Garner, but Tomlin has had nothing but nice things to say of the actress. She told HuffPost Live, "Julia Garner, who plays my granddaughter, she's like divine. She's the most divine, kind of ethereal actress."
Both Garner and Tomlin expressed their happiness at being cast in an indie film with a more realistic tone, as opposed to Tomlin's more bombastic comedic persona or Garner's previous role playing a cannibal in 2013's We Are What We Are. "She's a normal girl," Garner said of Sage, talking to W Magazine. And Tomlin described the film as "complex and interesting and thought through."
Feminism and women's issues are at the heart of Grandma; it's one of only a handful of films to even mention the word 'abortion.' Talking to HuffPost Live, Weitz said, "I do think it's the case that women's issues are human rights issues. ...You have to be an idiot not to support women's rights and want to put female driven stories out there."
Tomlin has described her character as a sort of feminist teacher, who helps her granddaughter learn to stand up for herself, and Weitz said that the veteran actress also acted as a teacher off screen.
"When one deals with icons of the culture, you hope that along with their intelligence and talent, there are human lessons you can learn from hanging out with them. I hoped that would be the case with Lily and it certainly was. Lily is not categorizable in terms of her identity. As opposed to other actors and creative people who fall into stereotypical depictions, she's always got an edge, her humor is always questioning and self-questioning," Weitz said to USA Today.
Grandma will be released in theaters on Aug. 21, and feminists everywhere should be running to see this movie.
Images: Giphy; Sony Picture Classics