11 Classy Gifts for Your Mom Who Loves Jackie Kennedy but Doesn't Own Any Pearls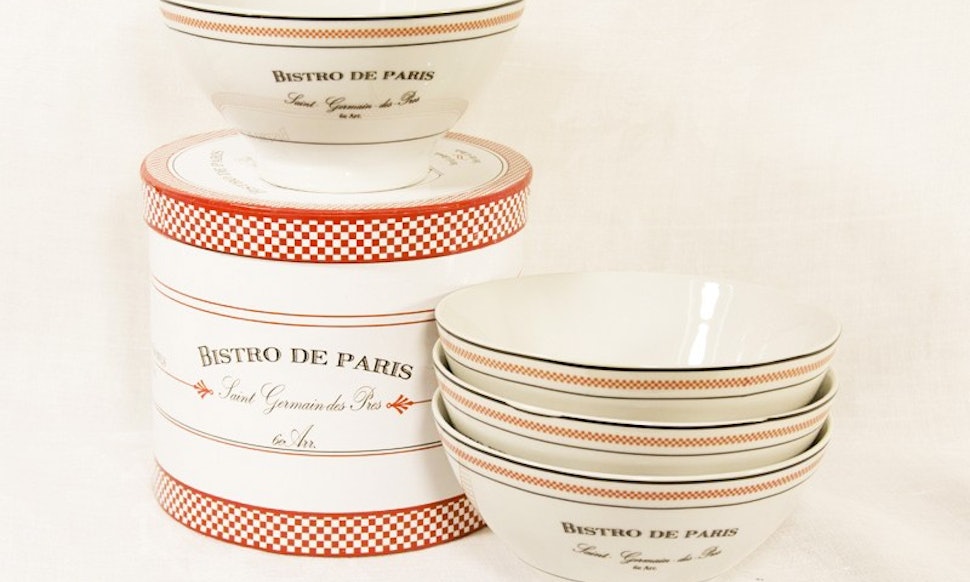 Shopping for your mom is one of the funnest activities ever. She likes candles, hand creams, soaps, cozy blankets, and classic DVDs. She wishes you dressed a little more like Audrey Hepburn, but she appreciates a good pair of floral skinny jeans. She thinks Jackie Kennedy's style is the bees knees, and she's not averse to curling up in sweatpants to watch It's a Wonderful Life, bowl of peppermint ice cream in hand. Here's to your sweet mom, who forgets to moisturize her hands because she's busy catching up on your life, who loves lavender, rose, and gardenia, and who deserves something lovely this (and every) Christmas.
A cozy throw blanket
Vital for movie nights and reading in bed. This pretty lavender one was made from reclaimed saris and produced by marginalized women in Bangladesh.
Reclaimed Reversible Sari Throw, $69, Come Together Trading
Parisian bowls
For oatmeal at breakfast, French onion soup at lunch, and post-dinner ice cream sundaes.
Bistro Bowls (set of 4), $32, Lewis And Clarkltd
A vintage mug duo
One mug for each of you for early morning coffee chats over Christmas break. Take one with you when you leave and continue the tradition over the phone.
2 Pyrex Vintage Bicycle Mugs, $30, Etsy
A hipper pearl necklace
Luxury hair oil
You know she'd never buy something so indulgent for herself. Made with oils of apricot kernel, calendula, sunflower seed, sweet almond, neroli, jojoba, to keep her locks shiny and soft.
L. Rodin Luxury Hair Oil, $65, Cat Bird NYC
A beautiful laundry hamper
It's not an oxymoron. She'll still have to do laundry, but she might not mind it so much.
Romantic candleholders
These porcelain "hurricanes" let the light through in the softest, prettiest way possible.
Dotted Porcelain Hurricanes, $19-49, West Elm
Girlish gloves
They're classy, sure, but the bow keeps them playful.
Stud Bow Knit Long Glove, $88, Kate Spade
An oversized cardigan
For lazy mornings spent dreaming about her future grandkids. (You know it's true.)
Denim & Supply Ralph Lauren Long-Sleeve Open-Front Cardigan, $200, Macys
The prettiest champagne flutes
These incredibly whimsical glasses will make even drinking water feel full of potential.
Roost Golden Berry Champagne Glasses, set of 6, $98, Orange And Pear
Cornflower water
This vintage bath product is perfect for soothing tired eyes. Lightly soak two cotton pads in cornflower water, cover your eyes, and lay back for 20 minutes. It's the French way to nap.
Cornflower Water Eau de Bleuet, $20, Caswell Massey