10 Vegan Leather Jackets To Shop ASAP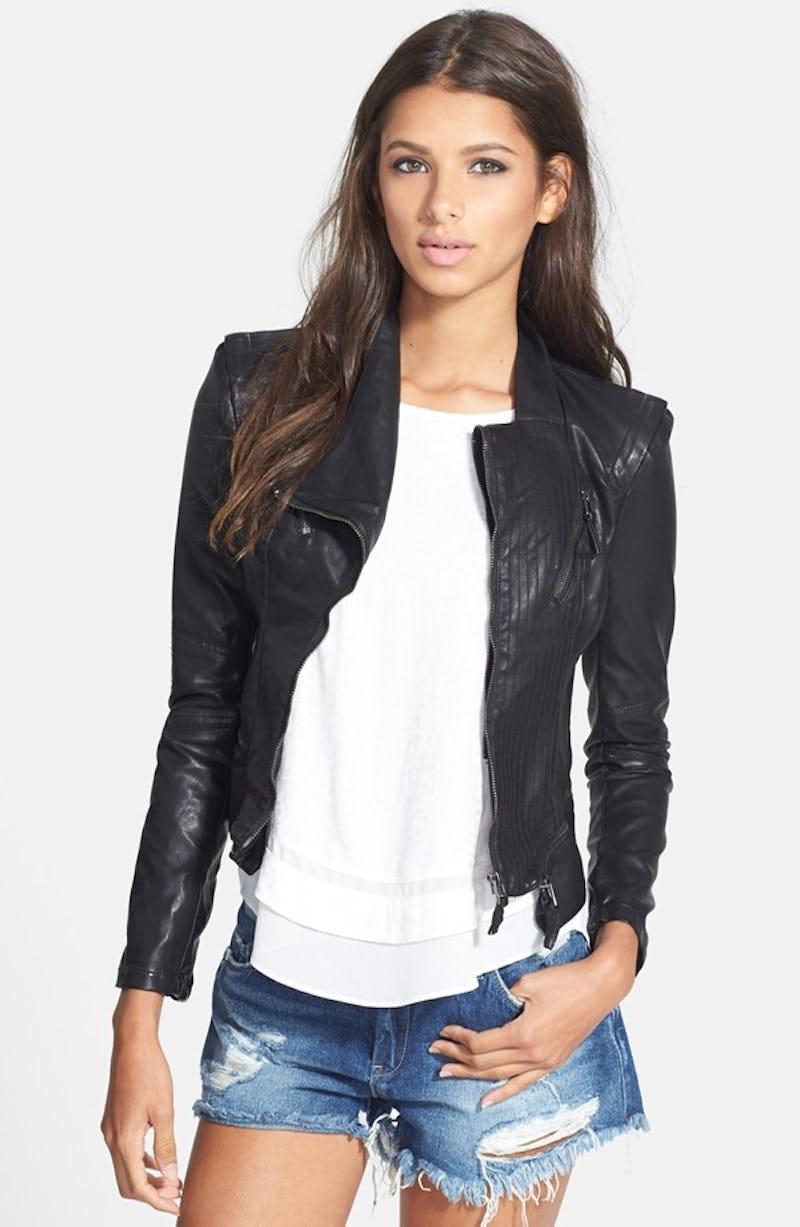 Though the struggle for vegans can still be all kinds of real at restaurants, it's getting easier than ever to shop vegan fashion. Designers are making beautiful cruelty-free products, including this round-up of the best vegan leather jackets just in time for fall. Save a cow and still look stylish and warm? Heck yes.
Thanks to a multitude of celebrities going vegan and vegetarian over the past decade (as well as the work of PETA), fashion options have expanded like whoa. Several major luxury designer names like Stella McCartney, Hugo Boss, and Calvin Klein are committed to being fur-free in all of their collections. Stella McCartney even took it one step further and just cut ties with wool suppliers in Argentina after learning the animals were mistreated.
If the thought of veganism intimidates you, making cruelty-free fashion choices is a great way to dip your toes into the lifestyle. Several wonderful Bustle writers have already scouted out 10 of the best vegan designers and beauty products. And if you're feeling super inspired, be sure to check out how to become a vegan in 11 easy steps.
Whether you're a hardcore vegan, veg-life curious, or only wear leather all day every day (dang, don't you get hot?), these faux leather jackets are bound to win you over. Happy scrolling!
Atomic Vegan Leather Jacket , $118, NastyGal
The zip ties and belted waist are so tough and chic. Love.
Silence + Noise Vegan Hooded Leather Jacket , $129, Urban Outfitters
The fleece creates such a chill color block vibe. Digging. It.
Faux Leather Biker Jacket, $105, TopShop
Ugh loving the fuzzy (but fur-free!) collar on this one.
Autumn Faux Leather Jacket , $134, Bloomingdale
Isn't this the dreamiest shade of milk chocolate?
Blank NYC Fringe Vegan Leather Jacket, $138, Urban Outfitters
For all your fabulously fringy needs.
Vegan Leather Bomber, $98, Anthropologie
Leave it to Anthro to make the most beautiful canyon-colored vegan leather jacket.
Kut from the Kloth Vegan Leather Jacket, $90, Macy's
Can't even get over how cool the folded print cuffs on this one are.
Free People Faux Leather Moto Jacket, $168, Bloomingdale's
This red faux moto is edgy meets preppy heaven.
BB Dakota Drapey Faux Leather Jacket, $88, Bloomingdale's
I am so in love with how flowy and mod this is!
Blank NYC Classic Biker Faux Leather Jacket, $98, Nordstrom
The quintessential biker jacket perfect for chilly nights.
Image Credit: NastyGal; Silence + Noise; TopShop; BB Dakota; Blank NYC; Anthropologie; Kut From The Kloth; Free People; BB Dakota; Nordstrom