Which 'WAGS' Couples Survived Reality TV?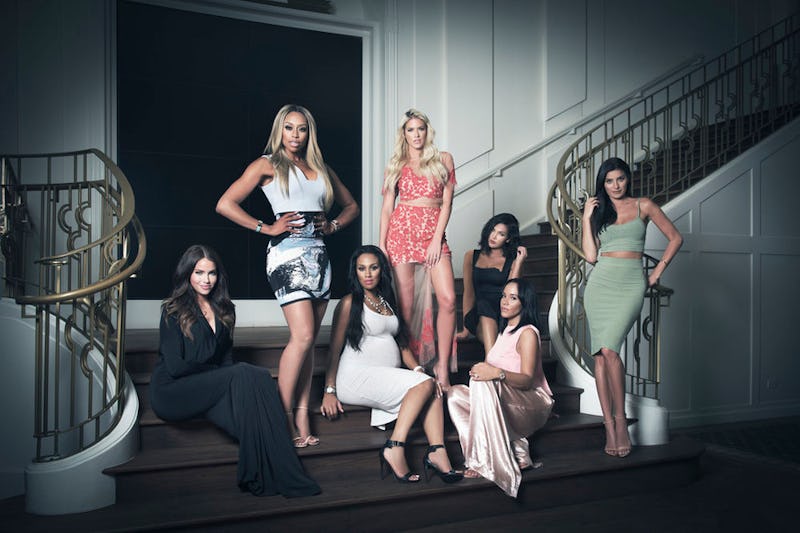 The women of E!'s reality series WAGS may be best known for their relationships with professional athletes, but that doesn't mean their lives are only about romance. Each woman featured on the show is totally different than the others, and their careers range from stay-at-home moms to work-focused jetsetters who barely even see their significant others. But reality TV can often put any relationship through the ringer, so it's surprising that the couples from WAGS are still together. The show makes it seem like the life of a WAG is pretty stressful, with so much concern over whether your significant other is going to propose to you, how long it is until you get married after an engagement, what kind of ring it is, and more. There's definitely a difference between a woman who happens to be in a relationship with an athlete and a WAG.
The former probably has friends from other social scenes, and doesn't really know much about the athlete's lifestyle. The latter is a very exclusive, sometimes judgmental club where social status is determined by how long you've been in a relationship, if you're married, and if you have kids. Add that to incredible pressure to look great and spend tons of money on fancy vacations and spoiling those kids? I can't imagine how these WAGS and their athlete partners do it. Here's the current status of all of the relationships you'll see on WAGS when it premieres on E! Tuesday night.
Ashley North & Dashon Goldson
These two are engaged and have a three year-old daughter, but they've been together for over 10 years. Ashley's becoming something of a pariah among the WAGS because Dashon still won't pick a wedding date. Still no wedding, but after 11 years, I hope Dashon doesn't waste Ashley's patience — it sure seems like its taking a toll on her in WAGS.
Barbie Blank & Sheldon Souray
Like Ashley, Barbie has her own career, as a former WWE diva called Kelly. Even though she doesn't compete anymore, she still makes appearances as her character, and her tangential connection to the sports world must make their relationship a little easier.
Sasha & Antonio Gates
They've managed to stay married for four years, and Sasha just gave birth to the couple's second child, so the fact that they're still making time for date night proves that they still have a very close marriage.
Autumn & Seyi Ajirotutu
Also a wife, Autumn and Seyi wound up with twins after years of being the couple who always had a good time. But their newly conservative lifestyle has made Autumn the queen of the wives on WAGS, disdainful of the girlfriends and very secure in her place as a wife. From her attitude, it seems like Autumn and Seyi won't be getting divorced anytime soon.
Natalie Halcro & Shaun Phillips
Nicole is Insta-famous in her own right and has been Shaun's girlfriend for two years. Though you might not realize it from her Instagram account, she very occasionally updates to let her fans know that they're still together. However, this picture from 13 weeks ago is the most recent photo of the two, which is a little suspicious.
Olivia Pierson
She's not dating anyone on the show, but has dated multiple athletes in the past and is now spending her time with friends, like her cousin Natalie and pal Nicole.
Nicole Williams & Larry English
She's a self-sufficient model, but Nicole Williams is highly emotional about her relationship with football player Larry English. Even though she seems concerned that her boyfriend is cheating on her, it looks like they're still going strong, but no engagement in sight for the lingerie model.
While the women of WAGS might not have everything they're looking for in love just yet, it seems like all of their relationships are still going strong, even after filming a season of reality TV.
Images: Brandon Hickman/E! Entertainment