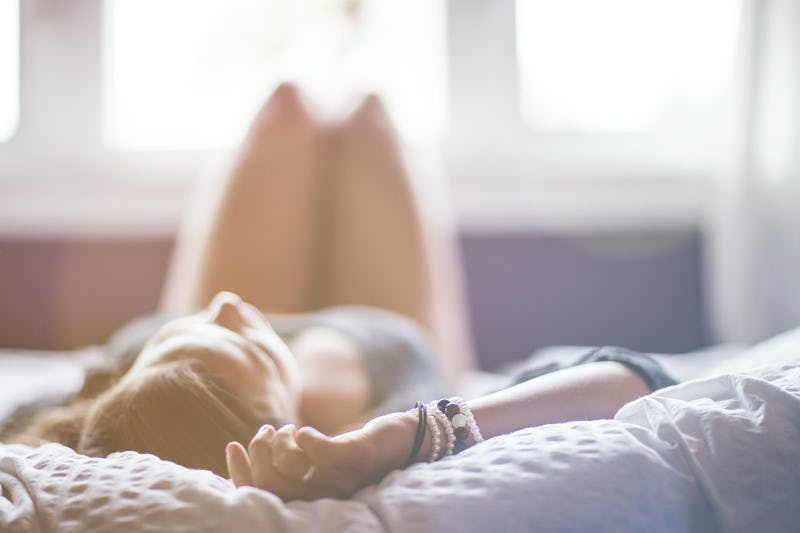 Now that Flibanserin (Addyi) has been approved by the FDA, you're probably wondering how effective is "female Viagra"?. In short, it should work (it should, but there are no guarantees). Does it work a ton? No. (Though I realize "no" is subjective.) Is it worth a try? It depends.
Research on Flibanserin (Addyi) shows a 0.7 increase in the number of satisfying sexual experiences in the course of a month. "For some people, that is substantial and a good ballpark number to keep in mind," says Dr. Brett Worly, MD, OB/GYN. "I'm not sure it'll turn people back into their teenage years — I sure hope it does — but it's important to be realistic; cautiously realistic." Dr. Worly says it's essential to keep the placebo effect in mind, too (when someone believes there will be a change, so then there is a change). A 2013 study in The Journal of Sexual Medicine reported that women taking the drug had an average increase of 2.5 satisfying sexual experiences in a one-month span versus a 1.5 increase among those using a placebo.
Unlike the male Viagra, which is taken on an as-needed basis 30 minutes to four hours before sexual intercourse, the female version, filbanserin (aka Addyi), is taken on a daily basis and takes 2-4 weeks to start working. It works on one's brain chemicals instead of blood flow below the belt. "Viagra goes from A to B to C, it's relatively easy," Worly says. "This pill is not the same." The drug is targeted for use by peri- and premenopausal women; however, the age that this occurs varies.
Before determining if Sprout Pharmaceutical's "female Viagra" pill is right for you, your doctor will first check to see if anything else could be causing your lowered sex drive (like depression, mood imbalance, medical problems, relationship issues, etc.). "A bad relationship is a bad relationship whether you use this medication or not," Dr. Worly says.
Flibanserin (Addyi) works for people like Cara, who went from having sex with her husband at least five times a week to barely at all. In this Marie Claire article, Cara said that after their first child was born, her sex drive plummeted. After trying many things (from herbal supplements to therapy), her husband saw a newspaper ad regarding a clinical trial… for flibanserin. Cara's sex drive increased, from once every two weeks to twice a week. "Flibanserin helped me remember that person I used to be," she said.
However, after a year, the study ended, and Cara's sex drive along with it. That was six years ago.
Of course, the drug has side effects, like sleepiness, lightheadedness, and low blood pressure.
"As doctors and patients, we deal with medications that cause those same things all the time. They'll happen to a small proportion of people. Try it on a weekend, while not driving, with friends or family around. Side effects vary from one person to the next," says Dr. Brett Worly, MD.
However, not everyone is on board with the drug now being available in the pharmaceutical marketplace. Aside from adverse reactions that could happen, others do not believe it should have been FDA-approved. "(It) would set the worst kind of precedent: that companies that spend enough money can force the FDA to approve useless and dangerous drugs," Dr. Adriane Fugh-Berman of Georgetown University told CNN.
Of course, now that it is out, women who meet the criterion to take Addyi will be the judge when they try it out for themselves.
Want more of Bustle's Sex and Relationships coverage? Check out our new podcast, I Want It That Way, which delves into the difficult and downright dirty parts of a relationship, and find more on our Soundcloud page.
Images: AlexVan/Pixabay