The Ashley/Dan/Amber Triangle Is Heartbreaking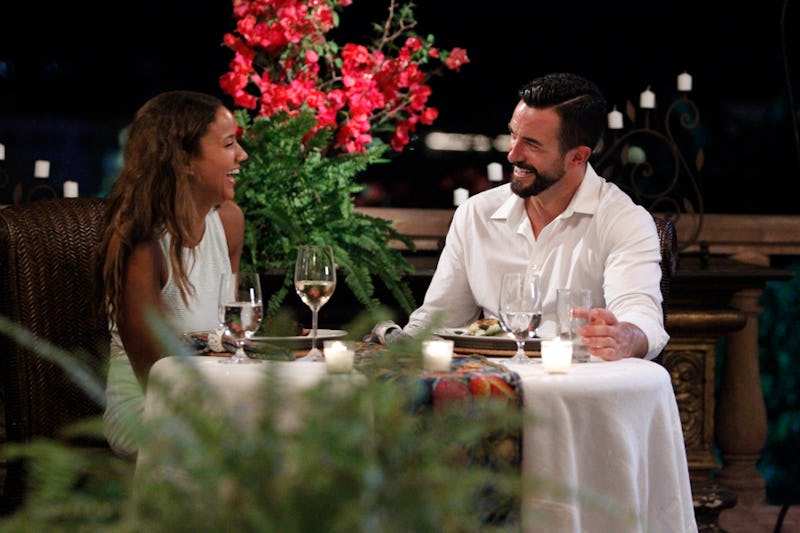 OK, it's official: Ashley S. is getting the short end of the stick on Bachelor in Paradise. Her very unfair (and unearned, if you ask me) crazy reputation has followed her from The Bachelor, and even her cast mates have bought into ABC's hype around her eccentric qualities. Case in point: Dan Cox, who seemed to attach the label "crazy" to her after she showed emotion about their relationship. Yeah, it was fast, but Ashley immediately felt a connection with Dan, but then? Her friend and Bachelor co-star Amber James showed up in paradise. And very quickly, the Ashley/Dan/Amber love triangle formed, and when Amber and Dan went on a one-on-one date together, Ashley was crushed.
Of course, ha had already had The Conversation with Ashley before Amber even showed up — because of her "crazy," he was feeling like their relationship couldn't work in the real world. From there, it was basically an emotional roller coaster: Ashley was totally heartbroken, and then she was thrilled to see her friend arrive, and then she was heartbroken all over again when Amber asked Dan on a date. THE WORST.
But at least Dan and Amber thought about Ashley's feelings enough to talk about it on their date?
"I didn't expect to hit it off with someone so quickly, for that to happen but it did," Dan told the newest BiP lady during their date, over dinner. "There was definitely something there. It was obviously a crazy time, and then you showed up today and I'm glad you did... If it created any tension between you guys, I'd remove myself from the situation."
Atta boy! I knew I liked you.
Obviously, Amber and Dan hit it off. They literally saw fireworks when they kissed on their date out in Puerto Vallarta, so I can't blame them for wanting to explore that. And to his credit, he did handle the situation way better than Joe handled his own triangle with Juelia and Samantha, and I give him props for being a little more considerate of Ashley's feelings in this situation. But it's such a bummer to see it happen, because Ashley's been such a bright spot in all the drama, even on The Bachelor. She's such a light and cheerful person that it's so upsetting to see her sad!
The good news? All was well as soon as Ashley discovered the adorable birds (and crabs) in paradise. I have to hand it to her: They are way more interesting than Dan.
Image: Rick Rowell/ABC