'Compton's 2pac Steps Into The Late Rapper's Shoes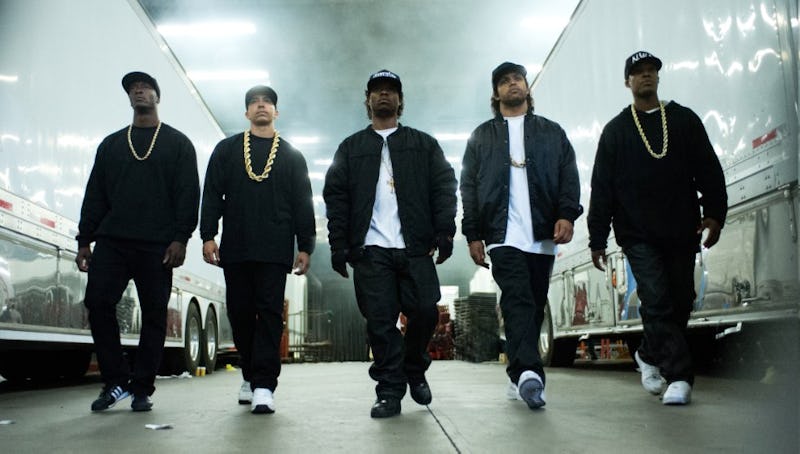 N.W.A aside, Tupac Shakur — alias 2pac, alias Makaveli — was arguably the best-known and most iconic West Coast rapper of the late '80s and early '90s. Over the course of his brief career (he was murdered in 1996 at age 25), he inspired the style of countless contemporaries and rappers who succeeded him. He was both style icon and legendary rapper, known as much by sight as by sound. So while he only appears in one scene of the new N.W.A biopic Straight Outta Compton, it was critical that the film's casting get Tupac right. The actor they selected, though an unknown face in film, is a near-carbon copy of the late rapper — so who is the actor who plays Tupac in Straight Outta Compton ?
His name is Marcc Rose, and — at age 23 — he's been regularly stopped on the streets since age 18 by passers-by who recognize something of Tupac's wide eyes and high cheekbones in Rose's face, reports USA Today. It's not until he gets fully into character, though, that it becomes apparent he resembles Tupac nearly as much as that hologram that graced the Coachella stage (alongside rappers like Snoop Dogg and Dr. Dre, whose likenesses also appear in Straight Outta Compton) a few years back.
But Rose is not the only Tupac likeness featured in the film — while he resembles the late rapper on the surface, it took another actor to voice Tupac, and more importantly, to recreate his raps. That actor was a man named Darris Love, who will also play Tupac in the upcoming Truth About Tupac, said USA Today. Both Love and Rose underwent fairly rigorous preparations to depict the rapper in Straight Outta Compton, and it shows in the results. While Tupac only appears in one scene, it's one of the more memorable moments of the film, during which he's mid-recording session at Death Row Records. It hints at the Dr. Dre-Tupac collaboration to come, on the track "California Love."
As an added bonus, the scene filmed on what would have been Tupac's 44th birthday. But before they even got to filming, the actors underwent some serious training to get into their shared role. Though Rose was naturally gifted with an uncanny visual resemblance to Tupac, he still studied up for his role. He posted a photo to Instagram back in April that shows him surrounded by materials from the film and several books about the rapper, including Tupac Remembered, a retrospective that includes contributions from Tupac's family and friends like Jada Pinkett Smith and Snoop Dogg. His study materials also include the posthumous collection of Tupac-related reporting Vibe Magazine published, featuring interviews with Tupac himself at the peak of his career and those close to him shortly after his death.
Rose also posted a photo of himself alongside the late rapper's mother Afeni Shakur — Tupac's family has been instrumental in the actors developing their characters. Darris Love went full method for his role, telling USA Today that "It's not one of those roles where you can just act."
"You have to be him," Love continued. "You have to become him; you have to embody him. You can't just sound like him, you can't just look like him. You have to put all of that together." To that end, Love attempted to recreate Tupac's routine — he moved in with the rapper's brother and mother for a short while, as well as his manager Leila Steinberg. He'd been preparing between seven to eight years for this role, as well as the part in Truth About Tupac, and his efforts included a drastic 30-pound weight loss, a stint as a vegan, and a rigorous daily boxing schedule.
Post-preparations, the transformation is complete when Rose steps into costume. Sporting Tupac's trademark bandanna and adorned with his myriad tattoos, Rose channels Shakur in the precise way Love describes. It might take two men to measure up to Tupac Shakur, but Rose and Love are a credit to the rapper in their faithful and studied reconstruction.
Images: Universal Pictures; marccrose, darris_love / Instagram (3)