'Another Period' Is Getting Another Season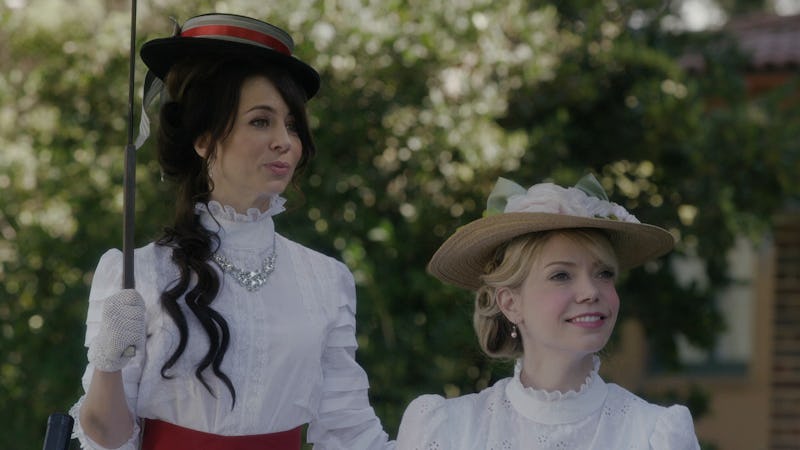 Confession: I only tuned into Comedy Central's Another Period late the other night after succumbing to empty apartment boredom. It is my way, I guess. Just as I fell in love with Broad City and Inside Amy Schumer after logging on to a multiple episode commitment online, I suddenly was spending my night LOLing at the crazed characters of Bellacourt manor. And, to my delight, Comedy Central is renewing Another Period for another season, so, if you too have but putting off the show, now is the time to redeem yourself.
The short reason you should tune in? Another Period is simply hilar. How you can expect anything less from top notch roaster Natasha Leggero and one half of Garfunkel and Oates Riki Lindhome? There's no losing here, guys; these two are true comedy professionals. But, beyond that, there are a slew of tinier nuances to love when it comes to this totally offbeat historical satire. And, because I've so bravely investigated the situation for you (ahem), I'm going to tell you all the reasons you should be tuning in.
So, without any more delay, here are eight reasons you should treat yourself to an Another Period marathon session tonight.
1. Lillian Is A Rare Breed Of Royal B*tchiness That Would Make A Kardashian Quake In Their Thigh High Boots.
Lillian is without a doubt the top banana of this faux reality show. She doesn't just WEAR a tiara; she rocks it. She's also an awful human being, but that makes for delightful entertainment.
2. Beatrice, By Contrast, Is A Special Kind Of Stupid.
She's really more of Jessica Simpson circa Newlyweds, but even more far gone — if such a thing is possible. When her brother/lover Frederick asks her to sing so she can show off her talents at the beauty pageant, she responds with indecipherable wails before realizing he meant sing a song. Oh, you.
3. The Name Game.
Everyone has a ridiculous name on this show, no exceptions. The sisters inexplicably traded the new servant girl Celine's name for Chair, and their dowdy suffragette sister Hortence gets shortened to a concise Hor. Only the rich can have such distinguished titles like Lillian Abigail Hitler Schmemmerhorn-Fish.
4. The Costumes And All Their Extravagant Glory.
Just like Downton Abbey and Mad Men is fashion porn from another period (ha), this show has baller dresses. No snark here — I just get excited when I see gigantic plaid sleeves and stoles made out of polar bears or some nonsense.
5. The Crassness Amongst The Extravagantly Glorious Costuming.
It makes me laugh, and then it makes me uncomfortable, and then it makes me laugh again. See: Albert's award-winning vegetables.
6. The Historical Cameos.
The Bellacourts have a bevy of famous friends, and you haven't lived until you've seen Helen Keller drink cocaine wine or Mark Twain throw up in a vase.
7. The Satirical Jabs At Women.
Within the context of the show, it's both hysterical and disheartening to know that people thought like this... and sometimes still think like this. Either way, Lillian and Beatrice's jokes about women or "non-heirs" and their rights are sickly giggle-worthy.
8. Leggero/Lillian's Dog, Mayor Cutie.
Bless the person who invented dog wigs. Why aren't you watching this show again?
Images: Comedy Central (1); Giphy (8)