10 Hats You Definitely Should Be Wearing This Fall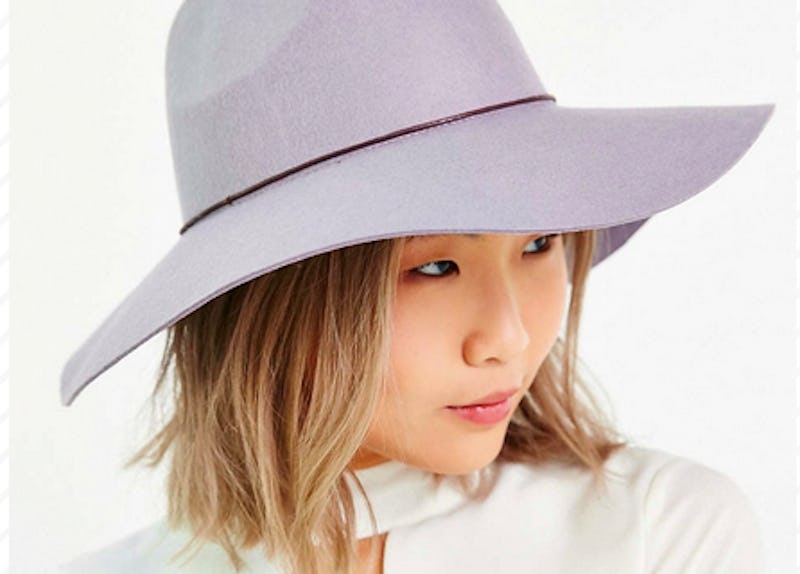 Is your outfit feeling a little drab? It might be time to accessorize. Hats are the perfect addition to fall outfits, and can really transition your wardrobe into the fall season. With several shapes, sizes, and color options, the perfect hat is out there waiting for you. When it comes to this season's top looks, hats are very on trend — plus, they're just fun to wear, which is much more important, anyway. From Lavin to Emilio Pucci, there were a lot of designers who were playing up the stylish accessory this season. However, you don't need to be a haute couture addict in order to rock this accessory. There are plenty of timeless pieces ready to add a bit of zest to your collection.
Hats add a sense of completeness to your look. They are the ideal statement piece to top off your outfit. They're also a great way to disguise any bad hair days, which, yes, happen to all of us. Adding a hat to your outfit will make you look pulled together even if you haven't showered. It's a total win-win. Wondering which hat styles you should reach for this fall? Here are a few of my favorites.
1. Tie-Back Wide Brim Hat
Pastels for fall are always a good option. With this classic hat shape, the lavender tone brings this accessory to the next level.
Urban Outfitters Hat, $49, urbanoutfitters.com
2. Suede Floppy Hat
A wide-brimmed suede hat in one of the season's hottest colors? Sign me up!
Suede Hat, $88, nastygal.com
3. Turban Hat
This hat is perfect for late fall when the weather gets cooler.
Turban hat, $18, asos.com
4. Gold Bar Flat Top Hat
Looking for a hat with a bit more structure? Turn to this Free People hat. The color is absolutely to die for.
Blue hat, $180, freepeople.com
5. Classic Black Hat
I'm obsessed with this classic black hat. The chain adds a "cool girl" vibe to this sophisticated accessory.
Black hat, $32.95, buckle.com
6. Floral Beanie
Looking to rock a more laid back style? This hat is great for covering up any second-day hair troubles.
Floral hat, $12.99, hm.com
7. Army Green Fedora
You have to love a good fedora. This army green color with the sleek leather band is a fun take on neutrals.
Green fedora, $49.90, express.com
8. Burgundy Beret
Feeling French? This leather trimmed beret is super chic.
Burgundy hat, $68, freepeople.com
9. Chain Embellished Floppy Hat
If you can't tell, I'm a fan of floppy hats. This is an accessory that absolutely anyone can pull off.
Linked floppy hat, $28, nastygal.com
10. Feather-Trimmed Hat
This feather-trimmed hat will add a fun, bohemian vibe to your outfit, which is never a bad thing.
Feather hat, $19.90, forever21.com
These cool hats are just what you need to add to your fall wardrobe. You'll never be without the perfect accessory.
Images: Courtesy Brands