Cristina Yang & Owen Hunt Reunited IRL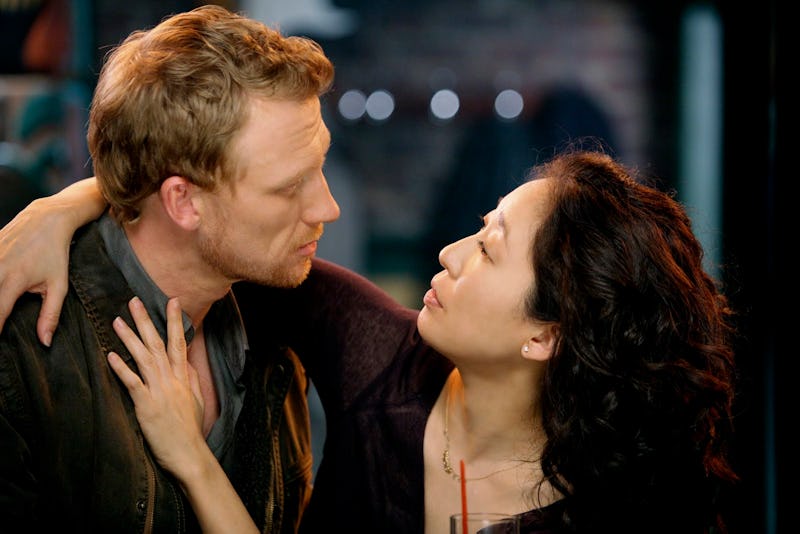 Us Grey's Anatomy fans are a diehard bunch. We're stood by the show through the most dramatic of situations, Derek Shepherd's funeral and the potential breakup of Jackson and April. For more than 10 years, we've watched pretty much every scenario unfold because the show's couples got us through it. When Sandra Oh had a Grey's Anatomy reunion with Kevin McKidd, it gave me all the feels because Cristina Yang and Owen Hunt should totally be endgame.
Yes, I know that Oh left the show after 10 seasons, but she and McKidd's character were kind of perfect for each other. Considering the fact that Cristina's intense personality doesn't mesh with just anyone, this relationship gave viewers hope for true love. It was so sad to see her leave and to start to accept that they might not stay together.
"me & @TheRealKMcKidd at his belated bday dinner. May u catch Brave New Waves all this year dearest friend," Oh tweeted, adding a photo of her and the actor. (If this isn't an early #ThrowbackThursday celebration, I don't know what is!)
In honor of one of TV's best relationships and the slight possibility that maybe one day Cristina Yang will return to Owen Hunt, here's seven times the couple proved that they are definitely endgame.
1. When He Gave Her This Look
Yowzas!
2. When They Comforted Each Other
It's moments like this that matter the most.
3. When Even Their Fights Had Passion
Even when they were angry, you knew they were meant to be.
4. When You Could Feel Their Chemistry
Tell me this doesn't melt your heart just a little.
5. When He Kissed Her On The Head
And the entire world swooned.
6. When They Were Power Couple Goals
Seriously, they're like superheroes.
7. When They Kissed For The First Time
How can we top this IRL?
Images: ABC/Richard Cartwright; Giphy (6)